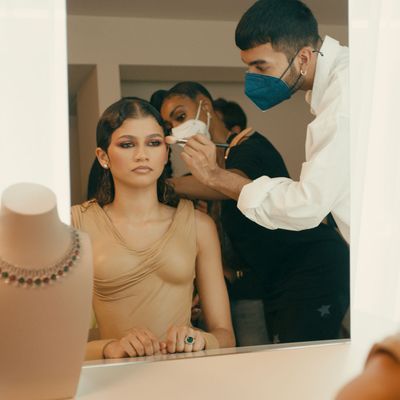 How does the saying go? If you can't have your own 93.83-carat emerald Bulgari necklace, you can at least be nosy about all the decisions that go into making one? Now you can — from its early life as a nearly 9-pound stone in Jaipur, India to a Serpent-design worn by the icon herself, Zendaya. Beginning September 13, Inside the Dream, a documentary by Matthieu Menu about the behind-the-scenes creative process at the fine-jewelry company will be available for streaming after its premiere at the Toronto International Film Festival. The film follows Lucia Silvestri, Bulgari's jewelry creative director, and shows the process of how their jewelry gets made. Because if we can't afford a Bulgari necklace, at least we can ogle over the the craft that goes into making the pieces.
"What is in this box," says Zendaya, who makes an appearance in the trailer. "I usually have no idea what's inside." (Same but instead of Bulgari, it's a box from eBay.) The film also features Lisa from Blackpink, Priyanka Chopra Jonas, and Lily Aldridge, as they make their jewelry choices. Chic.
Inside the Dream will be available on Prime Video starting tomorrow. Below is trailer to watch ahead of tomorrow's premiere.