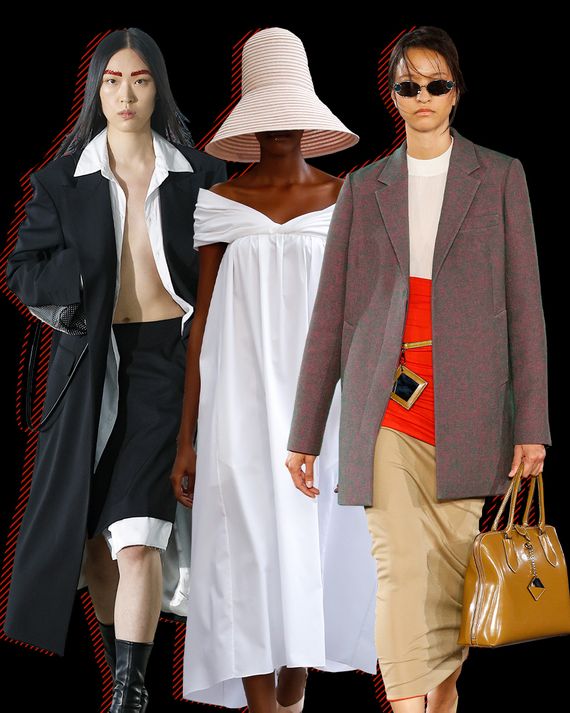 From left: Peter Do, Adam Lippes, Tory Burch.
Photo-Illustration: The Cut; Photos: Dan Lecca, Courtesy of Peter Do and Tory Burch
Gabriela Hearst and Tory Burch are way above youthful fads. "I'm not into the side-boob trend, personally," Burch said with a light laugh as models in blazers and flats lined up for her show last night on a West Side pier. Peter Do is one of New York's best-known young designers, and his show drew an eager crowd to an office tower overlooking the Statue of Liberty. And his girls were as covered up as the lady herself. On the same waterfront, Adam Lippes signaled his love for good, clean sportswear.
Meanwhile, at the Parsons MFA show, budding designers literally shredded the conventions of dressmaking and exposed everything.
Both approaches to modern dress in our Roaring '20s are valid so long as the work is authentic, but the collections of Do et al. reflect a clear-eyed understanding of business. Last season, Do delivered an extraordinarily concise and fresh statement about tailoring. Yet, as he told me recently, retailers complained that there were too many total looks (apparently hard to sell) and not enough mix-and-match items. This time, Do, who has also added menswear, included more separates.
Did it spoil the effect? In a way, yes. With the addition of men's, and the exclusive focus on neutral tones, the show felt repetitive at times. Yet its saving grace, and the thing that makes the images worth studying, is Do's fluid yet figure-defining silhouette. You can see it best in the first three outfits, leading off with Lee Jeno, of the K-Pop group NCT, in a black satin-lapel jacket and full-cut trousers with open slits at the sides.
Jeno's slightly oversize coat is pulled almost rakishly to one side and closed with a single button, giving him a definitive waist and hips, and his white cotton shirt is open luxuriously at the neck. The next two looks, including one in black leather, have the same sensual line — one that feels directional in part because it is obviously gender-neutral, as are many of the styles in the collection.
So Do has built substantially on his previous work. Those trouser suits are a leap forward because of their sexuality and sophistication, a combination we haven't quite seen this week. And what you can't tell from photos is that many of the slim-line coats in the show were partially open in the back and closed with a simple tie. That's not a new idea (the Belgian deconstructionists in the late '80s and early '90s were doing such things), but it helps to lighten tailoring and it feels contemporary, if you want to show skin or underwear.
I also like how Do translated sensuality to separates, such as fine-knits, two-tone jeans that look dip-dyed, and cotton shirts that could be wrapped at the waist and sported collars ample enough to be noticed but not ridiculous enough to be outmoded next year. Do's maturity shows in such practical gestures.
Burch is one cool cucumber. She may not be a side-boob kind of gal, but her spring clothes are contemporary in the ways that matter. First, many of her styles show the body through semi-transparent fabrics like a sheer cotton used for long-sleeve T-shirts (with lace bras) or silk chiffon, for clingy skirts. A number of skirts and leggings also came with a ruched bandeau in a subtly contrasting color that can be worn separately or as a textured layer.
Second, color is a big story for spring (think of Marni's blazing show), and Burch's are distinctive and complementary; the mellow shades of orange, brown, red, lime, light gray, and gold all work together. Recently, Burch's collections have had a try-hard element. Not so this time. The collection makes sense on a lot of levels and it's adaptable to a person's own style. There are some less-than-obvious gems, notably a pair of black or white popover blouses in gazar, a stiffened silk once used widely in haute couture. Plus Burch hit hard on flats and slides, which also convey the "unencumbered" attitude she says she sought to express.
"It's really about the customer," Lippes said on Tuesday, adding that he's done events or shows in 14 cities this year. With many high-end houses shifting steadily to evening clothes (and wrangling celebrities in the process), Lippes has found a successful niche with dressy sportswear, including trousers and blazers in a silk-wool blend, embroidered denim, and original and low-key prints (this season inspired by Egyptian flowers and rendered from a pencil sketch). His quality is outstanding, and everything is made in New York. "I feel the sewing is better here than in Italy," Lippes said. But what really moves the needle with his designs is cotton. He uses a lot of it: for classic shirts in white and lilac, for a brilliant slim, short-sleeved caftan in white and an off-the-shoulder number whose plainness would slay party tulle.
Flanked by members of the Resistance Revival Choir, which sang a song called "This Joy," Gabriela Hearst's runway seemed a visual projection of her themes of female empowerment. A number of models were older women who had probably never walked in a show. Nonetheless, all were striking — commanding, really — in Hearst's textured knit dresses, classic pants suits (with jackets this season outlined with tiny yellow-gold rods), and leather coats and skirts in black or matte gold, left raw at the hems. The opening dresses in black linen or double-knit merino wool with molded gold leather breastplates treaded far too closely to the style that Jonathan Anderson showed a year ago at Loewe in Paris; in fact, they lacked the brio of Anderson's designs, which were done in metal. But, apart from that gaffe, Hearst's collection pulled its own weight.