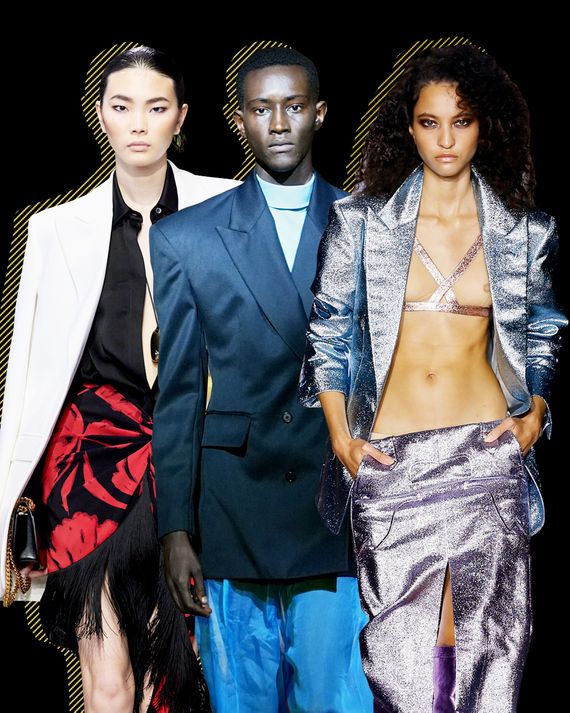 Photo-Illustration: The Cut. Photos: Filippo Fior; Selwyn Tungol; Dan Lecca
He has been adrift for some time. When he was at Gucci, Tom Ford owned the space in which he showed; you could say he owned Milan in the late '90s and early aughts. He had total command of the lighting, the look of the girls, and your attention. No one did sex better. When he took over the design of Yves Saint Laurent, he replicated the Fordian scene: the low, plush lounge seating, the glossy runway, the driving dance beats.
But for the past few years (excluding the pandemic), Ford, who is based in Los Angeles, has shown in a couple of different venues there and in New York. Last night, he presented his spring 2023 collection (the closer of New York Fashion Week) in an anonymous-looking room in one of those modern sugar-cube buildings near the Freedom Tower. He re-created the scene, but somehow the magic wasn't there. He showed metallic blazers with embroidered satin knickers, glitzy rodeo-style shirts with skimpy bras and ultrashort satin gym shorts, tracksuits and lightweight jackets in reflective pastels, and more lingerie with black leather jackets and boots.
A year ago, when Ford last showed here, he also did glammed-up streetwear, the only material difference being that, on Wednesday night, he used a lot less fabric. Instead of the black cotton stretch bras he sent out last September, he now had lacy ones or the cupless kind with just two open triangles of fabric. When established designers do something youthful and contemporary — and clothes that reveal the sexual parts of the body are certainly a phenomenon — we tend to praise them for being up to date.
Yet it's also possible Ford doesn't understand the world of today. There are kids all over New York City tonight and tomorrow night who can do sexy far better than him and who would cringe at his lilac satin shorts and pretty bras. Ford and his business partner Domenico De Sole, the chairman of Tom Ford International, are said to be in talks to sell the company. Ford may well want to spend the rest of his career doing other creative work like continuing to make movies. If so, could he have chosen a more fitting song with which to close his show than "Time Waits for No One," the Freddie Mercury version?
It has been a strange, chaotic New York season with most of the thrills far from the old Establishment center. At the historic Marble Collegiate Church on Fifth Avenue, Willy Chavarria put on a show called Please Rise, which was serious in its elegance and funny in its procession of sharp-waisted suits — some sporting fat taffeta corsages — with billowing trousers or wide, funky shorts. The cut of the jackets was the thing. Naturally, there were also references to church robes. An hour late, the show featured a huge cast of mostly Latinx and Black models and attracted a full house of guests including Madonna.
Michael Kors, also showing Wednesday, presented a crisp collection of pared-down glamour suits in vivid white, red, and camel (the colors of the Kors flag) with blazers tossed over the shoulders of silky blouses and bra tops and worn with silk-fringed skirts, metallic beaded sarongs, or matching minis slung with belts looped through a large metal ring. What looked new were dark tailored jackets with fringed backs and woodcut-print shirt dresses with fringed hems. There seemed to be a nod to '70s-era Halston in a red-silk caftan and some of the streamlined knit styles as well as the belts, metal cuffs, and tiny flasklike pendants. The belt was actually a duplicate of one Kors first did in spring 2002. But the combination of all three accessories brought to mind the original and enduring designs (the bone cuff, the perfume bottle pendant) of Elsa Peretti, who worked with Halston. Even if Kors's versions were different, the Peretti stamp is too well known to simply ignore.