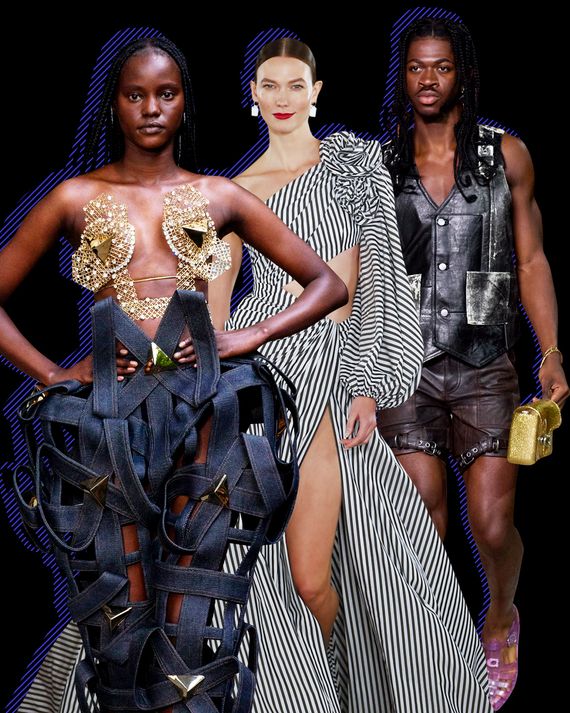 From left: Area, Carolina Herrera, and Coach.
Photo-Illustration: by The Cut; Photos: Courtesy of Area, Carolina Herrera, Coach
Fashion Week, which concludes Wednesday night, has established two great themes this season: You either come dressed for a performance or you don't wear anything. Or perhaps just a bath towel. Maryam Nassir Zadeh closed her show with a girl in a white terrycloth dress. This was after Zadeh had paraded her girls up the sidewalk on Forsyth Street, in the Lower East Side, and on the handball courts on Grand Street. Many of their tops consisted of a scrap of fabric. One model wore what looked like two souvenir cotton coasters, scalloped and embroidered, held together with a cord. The bottom half of Zadeh's outfits, if you could call them that, were not much more substantial.
A colleague of mine complained that Zadeh was in a "styling arms race," meaning she was trying to make a provocative statement with her pairing and shapes. I don't give her that much credit. This was a lazy effort. Watching the show, I had the feeling Zadeh had been somewhere hot and heavenly this summer. The skimpy tops and cover-ups suggested a beach. But what does that mean on the gritty edge of Chinatown? I loved that some guys shooting hoops next door didn't bother to bestir themselves to look. And another thing: It was obvious some of Zadeh's fabrics were precious to her since they looked vintage, and her press notes referred to items being "reworked." But maybe it would be truer to say she had endowed them with a preciousness her overall effort didn't justify. And that was annoying.
The fans of Area — Piotrek Panszczyk's label, which showed at the former Whitney Museum later Monday — know how to get attention. As I came out on the sidewalk, a heavily made-up woman in a pair of black lacy tights and a kind of black bustier was literally stopping traffic as she stood in the middle of Madison Avenue and performed a grinding motion with her butt aimed at the waiting taxis. Meanwhile, the schools on the Upper East Side had just let out, so the sidewalks were full of moms, gangs of kids in private-school uniforms, and dogs. It was quite a scene.
Indeed, much of the performative action Monday took place on the Upper East Side. This is not as strange as it might sound. Think of all the socialites over the decades who've dolled themselves up for shows in the grand ballrooms of the Pierre and the Plaza, the era of Bill Blass and Oscar de la Renta. Think of the clothes horses hoping to catch the eye of the late photographer Bill Cunningham as he stood at the corner of Fifth Avenue and 57th Street. And think of the circus of the Met Ball in May.
What's different now is the socialites have been largely supplanted by influencers and celebrities (generally minor ones) who come decked out in borrowed party clothes and glamour hair and makeup even at 10 a.m. Although I should be used to seeing women at the Carolina Herrera show in tulle, satin, and diamonds at brunch hour — the designer Wes Gordon has found a niche in the dressy — it still strikes me as incredibly unreal. Again, it's a performance on an almost fraught level since social media has obviously raised the stakes for front-row guests.
As for Gordon's collection, it looked up to date and elegant. Listening to Barbra Streisand's pure voice (from Funny Girl) on the sound system didn't hurt as a model swept out in a full-sleeve, navy-striped blouse with a yellow floral evening skirt followed by a smiling Karlie Kloss in a one-shoulder striped summer gown with a bit of bare midriff. Gordon gets the big bow-wow numbers down with ease — the billowy skirts in soft floral prints, a chic cocktail dress with a spray of tulle — and skips the fussy details. That's what he's learned in the past few years. The collection was also strong on somewhat more casual styles, not strictly "daytime," like a sharp strapless column in wide black and white stripes, a wool mini-suit edged in raspberry-colored beading, and a cute black canvas hat brimmed with black net.
"I want people to know that craft is not fleeting," Panszczyk told me after the Area show. Could anyone be in doubt of that after seeing a cagelike coat made of strips of material spiked all round with dozens of silver metal cones? Or a tiny metal-embellished top with a pair of wide-leg pants made of a tangle of fabric strips that evoked electronic wires? Area operates in its own fantastical space, drawing on ancient as well as futuristic allusions, but if Panszczyk's designs were less well constructed, the creativity wouldn't matter, as he knows. He also included a number of straightforward styles including a red-beaded tracksuit and a terrific bandeau top and mini in what looked like raw denim with random strips of denim folded and pressed against the surface. But the show pieces are the thing, and many frankly bared the body with coils of fabric or flat, bead-encrusted bows (mostly) covering the sexual parts.
Coach took over the Park Avenue Armory, where it erected a huge wooden platform in the center with the audience at some distance away on risers. Although Stuart Vevers, the creative director, was inspired by the idea of New Yorkers traveling in summer between the city and the Rockaway and Coney Island beaches, this didn't quite come across. What's more, the clothes seemed a bit sad and drab. Vevers said beforehand that he wanted to "strip back" things — to elemental leather jackets (some from reworked garments), shorts, and gingham baby-doll dresses. The leather jackets were terrific, but one longed for more color and, yes, more naked skin.
Rebecca Hessel Cohen, the founder of LoveShackFancy, has no illusions about what many women want: tons of pink, the frothier the better. I wandered up Madison after the Coach beach bummer and joined Cohen's boisterous, music-filled garden party at the Cooper Hewitt on 90th Street. The place was crammed with women and girls in LoveShack, its frills and romance a throwback to cotillions and the feminine beauty of classic Hollywood movies.
Or is it still? You can make a fortune giving people what they want and then repeating it over and over. I admired the massive banks of nearly flushed pink and ivory roses, the tables of Champagne and sugary pink macaroons. And then I left for the more ordinary wilds of the Upper East Side, passing a French bulldog and a golden retriever out with their owners.