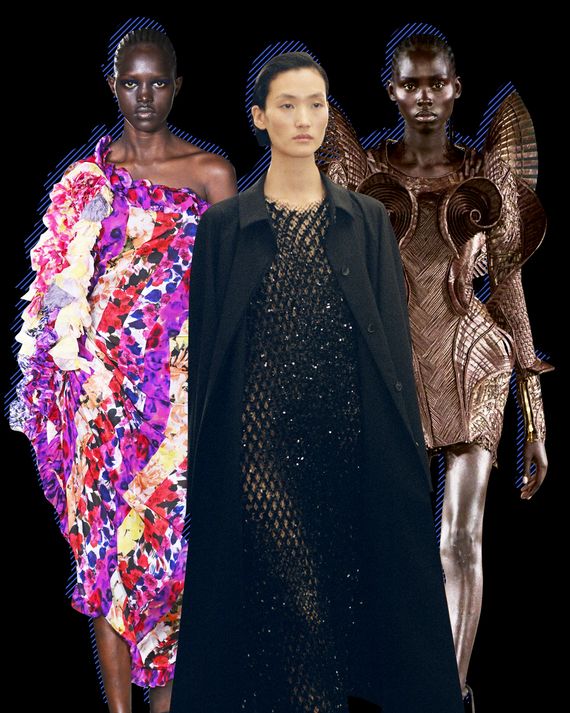 Left to right: Dries Van Noten, The Row, Balmain.
Photo-Illustration: by The Cut; Photos: Getty Images, Courtesy of The Row, Balmain
Wednesday, the second day of the Paris collections, ended with Cher, Cher, on the runway of Balmain. This was sometime around 10 p.m., after 98 ready-to-wear and 15 extraordinary haute couture looks had gone down the runway and burgers and fries were served in the VIP section of the stadium. Cher's appearance, in black and set to the pull of her 1989 hit If I Could Turn Back Time, set off a roar that must have woken up half the Parisian suburbs. The ubiquitous Jenners and Kardashians get only a squeak by comparison.
The day had begun quite differently, with succulent figs and freshly brewed coffee offered by Ashley and Mary-Kate Olsen, of The Row, in a sedate 18th-century building flooded with sunshine. Seeing a good Olsen show — and this one was especially good — is like a visit to your shrink or masseuse. It clears your head until the next torture session with clothing. (That would be Acne, but let's not go there.) In between were Dries Van Noten's flower delirium, in a bunkerlike venue near the hideous Montparnasse Tower, and Jun Takahashi's touching return to the Paris catwalks after nearly three years away due to the pandemic. The setting he chose was the American Cathedral on Avenue Georges V.
Paris must bring out feelings in some designers, maybe in particular the dreamers and the foreign born, because emotion is what united the collections on Wednesday — from the Africa-born, Bordeaux-raised Olivier Rousteing of Balmain to the Belgian star Van Noten to Takahashi, who is part of the second wave of Japanese avant-garde talent to bring its work to Paris, the first being Issey Miyake, Rei Kawakubo of Comme des Garçons, and Yohji Yamamoto.
Takahashi's Undercover has seldom attempted the technical or cerebral knots of his predecessors — they're of a different generation. His clothes tend to work on a quieter vibration; their qualities are often hard to put your finger on, though wit is surely one of them. The soundtrack for his show yesterday provided perhaps the clearest clues to where Takahashi's head, and heart, lay. Here's the complete list: Gnossienne No. 1: Lent, by Erik Satie and Marcel Worms; I Remember, by Molly Drake; What He Wrote, by Laura Marling, and Trampin', by Patti Smith.
Loss and resurgence, in sum. Takahashi said the "wounds" of the past few years have not fully healed. Doubtless, no one looking at the images of relaxed pantsuits in neon yellow, cherry red, and dove gray with random slashes edged with chiffon will make the connection to healing wounds. They will just see a contemporary expression of deconstruction, a bit of punk.
Indeed, Takahashi's brilliance arises from a clear-eyed reading of the present mingled with a wry, almost screwball humor. He countered eveningwear excess with tuxedo trousers that had one draped and beaded leg, like a skirt, and came with a sleeveless white T-shirt adorned with a slash and a tiny flower. A pair of dresses looked like the crinkled pink and green foil wrappers of fancy candy.
Takahashi also offered his trusty deconstructed white T-shirts, for which he has legends of fans, and a new, slightly cropped Perfecto with a long gash down each sleeve. But the finale reconnected him to the magic and the eternal lightness of Paris couture: four large spherical dresses in tulle or foil, in shades of red, green, sky blue, and beige-pink. They looked as if they might float up to the ceiling of the cathedral.
The Balmain show was billed as a festival — and with thousands in the stadium and a runway that could have accommodated a small plane, not to mention Cher, it was. As for the collection, it spun on several axes, but the main one was futurism. Although many of Rousteing's printed fabrics and references recalled the Renaissance, his aim was clearly to pitch its ideals and reforms forward. And that he did. This was a brilliant collection — overstuffed with ideas, including jackets and dresses with reptilian scales and fins, wide-leg jeans and cat-clawed sweaters, and blurry Renaissance turned Modernist prints, but it was thematically consistent with Rousteing's view of the next age of dress.
Think how far Rousteing has come since his fussy glamour days, and the industry with him. The only regret of this show was that he included haute couture, at the tail end. The work deserved a more intimate setting because it was ingenious. The clothes were inspired by, if not harvested from, forests, bogs, and meadows. There was a bustier dress made from the bark of chestnut trees. Other styles were constructed from natural raffia, jute cord, and twigs. Still other gowns drew on the colors and textures of the natural world. One hopes Rousteing will show them properly during the January couture collections.
Van Noten also returned to the runway after a long absence, though he put on a very effective installation last season in a Paris mansion. The only downer of this latest show, aside from the grim concrete setting, was that it had such distinct segments. There was black tailoring to start, with molded or oversized jackets and needlessly decorative buttons. Then a section of chiffon and silk separates in watery shades of pink, green, gray and lilac, sprouting pleated frills and tie-on corsages. And, finally, there was a riot of garden colors for lightly constructed dresses and separates, the intense hues and patterns running together. These designs were impressive. But the segments made the show feel merchandised, as clothes are in a showroom or shop. Van Noten does better when he tells a story, as he did last season."
"Civilized" is maybe the best way to describe the Olsens' presentation: the separate rooms with creamy walls and old parquet where guests sat in a single row, the young waiters serving coffee (also "to go" in paper cups, so New York). The natural-looking, visibly well-made clothes aimed at their customers' lives. When the first models came out — in a loose black blazer over silky white shorts and a shirt with flip-flops, a slim boyish coat with a below-the-knee skirt — I thought, Jil Sander 1990.
But the truth is the Olsens own the design space — call it minimalism, call it everyday chic — once held by brands like Jil Sander and Calvin Klein. They have evolved that timeless style while adding depth and quality to their own. One of the chicest looks in the collection was a plain, slim khaki raincoat, impossible to find elsewhere and, in its ever-so-slight rumpled plainness, as perverse as any at Prada this season. Just as compelling was a floor-length black net dress with a bit of shimmer, worn under a long black coat — an antidote to too-muchness — and a gorgeous evening dress in a subtle silk blend of ivory and gray with an exaggerated obi sash.
The Olsen sisters did not open the backstage to greet visitors, reporters included. That too seemed smart. The clothes say enough and nothing more.