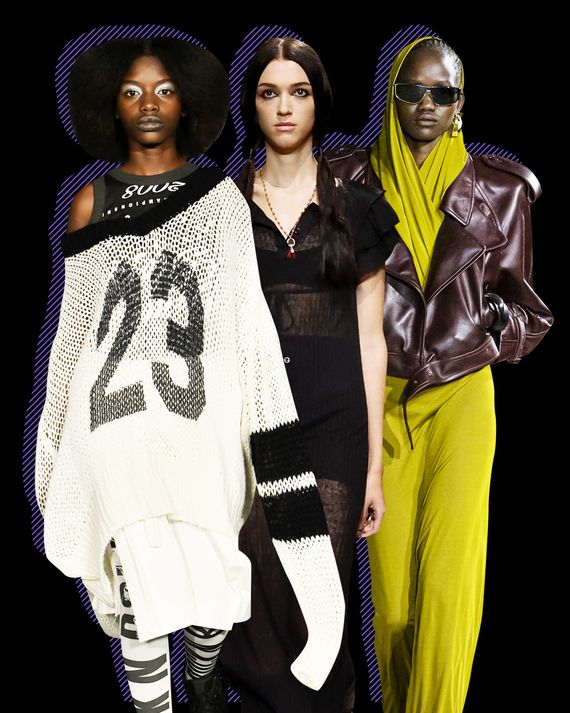 Photo-Illustration: by The Cut; Photos: Courtesy of Vaquera, Dior, Saint Laurent
So the spring collections have finally returned to the mothership: Paris. Time to get serious and have your hair done. Or meditate over chocolat chaud in a café. Paris may seem a little down and out these days, and Europe generally, because of inflation, the summer's drought, and Giorgia Meloni's victory in Italy, but for Americans, at least there's the rare sensation of paying less for everything. That €3 drink now costs $2.85.
The big houses are still spending like the Medicis. In fact, Catherine de Medici, the queen of France in the mid-1500s, who apparently introduced the platform shoe to Europe — who knew! — was the main source for the Dior show on Tuesday, staged in a superstructure in the Tuileries Palace, which Catherine instigated, and not far from the site of Tuileries Palace, which was torched during the Commune in 1871. For a centerpiece, Dior asked the artist Eva Jospin to create a monumental grotto in her usual mediums of cardboard and glue. To get a sense of its mass and detail, imagine the trunk of a sequoia sculpted with a pair of nail scissors. Carved into its surface were illuminated vitrines, and there was a tunnel through which the models walked.
That night, Saint Laurent returned to the esplanade of the Trocadero, facing the Eiffel Tower. As almost every tourist knows, there's a huge reflecting pool and fountain, which in the past Saint Laurent has covered or used in some way for its shows. Somehow, the fountain looked bigger to me, brutalist even. It took a moment to realize that the company had built a fountain on top of the fountain and pool and had apparently installed a wide stone skirt around it for the runway. That makes sense: a fountain on top of a fountain.
Let's deal with the Saint Laurent collection first because there's less to say about it. The creative director, Anthony Vaccarello, showed variations on a semi-sheer, ankle-length tube dress, many with a hood pulled partially over the model's head. It referenced a Saint Laurent style from decades ago. There were, in equal repetitive number, broad-shoulder coats sweeping to the ground — dragging despite the models' high heels, which gave some girls a hard time — and a few perfectos. The show was well along — up to look No. 27 of 48 — before a normal pair of trousers with a blouse and coat appeared. From a purely visual standard, the hooded dresses and coats had a certain nostalgic glamour — nostalgic in part because the models were skinny. But the mood was too somber and the long lengths seemed out of touch. Also, this is the second Vaccarello collection in a row dominated by coats. All in all, it left the huge Saint Laurent legacy mostly unexplored and unadvanced.
In addition to the dazzling paper grotto, Dior's Maria Grazia Chiuri invited the Dutch dancers and choreographers Imre and Marne van Opstal to perform with their troupe. While they were leaping about, models in pigtails paraded mini-versions of crinolines, full skirts opening over knit or lace boxers with matching tops, and other feminine styles, including corset belts, in a Dior archival map print of Paris, done in the 18th-century printing style but with the maison de couture at the center. Christian Dior certainly knew where he fit in the Parisian universe.
This beautiful collection worked on several levels. Chiuri has established the princess line — the so-called Miss Dior dress — as her favorite, go-to silhouette. But this time her choice of a nylon-and-silk blend for a plain black sleeveless dress with subtle vertical drawstrings at the waist and bodice made the style seem sharp and contemporary. The fabric had the body of sports nylon and a rustle.
In most of her choices, in fact, Chiuri sought a modern hybrid. The opening style — an embroidered black raffia skirt draped over a mini-crinolines, and worn with a black bra — may have looked like a lampshade, but everything else made sense. "The idea is to maintain a couture attitude but with a product that people will really wear," Chiuri said. The embroidered raffia was one example. Another was native floral prints in sheer cotton inspired by early lingerie (another Medici contribution to French culture, according to Chiuri) and shown as boxers with overskirts and delicate tops. It was a distinctive approach to the perennial fad of overturning modesty conventions. It's been a season of frankly exposing the sexual parts of the body.
Chiuri found simple ways to fold historical shapes into her clothes without pressing hard on history — like the corsets worn as a layer over full-sleeve white cotton shirts and a kind of puffball skirt or with pants. There was a nice hint of the baroque in the collection, and the use of smocking (for the tops of cotton or denim skirts), lace and embroidery, sometimes in a patchwork, echoed her superb July couture show. But again, Chiuri kept it real and, above all, youthful.
When I came out of the Vaquera show on Monday night in the Marais, I was stunned and amused to see all the models lined up in the curving, decrepit stairwell. Patric DiCaprio, who with Bryn Taubensee designs Vaquera, said afterward they had been thinking of "Versace 2008" — that is, when designers used to glamorously pose their models on stairs or in a group in the backstage. "Cheesy," DiCaprio said with a laugh.
That's not the thought I had sliding past the girls. They looked tough, rarely smiling back, and some had gazes, I felt, that nicely said, "Fuck you, boomer."
It made me love the show all the more. Perhaps because they are young themselves, Taubensee and DiCaprio have the most natural way of packing female power into their aesthetic — in the aggressive walk of the models, in the crashing music (the work of the DJ Physical Therapy), in the stripped-back clothes and styling. Among the standout looks were athletic jerseys (including one as a long, soupy sweater), gunmetal tops and polo shirts, an adorably perverse sailor dress, and a black motorcycle jacket and fringed micro-boleros.
The show felt confrontational, as you might expect from two Americans who design as if they have nothing to lose. I asked them about the latest militant way of rejecting former standards of female modesty. They almost didn't know how to respond. "I think it's something that's inherent to Vaquera," DiCaprio said.
Vastly helped by the support of Comme des Garçons and Dover Street Market, the designers said they intend to continue showing in Paris.