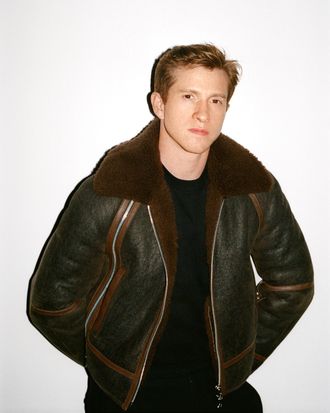 Damn, Daniel.
Photo: Courtesy of Burberry
Daniel Lee, the English designer who went from unknown to fashion-world famous at Bottega Veneta before exiting abruptly and without explanation in 2021, will be the new chief creative officer of Burberry, the company announced Wednesday. His appointment is effective Monday and arrived only two days after Riccardo Tisci, the house's now-outgoing chief creative officer, presented his spring 2023 collection in London.
In a statement, Jonathan Akeroyd, who joined Burberry as CEO in April, called Lee an "exceptional talent … whose appointment reinforces the ambitions we have for Burberry."
Though the brand was careful to give Tisci a respectful exit — it went to the unusual step of issuing two separate releases about the departure and the arrival, noting that Tisci "has decided to leave after almost five years" and praising the "pivotal role" he played in repositioning Burberry — it's hard not to hear in its its "ambitions" a wish for the kind of gung-ho sales success, particularly in bags and shoes, that Lee brought to Bottega Veneta, where his Pouch bag and Cassette bag were puffy best sellers. The Business of Fashion noted that while Burberry revenues for the fiscal year ending April 2, 2022, were £2.8 billion (about $3 billion) above pre-pandemic level, competitors like Chanel and LVMH reported even greater year-on-year gains.
Lee is from Bradford, England; he attended London's Central Saint Martins school for design and worked for years with Phoebe Philo at Céline (in the pre-Slimane, accent-aigu days), an era and a style still much missed in fashion and some of whose traces lived on in Lee's work for Bottega Veneta. (In Paris, where Fashion Week has just begun, a pop-up shop from the vintage resellers Re-See and the Old Céline Archive platform are offering 200 pieces of Philo-era Céline. "Run to that pop-up, like, now," commanded the Instagram account @stylenotcom.)
The Italian-born Tisci, who ran Givenchy for 12 years before arriving at Burberry in 2018, brought a dark, goth-tinged flavor to both Givenchy and Burberry. (His design sensibilities seem to lean mystically Catholic, which always seemed a slightly odd fit with Burberry's pragmatic, gabardine Anglicism.) But he early on embraced many of the changes in fashion that would upend the industry, embracing celebrity (including Kanye "Ye" West and the Kardashians), inclusive casting, and the influence of so-called "streetwear." (Not to tag him just a streetwear designer — he oversaw incredible couture.) Rumors had been bubbling of his imminent departure from Burberry for several weeks, reigniting speculation that he might alight at Versace.
Akeroyd had been CEO of Versace SpA from 2016 until his Burberry appointment. Before that, he ran Alexander McQueen for 12 years, which, like Bottega Veneta, is owned by the Kering Luxury group.