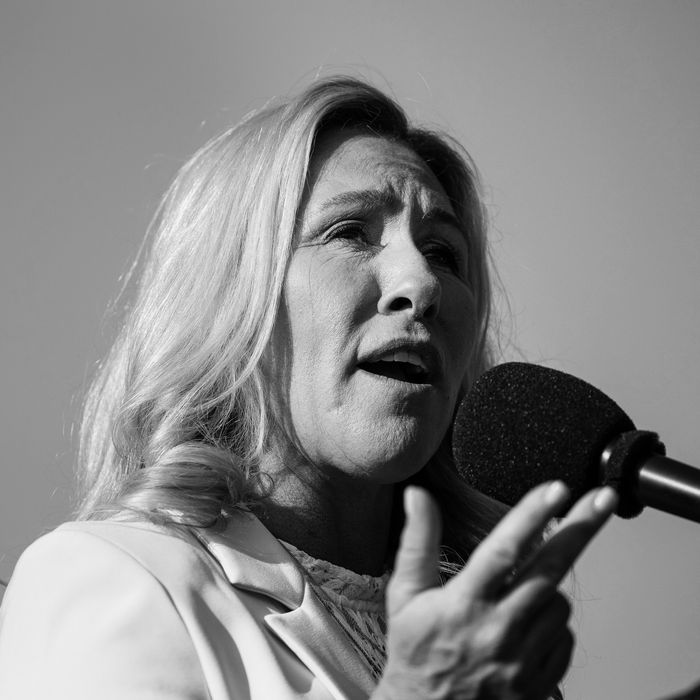 Marjorie Taylor Greene
Photo: Drew Angerer/Getty Images
Congresswoman and conspiracy theorist Marjorie Taylor Greene of Georgia has been accused of kicking a teenager who confronted her outside the Capitol on Thursday evening.
The claim stems from footage Greene herself shared on Twitter, which shows members of the youth-activism organization Voters of Tomorrow questioning the representative about gun control, a concept she loathes. Greene loves guns — check her 2020 campaign ads — and can be heard in the video telling Voters of Tomorrow executive director Santiago Mayer he's "such a coward" because he's "scared" of them. If you watch from roughly the 1:10-minute mark, you will see another of the activists — 18-year-old deputy communications director Marianna Pecora — cross in front of Greene on the sidewalk and then stumble forward a couple of times as Greene says something like, "You're blocking the way!" or "Get out of the way!" It's not entirely clear which.
Pecora looks surprised and laughs in the footage, and after Greene shared the clip, Pecora reposted it with a question: "Did she literally just tweet out the video of her kicking me?"
Greene's communications director, Nick Dyer, says no: "This is all ridiculous and you should refrain from repeating lies," he wrote in an email. But Voters of Tomorrow says yes. "She physically and verbally attacked members of our team," reads the group's statement, which notes that in addition to allegedly kicking Pecora, Greene suggested Mayer "go to another country where they take away your guns." Greene has since realized that Mayer is a Mexican immigrant and doubled down. "Just like I said, he's a paid political activist, who just so happens to be blessed to have immigrated to our great country," she tweeted after the incident. "He should respect and be grateful for American freedoms, like our 2A, instead of trying to destroy them. If he doesn't like it, he can go back."
All of which feels pretty classically MTG to me. This is a woman who has repeatedly made a point of harassing her colleagues — trolling Marie Newman over her daughter's gender identity, allegedly having "berated" Cori Bush so aggressively that Bush moved her office, and trailing Alexandria Ocasio-Cortez around the Capitol while shouting at her — and who promoted a caucus for "Anglo-Saxon" values. She hangs out with white supremacists and reportedly touted the January 6 Capitol insurrection as Republicans' "1776 moment." I could go on, but beefing with a teen-activist group would fit neatly within that pattern.