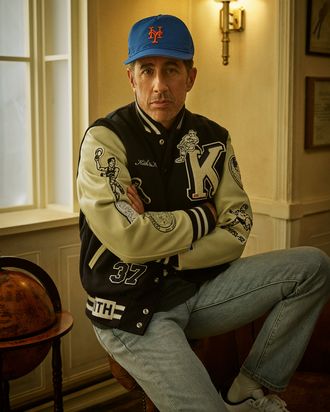 Who's the first person you think of when you think of streetwear? Is it Jerry Seinfeld? Me neither, but here we are.
The comedian is the face of Kith's fall 2022 campaign, appearing across several images in a plethora of ball caps (including a Mets hat, of course), printed overcoats, letterman jackets, and jeans that are, frankly, tight. And there are a lot of fans of this campaign. In fact, some of my dear colleagues have found this campaign to be … hot. "Could I BE any more attracted to him," one courageous editor messaged our entire style team. How brave to be so bold in such a public forum. And there were jokes too. Derek Guy tweeted, "how do you do fellow kiths?" with an image of Seinfeld. Desus Nice tweeted, "eric adams wanted that KITH! photoshoot. you know this." We do know this. Maybe Adams next, Ronnie Fieg?
Sure, Seinfeld could be considered a style icon in his own right, depending on who you ask and if we're feeling a bit generous, but sadly, these images served … nothing for me. Perhaps one or two photos might be enough to elicit some semblance of thirst from me, but they pale in comparison to the other campaigns Kith has run highlighting men of a certain age. Steve Buscemi in a striped Kith cardigan surrounded by flowers? Yes. The late Ray Liotta in a sequence of mobster-esque tracksuits for the Kith and Bergdorf Goodman collaboration? Big yes. Jerry in a floral jacket and skinny jeans, teetering on a pair of platform sneakers? It's a no from me.
Maybe Seinfeld himself just isn't my cup of tea — i.e., I will not forget nor will I forgive when he reportedly dated a 17-year-old at the ripe age of 39. Isn't this kind of attire supposed to make you stop and stare in the streets? I'm crossing to the other side.