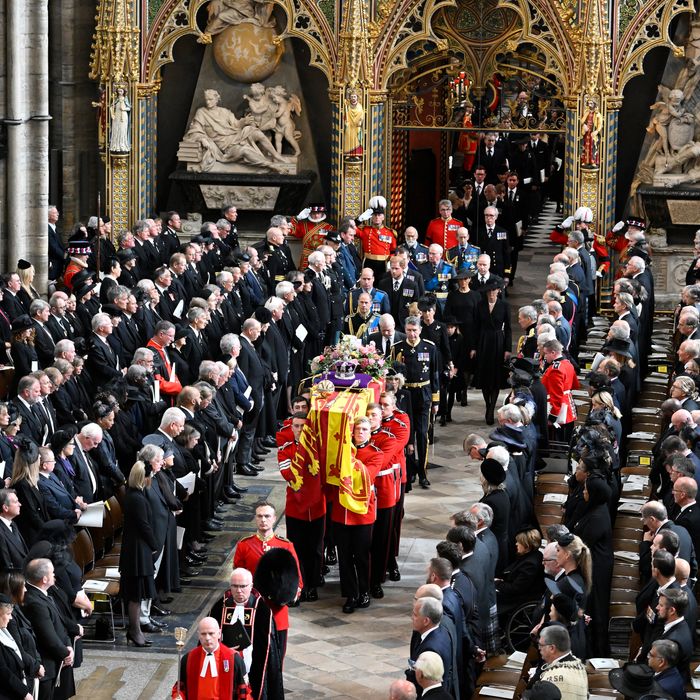 Photo: Gareth Cattermole/Getty Images
Here's a fact: If you gather a bunch of royal family members in the same room, there will be drama. Or, at the very least, there will be minuscule moments of tension that the tabloids will absolutely not let slip by unnoticed. Monday was the queen's funeral, which meant hours of meticulously planned royal protocol and almost all of the members of the British monarchy gathered in very close proximity — including our impressively petty new king. It gave us quite a lot of fodder for potentially awkward moments, which we have recounted here.
A wardrobe feud.
In the week leading up to the funeral, tabloids were abuzz with reported tension over who would be wearing a military uniform at the many services honoring the queen. Because Prince Harry had lost his military titles when he and Meghan stepped down from their royal duties, the royal-family dress code requiring royals who've served in the armed forces to wear their uniforms for military events (including state funerals) doesn't apply to him. He wasn't in uniform at the queen's Platinum Jubilee celebration this summer and has reportedly "come to terms" with wearing what I imagine is much more comfortable clothing to these events.
Then there's Prince Andrew, whose alleged sex crimes have somehow landed him in the same category as Harry — at least in terms of formal wear. Andrew was stripped of his military titles for very different reasons: In January 2022, five months after Virginia Giuffre had filed a lawsuit accusing Andrew of raping her while she was caught up in Jeffrey Epstein's sex-trafficking ring, Buckingham Palace announced that a spate of Andrew's titles and duties would be revoked. Last week, news broke that Andrew would be allowed to wear his military uniform to one event, the queen's final vigil, on Saturday — an exception the palace was not planning to make for Harry. One day before the vigil, the palace changed its tune and gave Harry the same exception.
Yet at Monday's funeral, both Harry and Andrew wore suits instead of military uniforms, and neither was allowed to salute the queen's coffin alongside their family members during the procession. In Harry's case, the result was that he actually looked significantly more esteemed than the rest of his family. Oops!
Seating-arrangement snubs.
A lot of fuss was made about the funeral's seating arrangements. For the state funeral service, all the queen's children and their spouses sat in the front row: King Charles III and Camilla; Princess Anne and her husband, Sir Timothy Laurence; Prince Edward and his wife, Sophie, Countess of Wessex; and, yes, Prince Andrew. Prince William and Princess Kate sat in the front row with two of their children, George and Charlotte, as well as Princess Anne's children, Peter Phillips and Zara Tindall, accompanied by Zara's husband, Mike.
Of course, Harry and Meghan's spot in the second row was the subject of a lot of chatter, though some argued that their position — directly behind Charles and Camilla — was actually better. Never have I given so much thought to church-pew logistics.
Some very conspicuous absences …
The most notable absence was Prince Louis, Kate and William's youngest son. Louis is 4 and arguably too young to be sitting through a long funeral service — 3-year-old Archie and 1-year-old Lilibet, Harry and Meghan's kids, were not in attendance either. However, a conspiracy theory circulating that I fully believe is that Louis was left out due to his special talent for making the most expressive faces known to man. Maybe they were worried this royal star would upstage the main event?
… and some notable VIPs.
There were still some exciting guests of honor present. Sandra Oh was there, presumably to reenact her legendary delivery of the line, "The queen is coming." Two of the queen's last corgis, who are now under the care of Prince Andrew and his ex-wife, Sarah Ferguson, were in attendance and looking appropriately spiffy. The queen's horse Emma showed up to watch the procession too.
Of course, it isn't a gathering of British monarchs without some controversial world leaders. Authoritarian Brazilian president Jair Bolsonaro showed up, as did representatives for Saudi Arabia's Crown Prince Mohammed bin Salman, the man the CIA concluded was responsible for the murder of journalist Jamal Khashoggi in 2018.
An uninvited guest.
Despite elaborate security measures, a spider was spotted crawling on one of the envelopes on top of the queen's coffin, which "Page Six" decided was a "stowaway from a royal garden." An icon, a legend, and, in the words of one Twitter user, the "luckiest spider in the world."
A shady archbishop?
Justin Welby, the archbishop of Canterbury and religious head of the Church of England, has been accused of throwing shade at Harry and Meghan during his funeral sermon. According to some people on Twitter, Welby looked pointedly at the couple while saying the words "those who cling to power and privileges are long forgotten." Make of that what you will.
Questionable coverage.
Of course, with so much news coverage of the day's events, there were bound to be a few fumbles. First, two news anchors failed to recognize the new British prime minister, Liz Truss, dubbing her and her husband "minor royals" as they arrived at the funeral.
A different reporter covering the funeral knew a little too much about who was in attendance. Royal expert Dickie Arbiter apparently felt that the arrival of Prince Andrew's ex-wife was a great time to bring up a decades-old scandal involving leaked photos of her having her toes sucked by her financial adviser. Arbiter stressed that the late Prince Philip, Andrew's father, "never forgave" her for, I guess, being photographed having her toes sucked. But he was less bothered by Andrew's own transgressions?