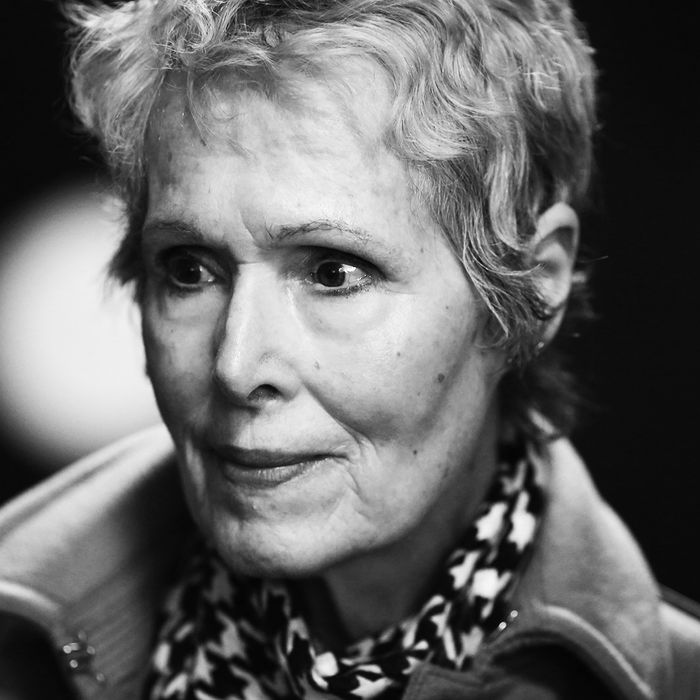 Photo: New York Daily News/TNS
E. Jean Carroll, the journalist who has accused Donald Trump of raping her in a Bergdorf Goodman dressing room in the '90s, now plans to sue the former president for sexual battery and the "intentional infliction of emotional distress," per a letter from her lawyer made public on Tuesday, CBS News reports. Carroll's lawyer says she plans to file her lawsuit in November, after New York's Adult Survivors Act — which was passed earlier this year and will allow survivors who were adults at the time of the alleged assault to file civil lawsuits against their alleged abusers, regardless of statute-of-limitations timelines — goes into effect.
In her 2019 memoir What Do We Need Men For?, Carroll, a longtime Elle advice columnist, detailed a chance department-store encounter she had with Trump in the mid-'90s, which she says started off friendly and eventually turned violent. Carroll alleged that Trump asked her for advice about what to buy for "a girl" before selecting a lace bodysuit and asking her to try it on; she jokingly suggested Trump try it on instead. According to Carroll's account, Trump then led her into the dressing room, pulling down her tights and "forcing his fingers inside my private area" before thrusting "his penis halfway — or completely, I'm not certain — inside me." Carroll said she did not report the alleged incident to the police at the time but told two friends about it. Trump strenuously denied Carroll's allegations, claiming she was "totally lying" to sell her memoir, that he'd never met her (despite there being a photo of the two of them together in the '80s), and that he wouldn't have assaulted her because "she's not my type." Carroll sued Trump for defamation in 2019.
Carroll's lawyer has proposed that the two suits be tried together in February and is currently seeking a deposition from Trump, alleging that he "barely participated in the discovery process" for the defamation suit. Per the Times, a lawyer for Trump has called that proposal "extraordinarily prejudicial," claiming that it would violate Trump's rights and denying that he failed to comply with the discovery process. Between this, the Mar-a-Lago probe, and a sweeping civil fraud lawsuit the New York attorney general filed against Trump and three of his children on Wednesday, it sounds like the former president could be spending a lot of time in court.