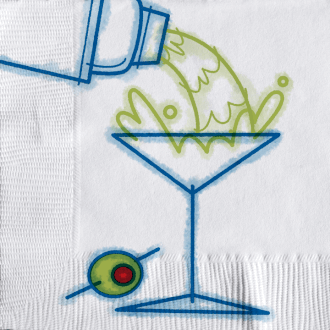 Extravagant galas, opulent dinners, flashy art shows … Ever wonder how the upper crust parties? Welcome to Society Pages, the Cut's new column on New York's most exclusive events.
Where better to debut a column on high-society shenanigans than at a New York Fashion Week cocktail hour, hosted by party mayor Eric Adams and Anna Wintour? The fête took place yesterday evening at Gracie Mansion, which Adams once famously said is full of ghosts. And indeed, there was a haunted quality to the dusty parlor in which a mix of fashion and city people were packed like sardines.
I was reminded emphatically upon entering that the mayor does not want to talk to me, which was fine because he addressed the crowd halfway through the evening:
"New York is as cool as can be right now, here in Gracie Mansion with all of this beautiful upholstered swag," he began, before launching into a series of meandering stories about the importance of fashion (like the time he wore a tux embroidered with the phrase "End Gun Violence" to the Met Gala) and how he is important to fashion: "New York was just a flannel-suit city … and then the mayor comes in and says he's a nightlife mayor."
After touching on how much money Fashion Week brings to the city ("twice the amount than if we had the Super Bowl here"), Adams dedicated the rest of his speech to "the angel that wears Prada," Anna Wintour.
Actually, she was wearing a poofy Carolina Herrera skirt and dark Chanel sunglasses (though the room was so dim it was practically candlelit) and her mourning pin was the only evidence that the Queen of England had died a few hours earlier. Adams, apparently, was either unaware or unruffled by the news, ending his speech with a triumphant flourish:
"You are the exclamation point of New York!" he gushed, before announcing that the haunted Gracie Mansion party "will take place every year that I'm the mayor of this city."
So how was the inaugural event? Below, I've ranked its various elements on a scale of one to ten angels.
Celebrity esteem
The room was packed with influencers and the most powerful people in fashion you've never heard of. It's the kind of place you go into and sort of recognize everyone, but definitely couldn't name anyone.
I'll add points because no one from the Selling Sunset cast was present, and Diane von Furstenberg, Vera Wang, and Tommy Hilfiger all showed up to party — and they're in their 70s. Emily Ratajkowski's appearance sent a ripple through the crowd, and I heard that Karlie Kloss arrived extremely late. 6 angels 
Clothes
Since the crowd was half city people and half fashion people, the room was a mass of Prada and Suitsupply. Otherwise, designers were walking advertisements for their clothing brands: Batsheva Hay wore Batsheva, Cynthia Rowley wore Cynthia Rowley, up-and-comers Tanner Richie and Fletcher Kasell were very cute in matching fringed jumpsuits (from Tanner Fletcher).
The best look of the night was probably Stacey Bendet, who was an Alice + Olivia fever dream in a metallic turban and feathered stole. 8 angels 
Conversation
"Oh my God, the queen — can you believe it?" 1 angel
Music
None whatsoever. 0 angels
Food and drink
The invitation threatened that "the menu for this event will be entirely plant-based," which, I suppose, was Adams's rejoinder to a recent New York Times hit piece on his dining habits. (TLDR: The mayor has said he's vegan, but Times reporters caught him mainlining cheese at Zero Bond.)
I wish they had left him alone, because I'd count the canapé I ate (a radish slider?) among the worst things I've ever tasted. 0 angels