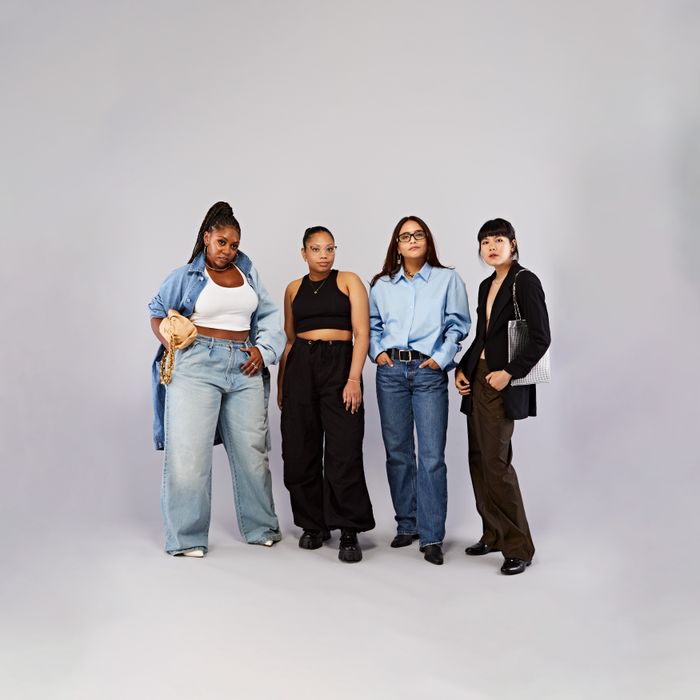 This nonjudgmental, politely honest shopping-advice column—in which the style team answers incredibly specific fashion questions— is just one of the regular series you'll find at the Cut Shop, a new and very stylish corner of the internet. Here, four members of the Cut Shop crew offer tips (and model their favorite oversized pants).
Sometimes it's not worth trying to force things to fit and it's better to be nice to your body. You can always get a tailor. —Asia Milia Ware, fashion and beauty writer
Keep your pants roomy in the leg but fitted at the waist so it looks intentional. These have drawstrings that taper the leg and waist. —Chinea Rodriguez, shopping writer
That way the pants fall on your hips rather than your waist, which means they're still fitted enough that you can walk around without stumbling. —Bianca Nieves, shopping editor
Tip
4:
Choose
the
right
shoe.
I love a little bit of puddling over the shoes, so I pair mine with a Phoebe Philo–era Celine patent-leather loafer that has a half-inch heel to give me a little height but still has that look. —Vivian Chuang, fashion assistant
Some more questions …
I'm back at the office. Can I wear a crop top?
A.M.W.: Yes. It technically isn't cropped if you wear it with high-waisted pants. When I went to the office the other day, I wore a $20 cropped tank from Amazon with jeans and a denim blazer on top.
What's going to be the next brand from the early aughts to make a comeback?
Danya Issawi, fashion news writer: Baby Phat. Kimora Lee Simmons just launched a collection with Puma — which is on the lineup for New York Fashion Week this year. The last time Puma did Fashion Week, in 2017, it was to show off a little line called Fenty by Rihanna. Growing up, I admired the girls who got decked out in their matching Baby Phat velour sets and bedazzled low-rise jeans. Given these Y2K-obsessed times, it feels (finally) right for a Baby Phat resurgence.
How do you style a sweater-vest?
Emilia Petrarca, senior fashion news writer: I believe the purpose of a vest is to show off your arms — even if you don't have any muscles. Wear it like a dignified tank top. Or how an actor would to play a naughty professor in a porno. This summer, I wore a vintage red Prada vest to very important "business meetings" at bars with nothing under it, not even a bra, and felt [gestures proudly with arms]. I'd avoid anything that screams sweater-vest, like argyle, or any sort of crest. I guess I'll eventually have to style mine with something warmer. Maybe a tight white T-shirt that pokes out ever so slightly. Below are some options.
For more from the Cut Shop team, follow us on Instagram and Twitter, where we share our best new finds, favorite styling tricks, and more.
More From the 2022 fall fashion issue
See All