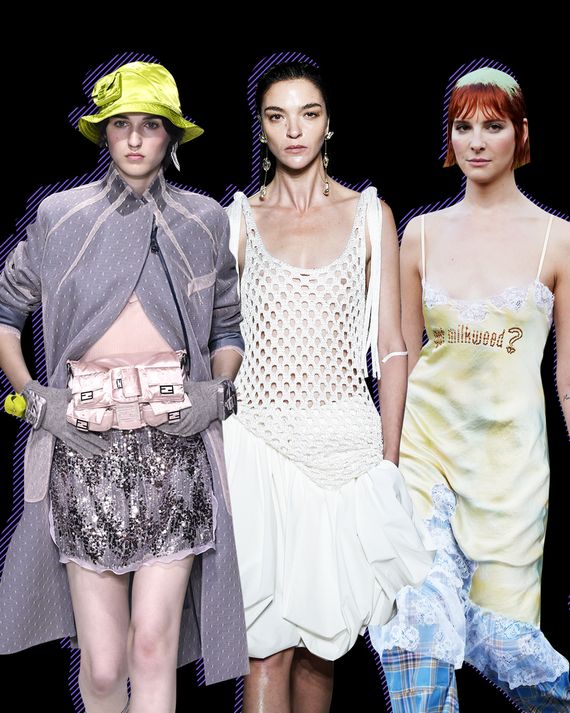 Left to right: Fendi, Proenza Schouler, Collina Strada.
Photo-Illustration: by The Cut; Photos: Getty Images
Fendi gave New York a proper Friday night-Saturday morning, with police barricades outside the formerly seedy Hammerstein Ballroom on West 34th Street, supermodels and celebrities on the inside, and an after-party at Indochine. The show itself was the work of two designers, Fendi's creative director Kim Jones and Marc Jacobs, who are also friends. When Jacobs held the top creative role at Louis Vuitton, Jones designed its men's line for a time.
Jacobs, in a backstage crammed with supers — Kate Moss, Christy Turlington, Linda Evangelista, who is the "face" of Fendi and who appeared for the finale, cloaked in Tiffany blue satin — shouted that he had asked himself: "What would Karl do?" The question was worth asking, because Karl Lagerfeld, who designed Fendi from 1965 to 2019, had a knack for keeping things modern, or at least fun and interesting. Despite the fact the show was conceived around the 25th anniversary of Fendi's Baguette — the bag that marked the beginning of the importance of accessories to fashion companies — and despite Jones's own nod to the early years of Sex and the City, which helped to popularize the Baguette, it was not a nostalgic trip.
"I was thinking of New York, uptown and downtown, and I was always obsessed with the Warhol concept of that," Jones said. "So Marc Jacobs is the king of downtown." He paused as Amber Valletta leaned in for a hug, and laughed. "And the girlfriends are here."
Today, everybody mixes sportswear and high fashion — the lightweight utility parka with a slinky metallic beaded skirt — but the difference last night was the sharp and realistic focus on sexiness. Responsible for the first part of the show, Jones took the volume out of bombers and blazers, a welcome shift from the oversizing trend that still weirdly captivates some designers. His shoulders looked natural, his layers unforced as he mixed semi-sheer slips in shades of pale pink and acid yellow with masculine jackets, a sheered fur bomber with leather track shorts. Versions of the Baguette, from mini charms dangling from bags and knitted caps to soft pouches on the front of a top, adorned most of the looks.
Another mark of the collection's relevance is that the majority looks were made up of separates, with variations of a new Fendi clog. For Jacobs' part —which began with a model in a cropped black "Fendiroma" t-top and a silver- spangled skirt hemmed with a turquoise chiffon frill — many of the raw-looking, hand-finished long denim skirts and jackets were a riff on recent styles he has done for his own label. Ditto a sumptuous bathrobe coat that turned his graphic monogram into a Fendi logo.
The fittings were all done in Rome, with the designers working largely together, and somehow, in spite of the obvious complexities of a project of this scale, a sense of spontaneity — winging it — came through. To be sure, a show in the creamy vastness of the Hammerstein was a major marketing vehicle for LVMH, which owns Fendi and Jacobs' label, as well as Tiffany, which provided stones for at least one Baguette and of course, the familiar color of Evangelista's cape. As Jacobs said of the extravaganza as he greeted Sidney Toledano, the chief executive of the Fashion Group at LVMH, "It was really wonderful. Lots of energy. Lots of good accessories. Money in the bank."
Most designers, with or without Fendi's resources, begin work on a new collection by assessing the landscape. Which is incredibly difficult at the moment, since there is almost nothing to look at on the streets. Sneakers, customized jeans, bra tops, drab vintage layers, leggings galore. The Jewish Museum has a marvelous exhibition, New York 1962-1964, with art, film, fashion and interior design advances, that highlights this difficulty. Among its fashion designs is Evelyn Jablow's 1964 "Fold-Up Dress for a Portable Society"—an accordion pleated mini dress—and Bonnie Cashin's 1963 jumpsuit in black leather and wool. The Cashin piece looks remarkably "today," with its sporty leather upper half, but more to point, it was an original. Pants on women were still something of a novelty. Like the paintings of Rauschenberg or the street events of Fluxus or Jack Smith's underground film Flaming Creatures, Cashin's design was a response to the new freedoms of that time.
That function of fashion hasn't changed, though perhaps it's harder to achieve, given the sheer volume of things competing with fashion and the general shift away from true design and toward entertainment. As the New York spring 2023 shows opened, a number of designers had decent collections, yet appeared to be struggling. Nellie Partow is known for tailoring and elegant, thoughtful separates, but this season she imagined the idea of a female nomad living out of a small suitcase — with a white sundress that wouldn't crease, a breezy drawstring skirt, some fine knits in cheerful citrus tones. But the portable life is already well established and Partow didn't adequately expand on it.
In a public garden in Brooklyn, Hillary Taymour of Collina Strada featured many of her signature funky floral prints and jeans, this time adding pieces taken from historical fashion — panier skirts and corsets, for example. But, again, that trick has been played many times before by designers, and it was unclear why it mattered to do these shapes now.
After substantial collections in the past year or so, Proenza Schouler looked generally weak. The designers, Jack McCollough and Lazaro Hernandez, said they wanted to bring more sensuality to the clothes, mostly by embracing Hernandez's Cuban roots. Hence the flared pants and Flamenco ruffles, including knit dresses with huge belled sleeves. But while many of the knit separates and soft tailoring in cotton-terry tweed looked timely — luxurious as well as easy to wear — some of the details and materials (for example, a black coat worn by Shalom Harlow with gold tassels) treaded close to the kinds of merch you see in the windows of wholesale establishments in the West Thirties. And the thick-soled, padded platform shoes looked equally uninspired.
By contrast, Jeffrey Kalinsky's refreshed Theory line completely hit its mark. The designs, in neutral tones with spikes of carnation pink and iris blue, were simple, adaptable and well-cut. In short, what you'd expect from Theory.
Probably one of the best collections of New York, I suspect, will be a new line called Fforme. Designed by Paul Helbers, who brings quite a pedigree — Martin Margiela, menswear for Jacobs at Vuitton and The Row — Fforme is the result of more than a year of development with his partner, Laura Vazquez, who is chief executive, and Nina Khosla, who is the principal investor. They offered a concise fall collection, which is already online, and a spring group. I happened to arrive early for my appointment, at a Chelsea gallery, and no one was around. No matter. The 17 fall looks displayed on suspended forms told me everything. You could see the quality of the cut, the shape and sense of movement in the garments in relation to the body. That's a rare thing.
Helbers used just six different fabrics, including organic double-faced wool (blended with a bit of recycled nylon) and cashmere washed so that it felt like the best cotton. You could see that he was mindful of the history of couture in his details—the set of sleeves, the drape of a black T-shirt—and the ease of sportswear.
Fforme is hardly basic and it's certainly expensive (from $500 for t-shirts to $7,500 for coats), but Helbers has hit upon something that feels profoundly right for this time. Despite the crisp lines and sense of formality, Fforme is not tailoring. Many women's designers who do tailoring are already finding this a tough sell in the post-pandemic — structure feels too foreign — and the very gifted Helbers clearly sensed this and found a different way forward.