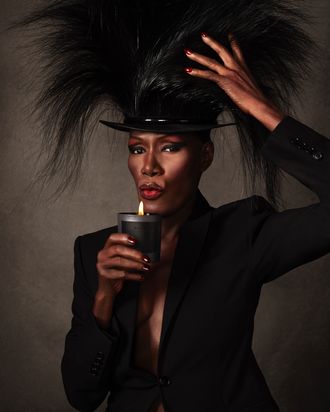 Photo: Courtesy of Boy Smells
Dressed in the viral Jean Paul Gaultier x Lotta Volkova body-hugging naked printed dress and a feather-adorned hat, Grace Jones holds up a candle. Not just any candle: one she created in collaboration with Boy Smells to smell like the "fluidity of identity." And what does that smell like? Apparently, spice. The candle — packaged in a glass tumblr and a box with Grace's face on it (which is reason alone to love this) — includes notes of black pepper, cedarwood, and musk. These scents remind Grace of her home country, Jamaica.
We chatted with Jones for 15 quick minutes at a New York Fashion Week party.
This candle is inspired by your legacy. What does your legacy smell like? 
Sexy, androgynous, and earthy. What can I say? It's got mystery.
How do you normally use candles in your day-to-day life?
As soon as the sun goes down, I light them up. I also use them for spells. But, of course, now I use it for the smell, too.
There's a lot of influence from your home, Jamaica, in here too. What scent mostly reminds you of home?
It's the smell that comes after it rains. It's an amazing smell that you don't get every day. It stems from the flowers and the plants. After it rains, everything just comes up from the earth in Jamaica.
Also the food from the cooking in the neighborhood that you can get on the streets, from the jerk chicken, the roasts, the potatoes. I don't eat much of that, but it does smell good. That was one of the main smells I experienced growing up there.
You spend a lot of time in Jamaica. What's the best part of escaping the cold for the winter? 
Not catching a cold or getting sick [laughs]. But living in the cold, I had to get a lot of fur coats. I remember someone saying to me one time, "Grace, maybe you should start getting jewelry instead of fur coats because they're much smaller to store." I haven't bought any more or accepted any more, so they're all vintage now.
What else do you escape from in your everyday life?
I'm not escaping from anything. I escape to music.
What do you think of the state of the modeling industry?
When I modeled, there was a combination of sizes; we are now in a period where size zero has become more fashionable. I mean, we used to be eating strawberries and having Champagne, you know? This pressure is to be thin, and that's actually not healthy. The pressure of staying thin pushes you to be acceptable and get a job, even though it can be bad for your health, whether that looks like not drinking water because you'll retain water weight or throwing up. I knew a model a long time ago who would eat and then sit on the toilet and vomit. It's too much.
I think gender norms are also something we see changing drastically in the industry. You've played with androgynous energy throughout your career. What does gender mean to you? 
You can't help but to be the way you are. It's just not letting anyone say you should be like this or behave like that. I grew up with a lot of restrictions about everything, not just gender. But also not being able to straighten my hair, play with nail polish, play with my brothers because they're boys. Everything they told me I couldn't do, I did. I believe we're all oysters to begin with (I eat a lot of them too; I just cut my finger on one), and the outcome of physicality does not make you who you are and how you behave. No matter what the outside is, it's the inside that's real.