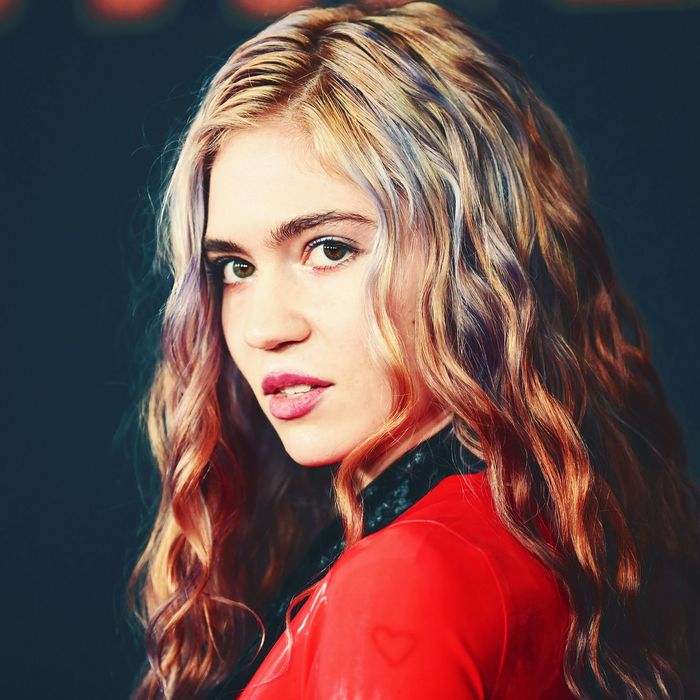 Photo: Robyn Beck/AFP via Getty Images
Over the weekend, I found myself returning to a spooky place: Grimes's Twitter account — where she explains her children's names, unpacks her thoughts on communism, and identifies as a "cringe expert." Also on Grimes's Twitter are several updates on the possibility that she has surgically altered her ears to look like those of an elf.
It all started in mid-August, when Grimes posted some confusing thoughts on facial modification. One post asked her fans, "Any face mods y'all think would look good on me? (Elf ears isn't an option, that's a separate quest)," but a follow-up indicated otherwise: she asked for "great/ safe/ reliable ppl who could do vampire teeth caps on me in Austin or LA" and "any reputable elf ear modifiers in either of these cities." At the time, she said she was "still debating this surgery cuz cartilage doesn't heal so it requires permanent stitches."
Okay, so is elvin ear modification possible for her or not? Grimes gave us a potential answer on Saturday, when she posted a photo of herself in a hospital gown with medical wrap around her face, writing in the caption, "I did smthn crazy!"
The post, which was followed by updates on her forthcoming album, The Infinite Assassin, led a lot of people to speculate that Grimes had taken the plunge. Sure, there are plenty of other surgical changes you can make to your ears, but when you've tweeted about permanently committing to looking like Legolas, it's hard not to draw this conclusion.
While there have been absolutely zero updates on her ears since Saturday, Grimes has kindly delivered a photo of her daughter "dancing to techno over this copy of the birth of tragedy by nietzsche." Which is all well and good, but Grimes, we need to know: Are your ears pointy or round?