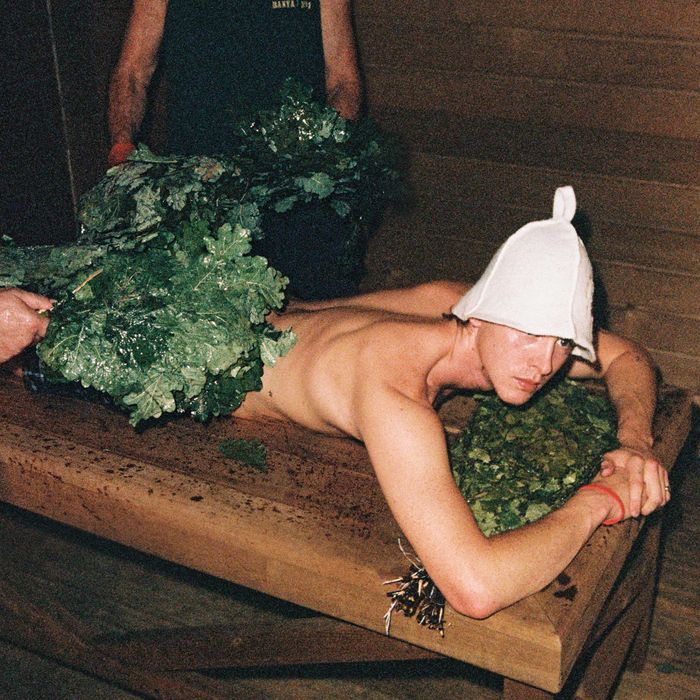 Dream Date: Brushes with our celebrity crushes.
It's not often that Prince Charming greets you wearing a pair of swim shorts, a robe, and a wee felt hat shaped like an acorn, but Harris Dickinson is no ordinary prince. "I thought we could have a chat and then, you know, just have a banya," grins the 26-year-old actor. The traditional Russian bathhouse in London — his choice of meeting place — is less of a relaxing spa where you might while away the day by the plunge pool and more of an aggressive cleansing of the mind, body, and soul. The main treatment involves lying on a rickety wooden table in a sauna as hot as hell while a burly Russian man slaps your body with oak twigs before leading you to plunge into a giant wooden bucket filled with what I assume is glacial meltwater. After, he guides you to a quiet corner to recover in silence.
Refreshed, renewed, and restored, Dickinson and I regroup in the banya's café, a series of semi-circular booths decorated with pictures of Russians enjoying the bathhouse through the ages as well as signed pictures of recent visitors: Justin Bieber, Mel C, and, of course, Tracey Ullman. I wonder out loud if Dickinson will add his photo to the montage. The actor, whose most recent film, Triangle of Sadness, won the Palme d'Or at the Cannes Film Festival, modestly smiles and denies the possibility. For someone who has played Prince Philip to Angelina Jolie's Maleficent, a male model (in Triangle of Sadness), kidnapped oil scion John Paul Getty III in Danny Boyle's Trust, and a smarmy version of the actor Richard Attenborough in See How They Run, he is magnificently down to earth.
Born a few miles away in a suburb of East London, Dickinson grew up in a cheery, chatty family with a hairdresser mother and social-worker father who encouraged the house to always be full of people. Creativity in front of and behind the camera was spurred on, and when Dickinson wasn't observing the grown-ups' conversations in the kitchen, he could be found making films and writing sketches to upload to YouTube. These days, however, he's barely on social media: "I really notice a difference in my mood and attitude and even my memory when I'm on socials a bit more, even though I came from that world. YouTube, Vine — they were my stomping ground, so to speak." A pot of fireweed tea is placed in front of us. "Delicious," he says, enthusiastically pouring us each a cup of the brew before spooning in some viscous buckwheat honey. "There might come a time when my employment is reliant on it, but for now, thankfully, it's not," he adds.
Currently filming a series in New York with Emma Corrin, Dickinson is sporting a mullet — "Not my choice, but I can't complain: I'm an actor" — and says he visits the Russian banya there regularly. "I go to one in the East Village; it's really strange. I'm always looking for things that shock your body and doing things that take you out of your head," he says. "Cold water, swimming, just being in the sea — they help me stay sane."
At Cannes, Triangle of Sadness, received an eight-minute standing ovation from a crowd that energetically praised him and the film's director, Ruben Östlund, as well as his co-stars Woody Harrelson, Dolly de Leon, and the late Charlbi Dean (the 32-year-old actress passed away before the film's U.S. release). "It was so intense," he says of his time at the festival. "It was only two days, but I struggle with putting on a front. I'll give someone my real self eight times. I'm not capable of slapping on a quick professional façade. It's exhausting." The film is dark and nuanced — a bananas satire that picks apart the value of wealth, of beauty as capital. When everything is stripped away, when the luxury cruise ship that once hosted the one percent is wrecked and the survivors on the desert island run the gamut from the wealthy to the workforce, what is more valuable: a Rolex or a packet of pretzels? And what, exactly, is their value? "In there, cleaning lady. Here, captain," says ex–toilet manager Abigail (de Leon) as she mockingly brandishes the survivors' only food — a fish she caught herself.
Dickinson plays Carl, an old-fashioned, overly emotional male model who spends the film contesting the idea of a modern relationship, or what that means to him. He is dating a female model turned influencer named Yaya (Dean) who brings him along on her spon-con yacht vacation. "All he wants is not to be the man in the traditional sense; he wants to be looked after," says Dickinson. "And ultimately that's what he gets."
It took five years for Triangle of Sadness to come to fruition, with a hiatus for COVID-19, and it was partially filmed on Christina O — the glitzy megayacht once owned by Aristotle Onassis and Jackie Kennedy Onassis. A Greek island stood in for wherever the characters are supposed to be shipwrecked. "Filming on the island was fun. It became quite feral, and there were moments where you stopped trying to be correct," Dickinson tells me conspiratorially. "It's fun to let loose and become a bad person, but it's a lot. It was very remote, and we were tired, and it did start to feel like this weird shipwreck of strange people. The stakes felt high. Ruben does a lot of takes, and when people are tired and agitated, it gets a little weird in a good way."
Dickinson is soft-spoken and, shrouded in his dressing gown, seems smaller than six-foot-two. There were moments when he found playing Carl, with all his feelings, difficult. "Sometimes it was quite painful to do the scenes where he let his emotions rule everything. You feel quite pathetic indulging in the neurosis of someone," the actor says. "I felt a little bit gross afterwards, but I think that is just acting, when you're doing something against your grain and you're like, Ugh, this doesn't feel right, but it feels so real and you're searching for truth. The lines get blurry." Östlund created a unique environment for him with his particular style of direction — a head-spinning mixture of orchestration and repetition and improvisation. The filmmaker would often ask Dickinson to consider what he would actually do if caught in a morally ambiguous scenario. "The weird moral questions that arose included 'Would I abandon my girlfriend on an island for some pretzels, for some shelter?'" Dickinson explains. "Probably not, but when you put it in the context of being starving and morally skewed, perhaps you accept it a little bit more."
Despite his newfound love for a Russian bathhouse on the Lower East Side, Dickinson has been flying back and forth between the U.S. and the U.K. to spend time at home and visit a few festivals, including Cannes and Glastonbury, where he went for the first time. "I walked like 60 miles over the three days," he grins. "But it was great." Grainy snapshots of his summer exist on social media — a favored pastime is taking photographs on set. He shares the good ones on Instagram. "But that's not why I do it," he clarifies. "If there's a photo I like, I'll upload it."
Eschewing the urge to stay busy, the actor admits he makes having free time a priority. "I don't like working all the time. I don't want to do things that engulf me. I don't enjoy being wrapped up in a job for eight months without a break. I lose my mind." He pauses and smiles to top up his fireweed tea. "I feel like I'd be a good stay-at-home dad, to be honest. I love being at home. I love cooking. I love sorting the garden out. It's quite boring, really."
Fidgeting with the corner of his dressing gown, Dickinson is ready to hit the steam again. "I've got two extremes," he tells me as he adjusts his felt hat before ducking through the wooden door into the sauna. "I want to live hard and enjoy myself and do dangerous things, but I'm also quite rudimentary when it comes down to it, and I just like simple things. When you can have an appreciation for those little things, everything else in life feels amazing."