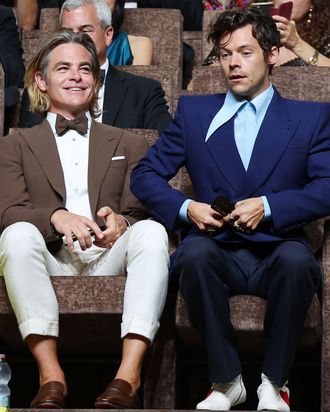 Is this the face of a man who just spit on his co-star???
Photo: Vittorio Zunino Celotto/Getty Images
By now, you have probably heard about the supposed missile of saliva that caused the Venice Film Festival and the cast of Don't Worry Darling to fully implode. Entirely not true to its name, Olivia Wilde's second directorial project is rapidly becoming the messiest movie in cinema history, and the drama surrounding it escalated this weekend in Venice, where a clip of Harry Styles (maybe, but probably not) spitting on his co-star Chris Pine's lap sent the internet ablaze.
To recap: the clip shows Styles, the movie's star and Wilde's new boyfriend, sitting down next to Pine at the movie's premiere. A frame-by-frame analysis of the moment does not provide more clarity on whether or not this grown man did indeed project a ball of spit onto his co-star's lap. For some reason, Pine is sitting between Styles and Wilde, which puts us at a pretty high base level of discomfort. While sitting down, Styles does seem to lean over Pine's lap but in a mostly natural "just sitting down at a movie theater" way. There appears to be some minuscule muscular movement around his mouth, and a second later Pine freezes mid-clap and gazes down at his crisp white pants looking vaguely disgusted. Meanwhile, Wilde watches the entire exchange and greets it with one long, cryptic blink. A clip from a few minutes later shows Pine stoically putting on his sunglasses just as the movie is starting, while Styles tries to engage him in a little banter.
On Monday, Pine denied there had been any spit hurled toward him. A representative told People the story was a "complete fabrication" and said, in no uncertain terms, "Just to be clear, Harry Styles did not spit on Chris Pine." Apparently, everyone speculating about this moment is trying to "create drama that simply does not exist."
And now, Styles has also weighed in on this soggy saga. During a concert Wednesday night in New York, he announced in the most British of ways that he "just popped very quickly to Venice to spit on Chris Pine." A joke, I'm sure … right?
The internet's fixation on Spitgate probably says less about whatever actually happened between Styles and Pine and more about the endless mess surrounding Don't Worry Darling's release. Between Wilde's very public custody battle with her ex Jason Sudeikis, which has spilled over into the movie's promotion; her new relationship with Styles, whom she met on set; and a casting dispute involving Shia LaBeouf, there is a Real Housewives season's worth of drama unfolding here. On top of that, Florence Pugh's rather chilly presence (or lack thereof) in Don't Worry Darling's promo and press events has fueled months-old rumors that she and Wilde are beefing.
Pine, meanwhile, has seemingly been astral projecting through the film's rollout, suggesting that he would much rather be far, far away from everything going on with it. At this point, can you blame him?