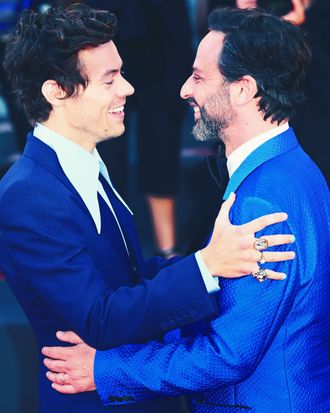 Photo: Stephane Cardinale - Corbis/Corbis via Getty Images
It is yet again time to discuss a subject on everyone's minds: Harry Styles's lips. Earlier this week, the world was reeling from the great mystery of whether or not this fully grown man spat on his Don't Worry Darling co-star Chris Pine. (Pine's representation says no, but the internet is not convinced.) Anyway, it turns out that shortly after spitgate, there was another important moment for Styles's mouth: He gave his other co-star, Nick Kroll, a little kiss.
Allow me to set the scene. Unlike his top-billed colleagues, Kroll sailed (okay, drove) peacefully into Venice, documenting his serene entrée into the city. Ah, to be a supporting actor in a movie where the A-listers are reportedly feuding.
At the premiere, Kroll was thankfully seated three spots away from the big spit, which "happened" before the movie started. But afterward, during a standing ovation, Styles passed by Kroll's seat, grabbed his face with his beautifully manicured hands, and planted a definitive smooch on his lips. Don't worry, we have real footage of this one:
Of course, per the masculine-lip-kiss rule book, this smooch was followed by a dramatic hug that included several backslaps from Kroll to assure the world this is just some casual mouth-meeting between friends. Fine. Now do Chris Pine!