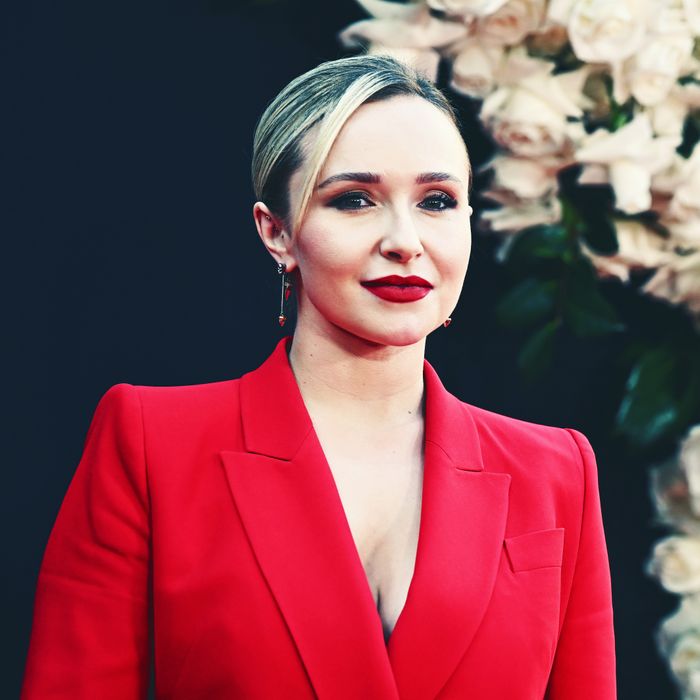 Photo: Michael Buckner/Variety via Getty Images
Hayden Panettiere is currently making her return to Hollywood, but first she's opening up about her time away from the spotlight and her relationship with her 7-year-old daughter, Kaya. In a new interview on Facebook Watch's Red Table Talk, Panettiere spoke about her "heartbreaking" decision to sign over custody of Kaya to her ex, Wladimir Klitschko, a former professional boxer, and opened up about her struggle with addiction.
Panettiere told hosts Jada Pinkett Smith and Adrienne Banfield Norris and guest host Kelly Osbourne that her issues with substance abuse started when she was 16. At the time, she was starring on Heroes and constantly working, so she didn't think twice when a member of her team offered her something to keep her energy up. "It was, 'Here, take one of these — it's a happy pill. It'll give you energy.' So I didn't think of it at the time as a bad thing or a drug," she said. Her substance abuse continued after she gave birth to Kaya in 2014, when she used alcohol to cope with postpartum depression. "I did what I had seen family and the people around me do whenever they were depressed or stressed out or anything, which was reach for a bottle," she said.
She first went to rehab when her daughter was 4 months old but continued to drink throughout her run on Nashville. It wasn't until the show ended in 2018 that Panettiere said she hit her rock bottom. "I just remember when I finally called for help, I was in a fetal position in bed, couldn't get out, in tears all the time. Even though I knew I had to stop, I couldn't. I could not stop," she said. "I was stuck in this horrifying nightmare that just wouldn't end, and I was completely by myself." She and Klitschko split for good, and that's when she lost custody of her daughter.
"I was going through such a hard time that I knew that the most unselfish thing that I could do was to make that hard decision and just try to work on myself," she explained. However, the actor said she wasn't aware that signing over custody would mean her daughter would grow up in Ukraine. "It wasn't really my decision. In fact, I didn't even know it was happening until she was already over there," she said, adding that the biggest misconception about her was "the idea that I'm a person who would just easily throw out my child, give away my child."
The actor claimed that at the time, she believed Kaya was on a temporary visit with her father in Ukraine, as was routine. But once Kaya was in the country — where, she noted, Klitschko's brother, Vitali Klitschko, is the mayor of Kyiv — he filed for full custody. "Once she was over there, it was, 'I want full custody of her,'" she recounted. "I understand that he thinks he's doing the right thing. He's a fantastic father; he really is. But I don't think he fully grasps that as she gets older … kids need their moms." Panettiere insisted she had "never endangered" her daughter and believes that if Klitschko had filed for custody in the U.S., this never would have happened. "In this country, they would never take this child from me," she said. "But I think that's why she was wanted over there."
Although she was careful not to paint Klitschko in a negative light, saying she had "a lot of respect for him," Panettiere made clear she didn't agree with how he handled the situation. "If he had come to me and said, 'I think because of where you're at right now and the struggles that you're having, it would be good for her to be over here with me for a while' — to which if I had probably had enough of a conversation, I would've said, 'Okay, that makes sense, I get it. I'll come there to visit.'" She didn't go into details in the clip as to how exactly the custody arrangement was reached, but called the entire thing "very upsetting," saying, "It was the worst, signing those papers. The most heartbreaking thing I've ever, ever had to do in my life." She also suggested her ex wasn't very sympathetic to her needs as a mother. "I remember her dad calling me and he said, 'Kaya's going around, and she's asking other women if she can call them Mommy.' And my breath hitched, and my heart stopped," she said. "And he was laughing; he thought that this was funny." The actor added that she felt her daughter was having a "trauma reaction" to not being around her mother and said, that while Klitschko hasn't signaled any willingness to revisit the custody agreement, she has hope things will change.
Kaya left Ukraine after the Russian invasion and is currently living in an undisclosed location. She hasn't been back in California since 2018, but Panettiere still visits her daughter regularly. "She's an incredibly strong child," she told the women of the Red Table. Speaking with People in July, Panettiere said she was "just with" Kaya. "She's just an amazing child," she said. "She's smart and she's funny and, for whatever reason, she still loves me."
This post has been updated.