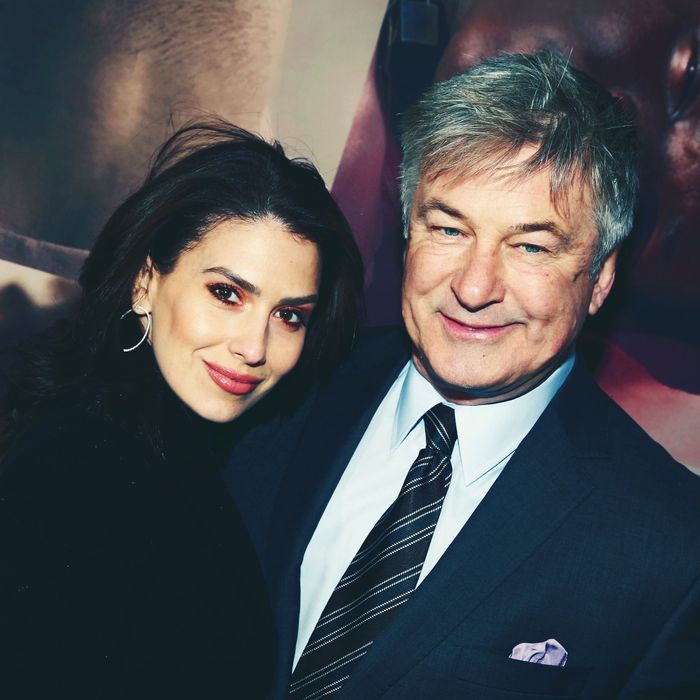 Photo: Bruce Glikas/WireImage
Alec and Hilaria (née Hillary) Baldwin have officially welcomed a ninth member to their family of bosses. On Sunday, Hilaria posted a video montage announcing Ilaria Catalina Irena was born on September 22.
Didn't they just have a baby?, you may be thinking. You're right: Hilaria and Alec have welcomed two other children in the past two years, most recently Eduardo "Edu" Pao Lucas, who was born via surrogate in March of last year. After Edu's birth, Hilaria seemed pretty ready to stop having kids, telling People, "I'm so tired." But in March, she announced she was pregnant with another baby, due this fall, sharing a video of the couple telling their six other children the news with the caption "We were pretty sure our family was complete, and we're beyond happy with this surprise." She continued, "Our new baby is a very bright spot in our lives. A blessing and a gift during such uncertain times."
I would have thought Alec had too much on his mind to worry about procuring a newborn-size suitcase, but his powerful sperm apparently felt otherwise. Speaking of: This development places Baldwin, who has an eighth child from a previous marriage, neck and neck with his fellow in fertility Nick Cannon.
This seventh child opens up a world of possibilities for Hilaria and Alec. For one, think of the Halloween costumes they could plan. (Days of the week, deadly sins, erogenous zones, etc.) If they're feeling more creative, they could form a water-polo team, become a BTS cover band, or, in the tradition of Hilaria's "heritage," start teaching their children the Spanish art of castell, which involves making giant human pyramids.
Anyway, congratulations to this very fertile couple. May their baby be happy, healthy, and — most important — a boss.