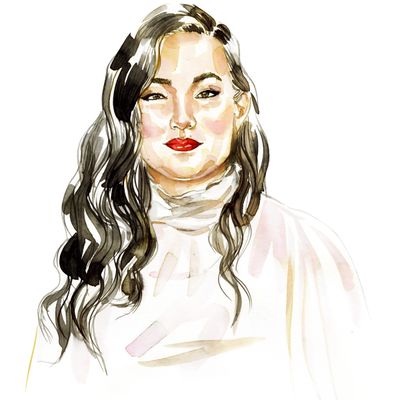 Illustration: Samantha Hahn
For this special Fashion Week edition of "How I Get It Done," we're asking successful women about managing their careers and lives during this hectic time of year.
Not everyone takes the same path to New York Fashion Week. For Amanda Nguyen, the founder and CEO of Rise, a nonprofit that advocates for the civil rights of sexual-assault survivors, catwalks, designers, and models were never an anticipated part of the job description.
Nguyen founded Rise in 2014, a year after being raped in college, and has spent the past eight years lobbying for change. She is a 2022 Time Woman of the Year and a 2019 Nobel Peace Prize Nominee. Her hard work recently came to fruition in a big way, when on September 2, the United Nations unanimously passed its first-ever sexual-assault survivors resolution, one that Rise advocated for. This isn't her only legislative success: Nguyen also played a major role in the passing of the Sexual Assault Survivors' Rights Act, signed into law by President Obama in 2016.
While she came to New York for the U.N. vote (Nguyen is based in Washington, D.C.), she was also here preparing for Rise's second annual Survivor Fashion Show as part of New York Fashion Week. While Nguyen spends her days dealing with politicians and legislation — even briefly having to take a call with the U.N. during our interview — she's always found strength in fashion, art, and being creative. This passion brings her to Fashion Week, where she finds a way to blend her activism with community and joy. On September 9, Nguyen and other survivors of sexual violence, including Chanel Miller, walked a runway in the Museum of Modern Art. The models wore pieces from designers including Chloé, Diane von Furstenberg, and Dior. Nguyen proudly wore a statement Khan Dong, a traditional Vietnamese crown, made of fresh flowers designed by KimBang Nguyen.
Nguyen's work deals with difficult topics and has the potential to be all-consuming, but the activist has found ways to make sure that she creates boundaries for her own well-being and her employees'. The key for her is having strict deadlines and taking time to indulge in what she loves. For Nguyen, that means building a huge bookshelf at home and growing her library. It also, for this former NASA intern, means spending a lot of time thinking about outer space. Here's what she told us about how she gets it done.
On what brings her to Fashion Week: I love fashion, and when we discuss fashion, it's often about the art form. But fashion is inherently also about utility. Everybody wakes up and chooses the clothes that we wear, and that act in itself is a choice in our identity. So, I come to fashion from a place of using it as armor, as art, and as a way to creatively express what I care about, and that's survivor rights.
On how the Survivor Fashion Show was born: I was sitting in a NYFW show a couple seasons back, and I had this lightbulb moment. A commonly asked question is, "What are you wearing?", and as I was talking about what I chose to wear that day, I had this remarkable moment where I was like, I've been asked this exact question, but it was the complete opposite experience. It was after my rape. That time, that sentence was shaming me and presuming guilt for the violence that happened to me. It was very full circle. I then created the Survivor Fashion Show so that survivors can take back this question.
On learning the ropes of putting a show together: I don't have a background in fashion, but I have friends who are designers and stylists that taught me. I'm also so grateful to the army of people who help put this together. We learned how to put together a fashion show from just trying to. We watched a lot of shows, and we also got advice from designers, friends, stylists, and people who just wanted to pitch in and help out.
On subverting conversations around sexual violence: The Survivor Fashion Show is truly a fashion show, and the key thing that I wanted to be present as the creative director is for it to be subversive on the stigma against sexual violence. When sexual violence is discussed, it's frequently in this serious, depressive manner because the issue itself merits that seriousness. But I share the sentiment with other survivors that when we talk about these issues, survivors are often put on a glass pedestal and glass box, and there's a voyeuristic relationship with the audience, like it's trauma porn, and we are never able to heal. So I wanted this event to talk about something serious and to be empowering and positive.
There's multiple levels to our piece. It's not only about the clothes that the survivors are wearing, the designers we are supporting, but it's also performance art in the sense that these are people — survivors — who are walking the runway reclaiming something. Sexual violence often destroys a person's self-worth, body image, and self-esteem. Body dysmorphia is very common amongst survivors, making it difficult for survivors to actually walk the runway. Yes, it is a very fun prestigious thing to walk in New York Fashion Week, especially at the Museum of Modern Art, but also the act in walking the runway is transformative because the survivors are conquering fears.
On finding support and joy in activism: I remember going to a brunch for Asian women in fashion that Michelle Lee, the then-editor-in-chief of Allure, put together. I was very nervous about sharing the idea for the Survivor Fashion Show there. I got the courage to share and everybody loved it.
I've found so much strength from the women in my life, especially women in fashion, and other designers. Peter Do, Prabal Gurung, Phillip Lim, Diane von Furstenberg — these are all people who are partners for last year's show and for this year's. I worked with them because they genuinely care about survivors. They know that a key part of activism is joy, the most radical form of rebellion. I find a lot of joy in fashion, and that's why I'm involved in these shows.
On using art to advocate for legislation: My job is a lot of playing ball with politicians, but there is an incredible amount of space for art. We used art to have our stories be heard, creating the "What Were You Wearing?" exhibit. The United Nations had shut down the building to the public and verified NGOs like Rise. We put the outfits that we were raped in in the center of the lobby to force these diplomats to reckon with and not forget us, even when we couldn't be in the building. We wanted them to know that we're not talking about some abstract thing. It's actually us. We are fighting for our own stories, our own rapes, to matter.
On her passion for outer space: I wanted to be an astronaut and I still do, and I remember after my rape going to astronaut Leland Melvin, a mentor of mine, and I said, "Hey, Leland, I wanna go through astronaut candidacy, but I also have these civil rights that I wanna fight for." And he said, "Space is gonna be there. It's gonna be there long after you're gone. So it will be here for you when you return, but go fight for your rights."
The overview effect is what happens to astronauts when they go to space. It's documented in psychiatric literature. Astronauts will leave Earth and see this pale-blue dot and everything that's ever lived or died on this dot. It brings perspective into their lives, and when astronauts return to Earth, they're profoundly moved to make a change. I think you don't have to go to space to have the overview effect. It's just an orbital perspective. And that really helps me.
On what she does when she's winding down for the day: Gratitude journaling. Every night I write five things that I'm grateful for, and it sets me up for reflection, but also for understanding the perspective of where I am because it's been a journey to get here — nearly a decade. I'm building out my collection of books, so I read. I'm also creating what I call a justice garden. For every law that's passed, I plant a new plant. It's a bit of my creative side and having a physical manifestation of the successes.