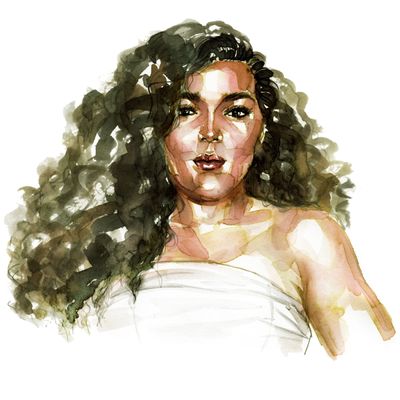 Illustration: Samantha Hahn
For this special Fashion Week edition of "How I Get It Done," we're asking successful women about managing their careers and lives during this hectic time of year.
Anifa Mvuemba is the founder and designer of Hanifa, the luxury label "for women without limits." The brand started a little over a decade ago but caught the attention of many industry insiders after Mvuemba's innovative 3-D technology show in 2020. The Hanifa community was strong long before that, however, because of the stylish women who look to the brand for wardrobe staples. The D.C.-based Congolese designer Mvuemba has always created on her own terms and by her own rules, and she designs for everyone. Inclusivity isn't a token to her but a necessity — and from the runway to her campaign images, it shows. 
Mvuemba spoke to the Cut a few weeks before New York Fashion Week while in the midst of preparing her new collection. It didn't show during Fashion Week, but it's coming in mid-October, in another instance of her subverting expectations. She can make her own rules because her community believes in what she does. When we spoke, she was fresh off a big call, during which it was decided she would have to "reshift the entire climate" of her collection by adding more pieces. And this was the chaos that hit before Fashion Week even commenced. But one thing Mvuemba is becoming more comfortable with is balance, hard as it can be to achieve. Here, she shares how she gets it done.
On what a typical day looks like: 
I wake up at 6:30 a.m. every day. I check my calendar and make sure everything is on point and then I make sure I'm really in a good mental space to start my day because that sets the tone for me. I recently got a trainer, and I work out three days a week. I love those days specifically because it gets me going. On days that I don't work out, I try to find something that'll give me that extra boost.
On getting it done without an assistant: 
Not having an assistant is like hell for me. Every day, it just gets crazier, but I'm doing it — I'm doing the best I can. I haven't had an assistant since April. Right now, I love using my Google calendar. I'm usually glued to it for Fashion Week when there are a lot of events I just pick and choose because one may take all of your energy. It's balance; you can't do everything.
On having FOMO: 
I do get it, especially when it's really good events that I want to attend but they're all happening around the same time. It's like, This one is all the way on this street, and this other one is all the way down there. Which one do I go to? But it's inevitable for fashion.
On how she packs for Fashion Week:
It's just so much easier to try on all of your outfits before you actually start packing. I used to come with bags and suitcases of things and then I would return a lot of stuff that I didn't wear. So I like to pack my outfits and maybe an extra outfit or two just in case. I think I'm a little bit more prepared for New York than I used to be. If I'm like, Damn, I don't have a shoe, I can just go to Saks or Bergdorf. I'm a last-minute packer, so I usually just run to the store real quick, but overall I have to pack in advance now.
On traveling for work:
I try to get as much done as I possibly can before I leave. In the time right before we launch a collection, I'm really laser-focused on the samples because they're the most important thing. We can't have a show, a photo shoot, or anything until the samples are perfected. This is the season the team is stepping into now. I use Fashion Week time to work a little bit during the day, but I like to enjoy myself, too. I really look forward to those trips just because my team knows I'm out of town and not on my phone that much, so I'll stay out late if I have to. They know when I'm in New York it's work, but it's also me enjoying myself for a little bit. We don't have the parties and events in D.C., so Fashion Week is a fun part of the job.
On what makes for a successful Fashion Week:
Connecting with people, meeting people, and building relationships since I'm in D.C. A lot of times, I put a face to a name or a collaboration. I look forward to that. And also the shows, being there and present and seeing what everyone is putting out.
On where she likes to shop while she's in town: 
I like Dover Street Market and Bergdorf; they always have great selections. I like exploring who retailers have on their floors. Last time I went to Bergdorf, I saw Sergio Hudson and Aliétte on the top floor; that was really nice to see, and it was displayed nicely. I like to roam the floors just to see.
On lessons from her life coach:
"You need a day in the week to rest." She tells all her executives that and adds that their team has to respect it. Wednesdays are my days. I don't take calls or meetings, and I can do whatever I want, whether I just want to rest or catch up on some reading. Sometimes I'll link up with a girlfriend, make myself a drink, watch a movie, or just sleep. I started implementing it about two months ago, and I feel a huge difference.