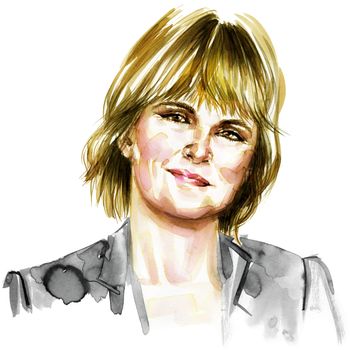 Illustration: Samantha Hahn
For this special Fashion Week edition of "How I Get It Done," we're asking successful women about managing their careers and lives during this hectic time of year.
Cathy Horyn is one of the most esteemed fashion critics and journalists working today. After a prolific 16-year career at the Times, she joined the Cut in 2015 as critic-at-large. Since then, she has profiled a range of designers, including a young Marine Serre, Shayne Oliver, Simone Rocha, Rachel Comey, Demna, and, most recently, Jonathan Anderson. In 2018, she went to Germany to better understand the cult of Birkenstock. She got the scoop on Raf Simons moving to Prada and has covered his moves from Dior to Calvin Klein. She took the pulse of the industry during the height of the pandemic. And of course, during Fashion Month, she still shares her unfiltered opinions and sharp, thoughtful insights on runway shows in New York, Milan, and Paris. In such a surface-level industry, Horyn's no-nonsense approach stands out. Giorgio Armani and Hedi Slimane have infamously banned her from their shows after negative reviews. (Only recently was she invited to Slimane's shows at Celine.)
Although her more negative reviews have caused the most waves, her writing is full of pleasure and amusement, and many designers are eager to engage. She'll take you with her on the back of a motorcycle as she gleefully rides around Paris. Her various pit stops at bars and restaurants, from Prune to Fanelli, often make their way into her reviews and help to elucidate why she really likes (or dislikes) something. One of my favorite stories of hers — there are many, including her Times profile of Snooki — is about when she carried a Thom Browne wiener-dog bag around Fashion Week. After all these seasons, Horyn remains curious, energetic, and open to new ideas — and to revising her opinions. When she's not writing about fashion, she's exercising her green thumb on her small cut-flower farm. Before the whirlwind of New York Fashion Week, we called her up at home to chat about how she gets it all done.  
On her writing routine during Fashion Week:
If I'm writing, which I am most days, I get up at around 4:30 in the morning. I stay at different hotels in Times Square. It's not the chicest neighborhood, but I've learned over time that it's just incredibly convenient. I find a coffee truck nearby or go to an all-night deli and get oatmeal or a classic egg sandwich. Then I take that back to my hotel room and start writing about the things that I've seen — usually around three or four shows. If there's a show that day at 10 a.m., the goal is to be done at 9:30. And I'm pretty efficient about doing that. It's just a habit. If I've missed something or if I still have more writing to do, I'll pop back in between to finish. But there's rarely an opportunity to do that, so I will try to get it done. In Europe, a lot gets accomplished on your phone while you're in the car.
On getting dressed for shows:
I never think about what I'm going to wear. Neeeever. Last season, I traveled for two weeks with one carry-on wheelie bag, and I'm determined to do that again. I just don't want to take a lot of stuff. It's a bit of a stretch, but I don't want to think about what I'm wearing. It relieves my mind. I just want to have something that looks tailored and sharp and that's comfortable. Like a lot of writers and editors, I've got like three pairs of dark pants and a skirt, then I've got a dress to go out in if I feel like going out. And then I've got all the other separates that go with that. It's a boring uniform. But invariably, I come home and I'm always amazed that I have two or three looks that I never even wore.
I'm more concerned about the hair, actually. In Paris, I always have a standing hair appointment at Dessange in St-Germain. Not every day, but I get a haircut and blow-dry a couple of times while I'm there. The same in New York. That's more of an uplift than anything else.
On getting around:
In New York, I'm taking the subway more. It's efficient, and New York Fashion Week is gritty — it always has been — so it puts you more to the ground in a way. It makes me think of Bill Cunningham. In Europe, I've had some really great drivers over the years. We're still friendly and exchange Christmas notes. I had this one driver for ages at the Times. He's Vanessa Friedman's driver now, and I think he's about to retire. But he's a very good cook, and when I was on deadline, he used to bring me an apple tarte or something from some wonderful bakery — he knew the best ones in Paris. But in New York, you really feel on your own. That's why I mentioned Bill Cunningham. I felt like Bill and I were compadres because we worked at the Times but also because our approach was very similar: Get yourself to the show and get yourself back to the office. No fanfare.
On the importance of stopping for a meal or drink:
Sometimes it's a reward; sometimes it's a way to reconnect with the rest of humanity. I remember going one night after the shows to Le Bernardin — not for dinner but to sit at the bar — and you see how people are dressed. You see what's interesting to other people, instead of the craziness of Fashion Week. A lot of food has wandered its way into fashion copy. The principle behind it is just discovery, as opposed to just staying in your narrow groove. I love my colleagues, but sometimes it's good to be out on your own.
On going backstage after a show:
As soon as the show ends, the PR will tell you exactly which exit or entrance to take to get backstage because it can be confusing, especially in a big space. And then there's usually a slight stampede so the writers can get ahead of the well-wishers. Everybody gathers around, and there's probably 15 or 20 people. Sometimes the questions backstage are technical: What was that material? How did you construct that? Everybody's hearing the same thing, so you'd think all the copy would end up the same. But I think it's up to the writer to sift through what you want. I always like talking to Demna because he's thought about what he's going to say but it doesn't feel rehearsed or canned. It's fun to ask him questions. He's very funny, and he laughs a lot. I'll have my interpretation, and I'll lob it back at him and see how he responds. With Marc Jacobs, sometimes he has done collections where I quote him extensively because I'm really interested in what he had to say. And then sometimes, like when he did the Karole Armitage show, I didn't need to talk to him because it was so clear what that was all about and wide open for interpretation, which is great. And then you have designers like Margiela who would never talk to you. You had to interpret what you saw; it was food for thought. And in some ways, that's interesting too.
One of the great backstages is with Miuccia Prada. But this was before the pandemic and before Raf Simons. When I was covering her at the Times, you'd walk into the backstage area at the old Prada headquarters and there would be a little passageway to get to her, and she'd sometimes be standing in it. And she'd be very funny, talking about feminism or whatever she wanted to talk about. But those moments are so warm to me, and someone like Miuccia could make it feel so spontaneous. I'm really glad I had all those opportunities to see her.
On keeping the copy fresh:
One thing I became aware of, way back when I was at the Washington Post in the early '90s, was that every few years, you have to change the way you do things or the way you write about something. You have to upgrade your style. In the past, it could have been chattier. It could have been funnier. You might be winging it more with a little bit more energy, a little more warmth, a little more risk. And then I settled into a different thing, which was about being more descriptive, being clearer, especially in the early years at the Times. And then I go through periods where I'm more interested in historical context and giving perspective about where we are in fashion today. The speed of change dictates it. Whatever that pace is should be reflected in your copy to some extent. It's a reflection of the times. But you have to find some way to keep yourself interested and charged.
On getting feedback from designers:
It's fun because they do read and care about reviews. I've had a couple of them scream at me, but they're just getting whatever out of their system and then everything is friendly again. I'm thinking of Donatella Versace in particular — that was years ago. She did a show in New York and it was filled with celebrities and was a little bit much. I poked fun at the whole thing and then she called me, just livid. But she and I have always been pretty friendly, and I think I saw her the next season and all was fine. She just blew off steam, and that was it. But I used to always get notes from Karl Lagerfeld. Not for every collection, but he'd make a comment or he'd say "Thank you for this" or "I found that really interesting." Demna will often send a text — he's a text guy. Michael Kors always writes a note about two weeks after the show. If it was a good review, he will sometimes send flowers, but he will always drop you a note, and I really appreciate that he takes the time to do that. There's always some sort of feedback, but it's usually directly from designers.
I've also revised my opinion, too. One that comes to mind was Stefano Pilati's first Saint Laurent collection. I just didn't get it, and I thought it was too girlie and too puff-sleeved given the history of Saint Laurent. But I thought about it, and three months later I wrote a reappraisal. I've done that a couple of times, and I like doing those pieces. It's fun to rethink.
On making it through the Fashion Month marathon:
The marathon used to be three weeks, but the pace was so different. You'd have time to go out for lunch. We'd meet up with friends for dinner or we'd go shopping, and I always thought that was important. I often wrote about some great store that I visited — just as reportage, as if I were writing a letter from Milan or Paris. It was a very regular thing to go to Villa d'Este at Lake Como since it wasn't far. And we went to Parma for this amazing dinner once, even though it was a bit of a drive; eight of us all piled into two cars. That's almost nonexistent now. Part of the reason is that the traffic is so bad, so you don't have those leisure hours. Now I usually go to London after the Paris shows for three days. So if Paris ends on a Wednesday, I'm on the Eurostar Wednesday afternoon. Or I go to Berlin or someplace in Italy. I've been to the Loire Valley just for a quick 36 hours. André Leon Talley and I once went to the American Cemetery at Omaha Beach. I wish we had more time for stuff like that.