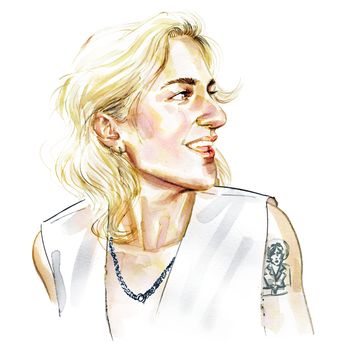 Illustration: Samantha Hahn
For this special Fashion Week edition of "How I Get It Done," we're asking successful women about managing their careers and lives during this hectic time of year.
Christina Fragkou has been documenting fashion week for over eight years. As a freelance street-style and fashion photographer, it is easily her busiest season as she travels from city to city to capture content for the biggest fashion brands and magazines around the world (including the Cut!).
A seasoned photographer, she has worked for brands like Dior, Rick Owens, JW Anderson, Balenciaga, Acne Studios, Chanel, Schiaparelli, Loewe, Gabriela Hearst, and Prada. When she's not working shows, she's capturing street style for publications including The Cut, Vogue, DAZED, Hypebeast, and more. She has captured iconic moments like Karl Lagerfeld's final show for Chanel, the late Queen of England arriving for London Fashion Week in February 2018, and Virgil Abloh, Bella Hadid, and Hailey Bieber backstage at Off-White in 2017. 
Born in Greece and raised in South Africa, Fragkou (who uses she/they pronouns) graduated from college in 2012. While she wasn't initially sure what type of photography she wanted to focus on, she decided to apply to the Condé Nast College of Fashion & Design in London. It wasn't until working an internship at TANK Magazine, where she shot a mixture of documentary and fashion together, that it clicked: That was what she loved to shoot. She shot her first fashion week in London in 2015, and this season marked her first New York Fashion Week back since the pandemic. This is how she gets it done. 
On an average day during fashion week: 
I go to bed around 2:30 a.m. and wake up around 7:30. As I get more tired, I find that I have to make myself wake up a little bit earlier, because it just takes me that much longer in the morning. I can't just get up and get out. I'm a morning shower-er and always have a decaf coffee on the way: oat-milk flat white, even if I'm late. During the day, I'm carrying a shitload on me. I've got my camera, my phone, and my laptop. I've got two lenses because I'm shooting backstage and street style. I'll be on the street until sunset shooting street style. On average, I'll shoot probably two or three shows a day backstage and then I'll also shoot street style between four and five different shows. I try to say no to any late-night shows unless it's for a client that I've worked with for a long term and it's a show that I'm going to enjoy, or if it's for big bucks. While I typically walk from show to show or take public transportation, when it's late at night, I take an Uber home. I'm not getting on a tube or the metro no matter what, not because of safety, just because I'm tired. And then I want to sit on my phone for 20 minutes and feel like a human before I'm editing for the night.
On how she finds work: 
When I first started, I sent out so many emails. I still send out quite a few emails, but it's the classic story that you hear of a snowball effect. I got one small job from a girl that saw me posting that I went to uni with, that was working at a small magazine. I tried to get into Refinery29, but they didn't write back and then the next season they reached out to me. A lot of it has to do with photo editors too. It's their job to source photographers and I'm lucky enough to have been doing this for long enough now and worked with such a variety of publications, that when people are looking for photographers, especially around Fashion Week, I'm on their radar.
On what keeps her going: 
I dance my heart out. If my headphones are not in and the music is not pumping, I'm asleep, I'm crying, or I'm shouting at people. I always start with a little bit of Florence + the Machine. There's always "Unwritten" by Natasha Bedingfield. Then, there's a lot of '90s R&B and a lot of '70s dad gems and '80s pop. Oh, and a little bit of Justin Bieber. I need to keep the vibe up and it really does carry me through because my body's moving. I find that if I stay moving, I can stay up.
On the community of photographers that she works with:
We have a little family that travels together. It's a wild thing to see your friend on the street and be like, "Hey, see you tomorrow" and you know it's gonna be in a different country. I've calculated this: I spend more days with them a year than I do with my family. We know each other's personalities. You can see when someone's having an off day. We have different places where we stand and shoot and there's a bond there, which is nice. We just move around altogether. We often share apartments, or at least stay in the same areas.
On how much she spends: 
My expenses shoot the fuck off during Fashion Week, but I do this on purpose. I navigate this space in a way that I know is most beneficial to me. During Fashion Week, I give myself a decent amount of money so that I know that I can be grabbing what I want when I want it and I'm not stressed about spending. In recent years, it's become more of a priority to make sure that I'm sleeping somewhere that's comfortable for me. That comes as you work longer and you start to get more consistent work and you get better at what you do and you get better at understanding rates. I can manage it, but it's expensive as hell. I was shocked looking at prices in New York this time. I normally keep a budget of my expenses per fashion week and I just refer back to calculate how much I should be spending, and it was double the money this year. I almost had to send an email and be like, "I don't think I can make it" and then I found a friend from South Africa who is going there, and I'm renting a second room from him.
On eating out: 
On the first day in a new place, I go to the shop and get chocolate and lots of chips. I fool myself into buying some healthy snacks that I will also probably snack on but won't finish. But I'm mostly eating out. I often take my laptop out to dinner with me, which I quite enjoy. We also go for group dinners most nights, and we have consistent places where we eat out.
On packing:
I'm mostly picking outfits out of a suitcase, so I pack for a few months and I go around with those same two bags. It's not minimal at all, but there is a checklist. I need a pair of fancy pants, very loose-fitting athletic pants, a pair of white pants because I love to wear white, and a pair of cargo pants. I always pack shorts. For shoes, it's one pair of sandals, boots, running shoes, and walking shoes. There are a lot of little tops and vests. I religiously wear the L.A.-based brand Online Ceramics, and they do a ton of printed tops. On the day, it's based on how comfortable I can be to work in these clothes. I kind of alternate between, Do I want to look nice and kind of sleek today? Do I want to look edgy and cool today? Or do I want to look like a boy today?
On seeing the less glamorous side of things: 
It is so easy to see the experience one way. While it is so exciting when you get access to a brand like YSL, it can also be like, "the show was meant to start at nine and it's only starting now at ten and I've been sitting on this podium for two hours and it is zero degrees and I can't breathe. I don't know that I'm that excited anymore." But it's a balance and everything's a paradox. And it's best when you're leaning into that yin and yang and being able to hold the excitement and knowing that excitement doesn't take away from the frustration that can come with work. You've got to remember that the excitement doesn't compensate for the exhaustion.