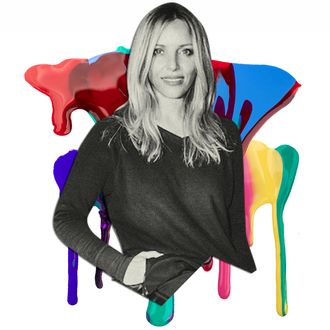 Photo-Illustration: by The Cut; Photo: Amy Lombard
Leslie Russo has been working in fashion and the arts since her first job at a Stride Rite at age 13. Back then, her grandfather would drive her to the mall and sit on a bench near the store, waiting for her to finish her shift. Today, Russo serves as the president of fashion events and properties for IMG, one of the largest names in sports, events, and talent management. After getting her start at Interview magazine right out of college as a promotion coordinator, Russo transitioned between jobs in the world of fashion, working at Details, Glamour, W magazine and across Condé Nast, where she intertwined one of her great loves, film, into her roles by sinking her teeth into producing projects like "Reel Moments," a film series that has given the likes of Jennifer Aniston, Gwyneth Paltrow, and Zoe Saldaña their directorial debuts. 
It was through her production work that she arrived at her current role at IMG, one she's held since 2015. Russo first approached the job opening as a true producer, connecting and recommending others in the industry for the job, until it dawned on her that this could be the next step in her own career: a means to cultivate culture through the lens of fashion.
Since then, Russo has navigated a pandemic and years of isolation in a business that thrives on — and almost calls for — being face-to-face, helping rebuild New York Fashion Week after its brief in-person hiatus at the hands of COVID-19. So far, this has included launching the IMG Fashion Alliance to provide designers with financial support, partnering with the state and Empire State Development to launch the New York Fashion Week Small Business Grant, which uses $500,000 to bolster diverse small businesses designers, and forming a partnership with the Black in Fashion Council to launch discovery showrooms at Spring Studios during Fashion Week. Not to mention getting politics involved in fashion by inviting Mayor Eric Adams and Governor Kathy Hochul as her guests during the week, a first for the event.
On top of it all, she's also a mother of two (and always reads the books assigned for their summer reading along with them). If it sounds like she's busy, that's because she is, but Russo continues to make time for the things she loves, like reading, walking aimlessly in the city, and napping whenever she feels called to. She lives in Tribeca with her two sons. On a recent morning in August, she spoke with us while sipping on a Spindrift (which she swears should be sponsoring her at this point) and shared how she gets it done. 
On her morning routine:
I am adamant about getting eight hours sleep. That said, I'm up by 7:30 a.m. The absolute first thing I do is make coffee. I love the morning ritual. For me, this is my time before the sprint of the day happens. I take a shower and then I really have that moment to myself. I wash my face with Tracy Martin, put on all my creams. I really take care of myself and let my mind wander. A friend of mine once told me about a turnout for horses. It's this process of taking the horse from the stable to essentially wander the grass before you either ride or work. For me, my morning routine, it's like my own personal turnout.
On a typical workday:
If it's a good day, and I have time, I like to walk to work and do calls. The minute I hit the street, it's on. I try to consolidate my day. I'm very efficient. When I'm working, I am fully immersed and getting things done, and a lot of that is multitasking.
The thing I love about what I do is that it fits my personality really well. It's seasonal. So there are days when we spend a lot of time in the office, and we're talking to clients building opportunities, having meetings, planning, and then there's times where we're executing, like right now in the lead up to New York Fashion Week, where it's all about deadlines, and it's really fast paced, and you have to be super clear, and you're troubleshooting and essentially, you're trying to minimize the amount of things that could possibly go wrong. It makes all the difference because when you're at a live event … I shouldn't say things can go wrong, things will go wrong. And the number of things that you've made sure are right, gives you space to be able to troubleshoot in real time. There are other seasons when it's very physical. It seems super glamorous, but we're in sneakers, hitting the streets, looking at venues, doing physical production. That's something that appeals to me about this kind of work: It serves a lot of different parts of my personality. I like to get my hands dirty. I like to build things. It changes.
On prioritizing:
Every morning, my assistant sends my schedule via text. Taite will be my boss one day. She's sort of like a ghost that gets things done all the time. The way that we manage my schedule is by minimizing the amount of small decisions I have to make so that my mind is clear for decisive decisions, answers, being really nimble throughout the day, troubleshooting, being quick. It's the way that I'm able to focus. I eat the same thing for breakfast. If I'm in a meeting, it's an egg-white omelet. If I'm not at a meeting, I have some nut butter on toast, period. Lunch, I power right through the day. I don't stop for lunch unless it's during a meeting. I eat the same exact thing every day. I order in from The Well on 15th Street. I definitely have a handful of uniforms that get me through the day. I don't have to think every day, What am I going to wear? When we go out to a big event and when we have shows and things like that, then I have time to think through that more specifically.
On being a working parent:
My two sons are 16 and 13. They went into the pandemic as kids and came out as teenagers. If you're a mother, it's a 24-hour job, period. When my kids were small, going back to work was very challenging. When there have been women in my office who've had children, I always said, "Just get ready. You're gonna cry when you have to come back." I think it's a challenge for any woman who works. We had a nanny until my kids were formally in elementary school. I struggled with getting a nanny. When I was growing up, I don't think I was ever babysat by anyone outside of our gigantic Italian family. But Denise was with our family and part of our family for six and a half years, and we still talk to her on the weekend. I always felt like that was a gift, the special relationship that she has with my kids and that she and I had together. I think people always focus on that relationship with the kids when I think we had a very strong bond between two women.
On failing:
Personal failures are always the doorway to something else. There was a time in 2013 or 2014, when I left Condé Nast, and I split from my long-term business partner, my best friend, and my husband. It was like I had everything I ever wanted, and then all of a sudden, none of it worked. And those moments could be devastating. But it actually was in hindsight, a moment where you've grown out of things, and it was time to start something new. And I'm really grateful now for those moments. I have a great relationship with my ex-husband, my kids are really good, and I have this incredible new career. That's where I should be right now.
On recharging:
I have no problem taking a nap. I don't believe in going so hard that you can't recover. Your work suffers, everything suffers. So to me, rest is number one. There's nothing more decadent than on a Saturday, when it's a gorgeous day out, taking an hour-long nap.
On the advice she wishes she'd been given early in her career:
Never dumb yourself down to make other people in the room feel more comfortable. I think it particularly happens to a lot of women, and I've seen it happen to myself. I also always say, "Examine the source of who's giving you advice." It's one thing if it's someone you respect, and it's another thing if it's someone who has their own agenda.
On unwinding:
It depends on how the day went. I try to read how I'm feeling. Sometimes I feel like I have to go directly to a workout, and I need to move my body aggressively. I'll go to a Physique 57 class. If I feel like I need recovery, I'll go to a Pilates class. I might go sweat it out at a Tracy Anderson session. But mostly, I like to wander New York, I like to walk and see what's happening on the street. I call it rambling. The idea  of rambling is a journey with no destination. I like to do things that have no point, to unwind.