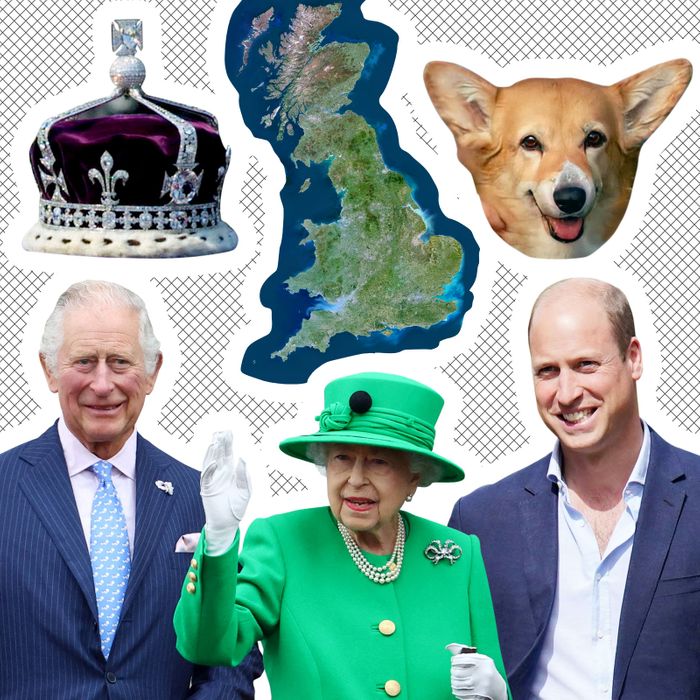 Congrats to His Majesty the queen on inheriting the U.K. seabed.
Photo-Illustration: The Cut. Photos: Getty Images
Nobody knows exactly how rich Queen Elizabeth II was. Various outlets have their guesses — the Sunday Times "Rich List" ballparks her net worth at £370 million, for example, though that may be a relatively conservative estimate — but legislative protections mean that the monarch gets to conceal their "'embarrassing' private wealth from the public," to quote The Guardian. Royal wills are also not made public, and so we will never know who inherited what. (Except for the royal corgis; those will go to Prince Andrew.) Still, speculation abounds. "Prince William just inherited a 685-year-old estate worth $1 billion," CNN announces. "King Charles III to inherit $38 billion fortune," Yahoo Finance reports. "Charles now oversees some $42 million in assets," Forbes states. Well, what is the truth? Not for us plebes to know, but here at the Cut we always do our best to find out.
King Charles just inherited the seabed, sort of.
The seabed surrounding the U.K. belongs to the Crown Estate, a vast real-estate portfolio reportedly valued at $19 billion that the monarch controls. In addition to a sizable swath of North Sea floor, the Crown Estate includes some royal properties — Buckingham Palace, the Royal Lodge, and Windsor Castle are examples; Balmoral Castle and Sandringham Estate are not — part of London's West End, wind farms, shopping malls, and commercial land. It passes monarch to monarch, meaning that "His Majesty the queen," as some are calling Charles, now presides over an impressive maritime dominion. (Congrats to him on becoming sea-liege.) But the thing about the Crown Estate is that the Windsors don't personally own it. They are basically custodians, or landlords who cannot sell; the estate's profits go straight to the government, which returns a proportion of the income to the royals in the form of the Sovereign Grant.
What is the Sovereign Grant?
A sum of taxpayer money amounting to 25 percent of whatever the Crown Estate makes, which the monarch then portions out to pay for official duties (royal visits and parties and tours), household maintenance, and staff salaries. One fun (for the royals) catch is that the Treasury has to make up the difference if one year's profits come in lower than the previous year's. According to the BBC, the Sovereign Grant for 2020–2021 was set at £86.3 million, security fees not included — the government covers those, but does not disclose the cost — though about £55 million went to renovations on Buckingham Palace. The apparent necessity of that refurbishing project, scheduled to take ten years, actually boosted the Sovereign Grant to more than £100 million.
As the new sovereign, Charles now holds the grant's purse strings, just like his mother did before him. His personal fortune, however, comes from other sources — namely, one of two lucrative duchies over which the monarchy presides.
What's the deal with the duchies?
If the queen, as reports speculated, indeed paid some of the £13 million–plus required to settle Virginia Roberts Giuffre's rape lawsuit against Prince Andrew earlier this year, she (probably) did not do so from the Sovereign Grant. That would surely cause a public uproar and conceivably constitute an abuse of funds. Instead, that fortune would have come out of her private stores, juiced by the Duchy of Lancaster.
Maybe you are wondering, What is a duchy? In short, the territory ruled by a duke, which the queen was. Her Duke of Lancaster title now passes to Charles, while Charles's title and fiefdom — Cornwall — goes to William. With the queen's passing, both father and son step into a new and medieval source of income. The Duchy of Lancaster comprises a reported 18,433 hectares of land — for residential, commercial, and agricultural use — held in a trust for the ruler of the day. It constitutes the monarch's "privy purse," but, as the New York Times notes, "The royal family is entitled to income from the duchies, but not the underlying capital." That income is nonetheless considerable, reportedly generating nearly £22 million for the queen last year.
But whereas the Duchy of Lancaster is valued around £818 million, Cornwall comes in at around £1 billion, seemingly thanks to Charles's involvement. It stretches over 20 English counties and includes farmland, residential and commercial property, old mines, a cricket ground, and the king's architecturally cacophonous model village, Poundbury. Charles collected £21 million from the duchy in the fiscal year ending this past March; the New York Times says his hands-on approach evolved it into something like a business, with the duke as CEO. Cornwall already helped fund William's lifestyle and will now do so more directly. To be fair, this isn't quite the same thing as inheriting £1 billion. Rather, William is inheriting a dukedom that may passively make him tens of millions of pounds annually. You see?
Sorry, what's Poundbury?
A Dorset village that Charles schemed up. It features a wide range of traditional building styles — "a merry riot of porticoes and pilasters, mansards and mouldings, sampling from the rich history of architectural pattern books with promiscuous glee," is how The Guardian once described its appearance — and has been ridiculed as a "feudal Disneyland." But actually, Poundbury seems to be doing pretty well. And despite being the king's strange baby, it passes to William as part of the duchy; this presumably also makes him the duke, or lord, or earl, of Poundbury. I don't really know. Maybe only Charles does.
What other stuff might the queen have passed down?
The Poundburys and the Lancasters only constitute one source of royal riches, which is of course supplemented by inherited wealth and gifts and personal acquisitions. The queen's mother (the Queen Mother) reportedly left her £70 million, part of it in Fabergé eggs; Balmoral and Sandringham came from her father, the former king. All of that contributed to a private fortune that presumably includes paintings and jewels and the horse farm Royal Studs and a Nintendo Wii made of 24-karat gold, wealth that will presumably be divided among her descendants. The queen had an extensive personal tiara collection — jewelry either passed down or given to her; jewelry she bought herself — as well, which she was free to leave to whomever she wanted.
And the pilfered jewels?
Throughout this Q&A, I am saying things like "the queen's fortune" and "the royals' assets," but legitimate possession of some of those assets is disputed. One example that's been getting a lot of airtime recently is the Kohinoor diamond, a jewel believed to have been discovered in South India during the 13th century. In 1849, the Scottish governor-general of India strong-armed an 11-year-old child emperor into "gifting" the (cursed?) diamond to Queen Victoria as part of the Last Treaty of Lahore, and it sat on Queen Elizabeth's head during her 1953 coronation. Her death has revived calls for the royals to return the diamond, one of many imperialist trophies Britain has appropriated from its former colonies. It currently resides with the rest of the crown jewels in the Tower of London.
In the same way as the monarch doesn't own the Crown Estate, however, it also doesn't own the crown jewels. They are held in a trust to the monarch, as is the royal art collection. Separately, a 2017 exemption bars police from searching private royal residences Sandringham and Balmoral for looted artifacts. So potential holdings of pilfered property remain murky.
Does Charles have to pay tax on any of this?
No. Though the U.K. applies a 40 percent tax to inherited assets valued at over £325,000, it also makes a special exemption for assets passed "sovereign to sovereign." While we are here, I will briefly mention that the Duchy of Cornwall does not have to pay corporation tax despite operating like a corporation, nor does it have to disclose where and how the estate invests its money. Though U.K. law does not obligate monarchs to pay income tax, thequeen did, and Charles previously stated that he would. So at least there's that.
What about those duffel bags full of cash Charles is said to have accepted from suspicious sources?
Those were for his charity; back off!