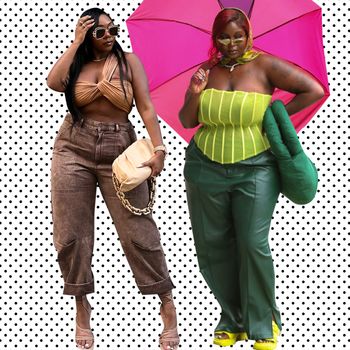 Photo-Illustration: by The Cut; Photos: Courtesy of Asia Milia Ware, @simimoonlight
It's no secret that most designers don't design with bigger bodies in mind. While small progress has been made, like some representation of all body types on the runways and a slow expansion in sizes sold, a lot of brands are still firm in their decision not to increase their sizing. Designers like Anifa Mvuemba of Hanifa (which goes up to size 3X) have said that offering a large range of sizes isn't hard but that designers just don't want to do it — despite the knowledge that the average woman in the United States is a size 16.
Personally, as a size-10 woman who yo-yos in weight a lot, it's an interesting thing to navigate when trying to build a wardrobe. Yet some brands just know how to fit curves, whether in their cuts or their pristine tailoring. I spoke to Simi Muhumuza, a curvy content creator and stylist who is a size 18 and consistently serves looks. Here are some brands she buys and why.
New York–based brand Fe Noel, founded by Felisha Noel, pays homage to the designer's birthplace, Grenada, with airy vacation looks, but she has recently been expanding into more tailored, everyday pieces with the same craftsmanship found in her luxury resort items like wide-leg pants and signature robes. Fe Noel is also available at shopbop.com
"After witnessing a Fe Noel runway show, I'm in awe of her work and craft," Muhumuza said. "She truly puts so much care into the designs. Every piece is a favorite, but this one in particular is truly [chef's kiss]." The sizing goes up to 14.
In 2018, Shaquille Ro and Nola McEachin founded the Brand Label, a range that includes crop tops lined with ostrich feathers and textured pants. Muhumuza loves the Brand Label for its rich colors, and the line goes up to a 4XL. Says Muhumuza, "They offer beautiful silhouettes and a snug fit."
Her favorite? This feathered top that pairs well with high-waisted pants.
NorBlack NorWhite
Mriga Kapadiya and Amrit Kumar were raised in Toronto and moved to Bombay in 2010 to explore their roots. In India, they were exposed to the different craftsmanship of their culture and were inspired to start their own brand: NorBlack NorWhite.
"The playfulness of the designs really draws me in, and I love that they are not afraid to mix patterns and offer big and bold statement pieces," says Muhumuza.
She suggests this dress for its roomy fit.
The namesake Nigerian brand Andrea Iyamah includes swimsuits and even furniture. The line has grown a cult following and goes up to a size 2X.
Muhumuza's choice? This pleated jumpsuit.
Mara Hoffman needs no introduction. The CFDA designer brand beloved by Beyoncé uses curvaceous sleeves and unmistakable prints and patterns in her signature pieces. The brand has a section dedicated to extended sizing that goes up to a 3XL.
Muhumuza suggests this stretchy dress. "The designs are beautiful yet very wearable and comfortable. My favorite piece changes every day, but this dress is sitting in my closet waiting to be worn," she says.
Founded by Michelle Adepoju in 2019, Kíléntár is a sustainable womenswear brand that captures the essence of a woman and is rooted in African history. Muhumuza met the designer recently and adds, "The dedication to beading and corset silhouettes is truly wonderful to see."
Her favorite piece? This hand-threaded and hand-dyed tiered skirt, which has a corsetlike top offering support for bigger bodies.
Fumi the Label was founded last year by Fumi Egbon. The Canada-based brand has dresses with asymmetrical details and pleated wide-leg pants beloved by women of all sizes. Egbon knows a thing or two about designing for curves because she has a curvaceous figure herself.
"My relationship to this brand is personal now," Muhumuza says. Her favorite piece is this ribbed knit dress that has buttons all the way down, allowing the wearer to choose how much skin they want to show.
Brooke H founded Shop Thoughtless so women wouldn't have to put much thought into whether something will work for their body if they have curves or not.
"Everybody needs basics in their closets," Muhumuza says. Her favorite piece is a silky set with an elastic waistband that lets the wearer feel comfy and goes up to an XXL.
Former co-founder and creative director of WILDFOX Kimberley Gordon founded Selkie in 2007. You may know the brand from its viral puff dresses, which go up to a size 5X.
"The dresses they have are perfect for when I'm trying to have a baby-doll look," says Muhumuza. Her favorite piece is a sheer bandeau puff dress.
Anifa Mvuemba may just be getting her flowers now, but she launched Hanifa in 2011 and always thought of inclusive sizing. Her brand goes up to a 3X.
"The brand exceeds every expectation every time," says Muhumuza. Her favorite piece is this mesh corset dress covered in feathers and beads.
And here are some of my picks …
Muhumuza and I share a lot of the same favorite brands, like Hanifa, Fumi the Label, and Fe Noel, all of which have signature pieces in my wardrobe. There are some other brands I love that may not extend their sizes past a 14 or 16, but they work really well on my size-10 body and fit my curves.
Miaou, founded in 2016 by Alexia Elkaim, recently extended its sizing to 4XL and partnered with model Paloma Elsesser to make sure the fit was just right. This brand makes sexy, attainable clothes for curves, from its signature corsets to miniskirts. While I don't love miniskirts, I'd slip one of Miaou's on any day.
Founded in 2008 by Adrian Norris and Edwina Forest, this Australian brand plays with lots of cutout silhouettes. The collection includes pieces like blazers and corsets, which fit great and agree with my small waist and larger hip proportion.
Inspired by her travels, Andrea Lieberman created A.L.C. in 2009. I recently wore this top at New York Fashion Week with some cargo pants and got so many compliments. The brand's pieces conform to curves and are flattering. A.L.C. is also notorious for its pleated pieces.
After being around for years, ASOS remains a go-to retailer for trendy pieces that I want to add my own flair to. I specifically always love its wide-leg pants and outerwear at an affordable price point.
Rouhi is a U.K.-based brand that prides itself on being a "unique composite of experiences, moods, colors, and creations." I fell in love with it after seeing it on Muhumuza. I've gotten the oversize blazer of my dreams from Rouhi, and the brand recently extended into a plus-size collection.