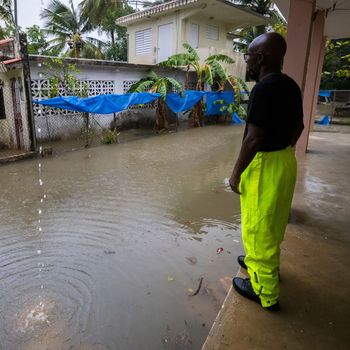 Photo: Alejandro Granadillo/AP/Shutterstock
On Sunday, a Category 1 hurricane ravaged Puerto Rico, causing catastrophic flooding, landslides, and blackouts, the New York Times reports. Upon making landfall, Hurricane Fiona brought winds of over 100 mph and up to 30 inches of rain in some areas of the island. At least ten rivers have flooded. Per AP News, the rising waters have submerged cars, the first floors of houses, and an airport runway, while a recently-constructed bridge in the town of Utuado was washed away, and asphalt has been ripped from roads. Hundreds of residents have reportedly been evacuated, including patients at health-care facilities where generators stopped working. Puerto Rico's governor, Pedro Pierluisi, confirmed on Twitter that power was out across the entire island as of Sunday afternoon.
The devastation of Hurricane Fiona arrived just days before the five-year anniversary of Hurricane Maria, the Category 4 hurricane that struck the island in 2017, wrecking its power-grid system and killing almost 3,000 people. The devastation from Maria remains widespread; according to the AP, thousands of homes still use tarps as roofs, and power outages remain pervasive despite reconstruction efforts. In response to Fiona's compounding damage, President Joe Biden has approved Puerto Rico's emergency declaration to channel federal resources into local disaster-relief efforts.
According to the Times, conditions remain too dangerous for officials to fully evaluate the scope of Fiona's damage. Luma, a private consortium that tracks the island's electrical-transmission-and-distribution system, says it has delivered power back to approximately 100,000 residents overnight but warns that total restoration could take days because of the "incredibly challenging" conditions repair workers are operating under. So far, Fiona has caused at least one reported death in Guadeloupe, two deaths in Puerto Rico, and one in the Dominican Republic, where it made landfall Monday morning; the true toll may take longer to confirm. The Dominican Republic has declared a state of emergency in eight provinces with almost 800 residents evacuated to safer locations and more than 700 others relocated to shelters. The storm — which has intensified to Category 3 — is expected to pass through Turks and Caicos before moving to the Bahamas and then Bermuda. Puerto Rico's government has set up a website providing residents with updates and resources. If you're able, here are more ways to help:
• Mutual-aid group Brigada Solidaria del Oeste is collecting donations of emergency essentials including water-purification tablets, solar lamps, water filters, and first-aid kits. The organization is collecting monetary donations as well.
• Donate to the Puerto Rican Civic Club of San Jose, California, which is raising funds for solar lights and gas generators.
• Taller Salud, a women-led nonprofit based in Loíza, Puerto Rico, is accepting donations of nonperishable food items, disposable containers, gallons of water, adult and baby diapers, and more. The group is also accepting cash donations via PayPal and some disaster-relief essentials including water filters and solar lanterns.
• Comedores Sociales de Puerto Rico is a community kitchen with programs fighting food insecurity on the island. Monetary donations are accepted here.
• Global health and humanitarian NGO Project HOPE is mobilizing emergency responders in both Puerto Rico and the Dominican Republic. Donate to their Fiona relief fund here.
• Fundación Mochileando in San Juan is collecting supplies for people and pets affected by Fiona. You can also send monetary donations here.
• San Juan–based nonprofit La Fondita de Jesús is accepting donations of bottled water and nonperishable food.
• Proyecto Matria, a domestic-violence nonprofit in Caguas is raising money for vulnerable communities in the wake of Fiona. Donate via PayPal here.
• Donate to Animal Lighthouse Rescue as it raises money to repair its sister shelter in Puerto Rico, El Faro de Los Animales, which was damaged in the hurricane.
This post has been updated.