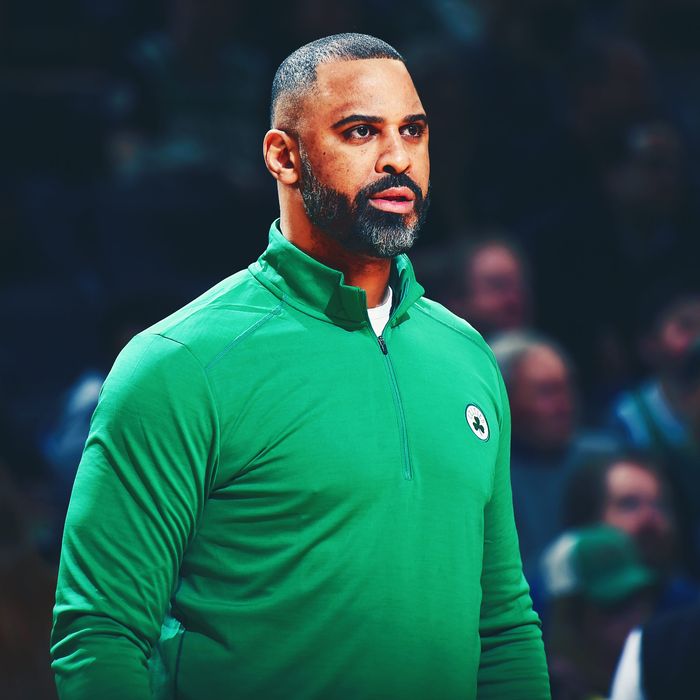 Ime Udoka, the Celtics' suspended head coach
Photo: Brian Babineau/NBAE via Getty Images
Basketball guy Ime Udoka has been sidelined from his coaching position over allegations that he committed some kind of offense against a colleague. Over the course of about a week, the explanation for Udoka's suspension has escalated from the Boston Celtics' official "violation of team policies" to a report that "Udoka had an improper intimate and consensual relationship with a female member of the team staff," per The Athletic, to an allegation that whatever happened may not have been entirely consensual after all. Yet somewhat surprisingly, as the outlines of a sexual-misconduct scandal take shape, the details are slow to fill in. Even Celtics players seem to have very little idea what is going on.
"It's been hell for us," Defensive Player of the Year Marcus Smart told Yahoo Sports. According to Smart and a number of his teammates, most of the Celtics found out about Udoka's suspension on social media along with the rest of the world. "Just caught by surprise," he said. "Nobody really knows anything, so we're just in the wind like everybody else. The last couple days, as far as this, it's been confusing."
I believe it. I am confused, and I bet you are too. Maybe we can untangle it together?
First of all: Who?
Ime Udoka joined the Celtics as head coach in the summer of 2021, according to ESPN, which should know. He has apparently overhauled their game since then. Again, ESPN:
In his first season as coach, Udoka oversaw a remarkable turnaround in Boston, one that saw the Celtics go from being under .500 in late January to closing the season with a 28-7 record over their final 35 games. They then authored an impressive run through the Eastern Conference playoffs, advancing to the NBA Finals for the first time in 12 years.
Wow! Plus, on top of that, Udoka spent nine seasons assistant-coaching with the San Antonio Spurs, the Philadelphia 76ers, and the Brooklyn Nets as well as some years playing basketball himself. As for his personal life, Udoka is in a long-term relationship with actor Nia Long, whose legions of fans are not pleased with the week's developments. ("Nia Long national holiday!" requests Congressman Jamaal Bowman.) The couple has a child together, and for now, Long would like to be left alone. "The outpouring love and support from family, friends, and the community during this difficult time means so much to me," she said in a statement to the Boston Globe. "I ask that my privacy be respected as I process the recent events. Above all, I am a mother and will continue to focus on my children."
Okay! So what happened?
Last week, on September 21, reports surfaced that Udoka faced suspension for the 2022–2023 season, ostensibly for an inappropriate relationship with another team employee. The official announcement came the following day and cited only unspecified policy "violations," noting only that "a decision about his future with the Celtics beyond this season will be made at a later date." Udoka's punishment followed a "monthslong investigation" by a private law firm, Celtics owner Wyc Grousbeck subsequently said at a news conference.
"We go to great lengths … to run the organization with the central core value of respect and freedom in the workplace from harassment or any unwelcome attention," Grousbeck said. "This feels very much, to me, like one of a kind. That's my personal belief. But I'll have to verify that."
Assistant coach Joe Mazzulla now takes over Udoka's role while Udoka accepted the punishment. Grousbeck is staying vague for "privacy reasons" but said that he feels the response "is well warranted and appropriate, backed by substantial research and evidence and facts. It was clear that something substantial needed to be done. And it was." But while Celtics leadership guards its hand, certain other basketball guys have gestured at more damning allegations to come. "When you guys find out the truth …," retired player and current ESPN analyst Richard Jefferson tweeted along with the gossip-eyeballs emoji and a Mean Girls GIF.
Matt Barnes, who initially defended Udoka upon hearing about the suspension, revoked his support after finding out the "facts." "This situation in Boston is deep. It's messy. It's a hundred times uglier than any of us thought," he said in a video. "Some things happened that I can't condone, I can't back, and it's not my place to tell you what happened."
Despite all the cryptic messaging, no substantive information on Udoka's actual transgressions has materialized in the week that elapsed since the news broke. In some ways, this is impressive — how are the Celtics so tightly sealed against leaks? — and in other ways, it is confusing, not least for people on the team.
What's going on with the Celtics themselves?
Multiple Celtics say they have no idea what is going on. Asked how he found out about Udoka's suspension, Celtics forward Jayson Tatum told Yahoo Sports, "Shit, on Twitter, like everybody else." His teammate, Jaylen Brown, added, "Not a lot of information has been shared, so there's a lot of confusion going around, a lot of speculation going around, which makes it difficult on the guys who have been here and the guys who are here now." Marcus Smart said the whole thing has "been hell for us."
Female staff, meanwhile, have been subjected to armchair investigations as Twitter users attempt to figure out who the unnamed employee might have been. People dug up photos of women working for the Celtics, posting them to social media and speculatively dissecting their appearances. President of basketball operations Brad Stevens reportedly became visibly upset when discussing this gross campaign. "We have a lot of talented women in our organization. I thought yesterday was really hard on them," Stevens said, per the AP. "Nobody can control Twitter speculation, rampant bullshit, but I do think that we, as an organization, have a responsibility to make sure we're there to support them now. Because a lot of people were dragged unfairly into that."
One of those women, Celtics team reporter Amanda Pflugrad, called the whole experience "heartbreaking" in a statement posted to Twitter. "Seeing uninvolved people's names thrown around in the media, including mine, with such carelessness is disgusting. This is a step backwards for women in sports who have worked hard to prove themselves in an industry they deserve to be in."
Does Udoka himself have anything to say about this?
Yes, though nothing that might answer your questions. "I want to apologize to our players, fans, the entire Celtics organization, and my family for letting them down," he said in a statement. "I am sorry for putting the team in this difficult situation, and I accept the team's decision. Out of respect for everyone involved, I will have no further comment."