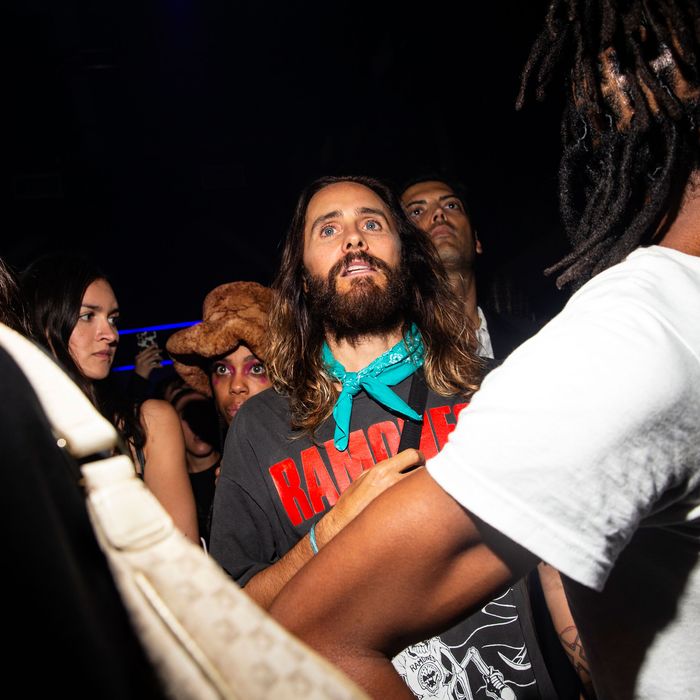 Jared Leto at the Heaven by Marc Jacobs party.
Photo: Lexie Moreland/WWD via Getty Images
I'm not going to pretend I'm some grizzled Fashion Week veteran, wearily over it all even as I spiral whenever I'm left lingering by the door in a pool of plus-one plebes trying to get into some branded party I know for a fact that I am on the list for. But then again, that's kind of what New York Fashion Week is all about — being in, or out — even if it does seem that this semiannual parade, or at least its accompanying open-bar parties, is lately lacking in the high-stakes, messy glamour it once had (not that I was here back then, but still … remember when Cardi B threw a shoe at Nicki?).
Sure, Grace Jones showed up this season looking as fabulous as ever, but she was just advertising a new … Boy Smells candle at the Public Hotel. Meanwhile, the Harper's Bazaar Icons party, formerly at the gilded Plaza Hotel, moved to Bloomingdale's ("No icons, no stars, just teeny boppers from TikTok," complained one publicist who was there); Vogue celebrated at the always-in-use Boom Boom Room at the Standard; Saks did a party at L'Avenue, which is of course on top of Saks; and both Opening Ceremony and Interview left Manhattan and went to the club — Schimanskis in Williamsburg and Nowadays in Ridgewood, respectively. There were also a number of dinners at Indochine — so, mostly, more of the shiny same. Less familiar party spots: Gracie Mansion (hosted by the mayor); the Ned, which is apparently a new members-only club in Nomad (GQ); and the old Butter, recently revived as the yet-to-open Jean's (J. Crew.).
Standing on the pleasing rooftop of the recently-opened "Dimes Square hotel," Nine Orchard, on Saturday night for the Givenchy party, I could feel the ghosts of fashion week parties in the future. The evening was glitzy and branded, the crowd ready to be captured by the Cobrasnake while sipping preshaken martinis. Even the ice cubes were embossed with the Givenchy logo ("We got boxes and boxes of these. Do you want to take one home?" teased the bartender), and one truly massive, 3-D glow-up logo was placed in the hotel's 60-foot pergola, which served as a dramatic, foggy backdrop for influencers waiting in a line to take (and possibly be paid to post?) photographs. The security guards kept busy by snuffing out cigarettes and removing cocktail glasses from the edge of the roof. Still, at least one always-too-naughty fashion editor was really cutting loose. "I'm on the Givenchy coke. It's not normal coke," she told me. Unfortunately, she didn't share.
If anything has caught the eye of the wider world this season, it's been Tommy Hilfiger's rainy and celebrity-packed show in Greenpoint, Fendi's 25th anniversary for their Baguette bag, starring half of the Big Six, and Vogue's pricey, ticketed "World" event in Meatpacking last night — all of them less parties or runway shows and more SEO stunts. And so was Marc Jacobs's party at Elsewhere, a concrete, multi-environment club on the border of Bushwick and East Williamsburg, where I was off to after Givenchy. It was without question the party of the weekend, taking the place of the canceled Alexander Wang romps of years past. Tellingly, with Marc bumped from his pre-COVID traditional finale position for NYFW by CFDA Chairman Tom Ford, it was held in honor of his "polysexual," youngish clothing line, Heaven.
And of course, getting in was hell. It was just after midnight when I arrived, and outside one of the many door guys was screaming at some party kids scrambling for their QR codes: "If you know someone from the Marc Jacobs team, you can try to get them to escort you in!" Otherwise, the club was at capacity (1,375). Then, to one turned-out and turnt-up group, he issued a metaphorical slap in the fashion face: "You could try going to the House of Yes." Even though Elsewhere is more often used for queer dance parties than boozy social climbing, this night it was hosting Doja Cat and Charli XCX; so for what it's worth, it was not not a queer dance party.
"I think the people standing here are trying to look cool enough to get in, but I don't think it's going to work," said a knitwear designer, ditching her efforts after 40 minutes. Two fashion students who won competitions at their schools to attend Fashion Week told me they'd been waiting for more than two hours, having been invited by a chiseled male model and subsequently ghosted. If anyone was benefiting from the confusion, it was the halal carts parked on the street. "What kind of protein do you have? I'm so hungry," asked one pretty person, ready to sacrifice her dress to sauce.
By then, a pink-haired Madonna had arrived in a baby-blue fur coat, and a few minutes after 1 a.m., Jared Leto walked by, greeting the crowd like a politician kissing babies and dropping empty promises: "I'm gonna bring everybody into this place! We're all coming in! You should be in there! Everybody looks so cool!" Bitch.
A few minutes later, Marc himself exited the building, telling a handsome onlooker on the sidewalk, "I've gotta go!" before placing his suit jacket carefully in the trunk of a Mercedes and being chauffeured away.
I finally snuck through a crack in the metal barriers around 1:30 a.m. and by chance encountered a friendly face at the door, who let me inside. It was certainly a scene, with TikTok stars, porn stars, politicians, industry people, and a few familiar faces who make you sniff to yourself, wondering, How the hell did they get in here? By then, though, Doja's and Charli's sets were over and most guests seemed to be filing out. According to some club kids I know who took shrooms to survive the wait in line, the show was only kind of worth it. Charli played just two songs, and though one told me Doja's set was "so iconic I almost cried," the others snarked that she was drunk and "spiraling" in real time onstage. "It was like watching a trainwreck," said a doll in latex gloves. One woman in a hunter-green mesh top was even less enthusiastic in her review, complaining that the people inside were too self-conscious and, well, too "fashion" to enjoy themselves and actually dance. Also, the booze wasn't free.
Is New York back, as one publicist told me excitedly early in the night? Or has it lost its magic? "Everybody has access to everything," complained one well-moisturized partygoer outside who couldn't get in. Or maybe TikTok is to blame: "It doesn't feel as exclusive as it used to. It's looking real regular." Maybe so. At the very least, I was thankful to be heading home before three, well liquored and not feeling too much FOMO. I missed Doja, but that's what my Uber driver was playing anyway.