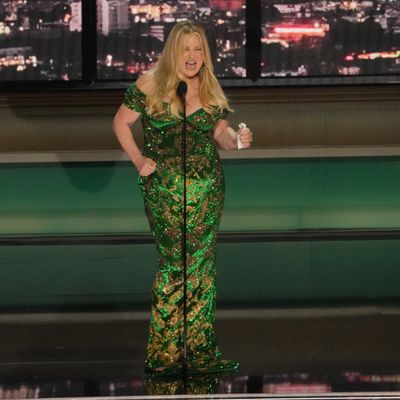 Photo: Kevin Mazur/WireImage
Jennifer Coolidge is finally getting her due. On Monday, she won an Emmy for playing the unhinged heiress Tanya McQuoid-Hunt in The White Lotus. Coolidge won the Outstanding Supporting Actress in a Limited or Anthology Series or Movie category, beating out several of her White Lotus co-stars, including Natasha Rothwell and Connie Britton. This is her first Emmy win, and while I still believe the best testament to her acting skills is the time she pretended to be twins so she could date two men in Hawaii, the Emmy is a nice cherry on top.
If only the Emmys' producers let her truly enjoy her moment. Coolidge seemed truly surprised to win, which meant she got a bit of a late start to her speech. "I just want to say, you know, I took a lavender bath tonight, right before the show, and it made me swell up inside my dress, and I'm having a hard time speaking," she started, pausing for laughter. "This is so thrilling, you know, well —" The actress then had trouble unfolding her speech, resulting in some bleeps for those at home. "Oh shit. You know, I didn't think this was going to happen," she said. "Hold on. Wait, wait, wait, wait."
Coolidge got about ten seconds to thank people who worked on The White Lotus with her before they started playing her off. "Hold on — this is a once-in-a-lifetime thing," she said while continuing to thank people over the orchestral music. Unfortunately, before she could finish, the DJ began playing "Hit the Road Jack." She fought against it but eventually decided to give in to the moment and dance along. That's one way to make lemonade out of lemons, I guess.
Thankfully, we got to hear a little more from Coolidge after her win, when two reporters asked her who at the Emmys she was hoping to shoot her shot with. Without missing a beat, she replied, "Well, I was very excited about somebody, but I found out today he's dead."
Luckily we do not have to say good-bye to Coolidge or Tanya quite yet: She's the only actor from White Lotus's first season who will be returning to the show for its second season in Italy, which arrives in October. Keep your Champagne glasses handy.
This post has been updated.