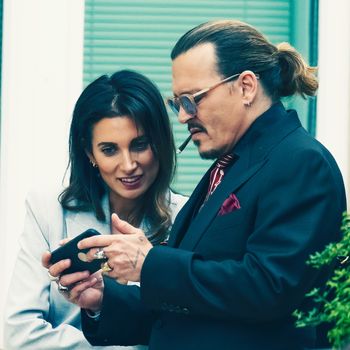 Johnny Depp and Joelle Rich hanging out during a court recess during his civil trial with Amber Heard in Virginia.
Photo: Consolidated News Pictures/Getty Images
Since winning his defamation trial against Amber Heard, his ex-wife who accused him of abuse, Johnny Depp has been confidently crawling his way back into the public eye. The latest development in his comeback tour are reports that he's dating Joelle Rich, a London-based attorney who defended him in a similar libel case in the U.K.
Depp's U.K. lawsuit against a British newspaper group after one of its publications called him a "wife beater" saw a lot of the same evidence as the U.S. trial but reached the opposite verdict. A judge dismissed it in July 2020, determining that Depp put Heard in "fear for her life."
Between court sessions, it seems Depp found time to meet up with one of his attorneys. It's not clear when he and Rich started dating, but "Page Six" says she's separated from her husband and in the process of getting a divorce. One source alleges they had "discreet" liaisons at hotels when they first started seeing each other. Rich also appears to have been present at Depp's U.S. trial, though not in any professional capacity. Us claims that their relationship is "serious."
Rich is not the attorney you might have expected Depp to be romantically involved with. A flurry of rumors during his U.S. trial theorized that he was seeing Camille Vasquez, his lead attorney in the States. Vasquez denied the rumors and called them "sexist," saying that the idea of her dating Depp was an "unethical charge" but "comes with the territory" of being a female lawyer. She seems to be friendly enough with Rich — they were pictured hugging each other after the Virginia jury's verdict was read. Sounds like Depp has a robust support team behind him as he embarks on his many upcoming jobs.