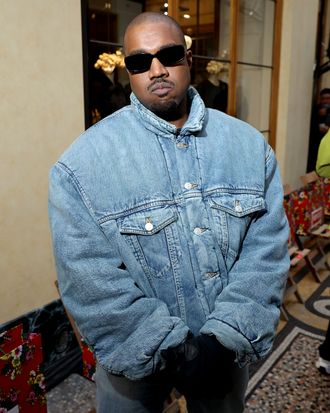 Photo: Victor Boyko/Getty Images For Kenzo
Kanye West has taken to Instagram, as he often does, this time to air his qualms with Gap. In a series of posts, beginning with one captioned "Gap held a meeting about me without me?" and followed by another claiming Gap both copied a design from Yeezy Gap Engineered by Balenciaga and canceled a photo shoot with his kids in Japan without his knowledge, West threatens to part ways with the company. Drama!
The rapper had reportedly signed a 10-year deal with Gap, and his newest collection hit stores (piled in 40 oversize Frakta bags instead of hanging on hangers) last month. In a six-minute video Ye posted to Instagram, in which he seems to be talking to, or rather at, a group of Gap executives, he says: "This is Sparta. This is not celebrity marketing. This is not a collaboration. This is a life mission." He goes on to mention that he loves Gap but feels held back by the company's decisions regarding his line, stating how "insane" he felt it was to have canceled pre-orders of the blue jackets and to never put on a fashion show. He threatened to go somewhere else with his ideas.
During the monologue, his audience mostly remained silent, except for in one instance when they began clapping. West fired back, saying: "Don't fucking clap," followed by a threat to quit altogether. "In Virgil's name," he said, invoking the late Off-White designer Virgil Abloh. "In my mama's name. I'm telling you what it is."
West seemed to be serious about that ultimatum on Instagram, where he posted a screenshot from his Notes app promising to open Yeezy stores worldwide. He put forth a callout asking for "anyone who has 10 years' retail experience and is ready to change the world." He continued on, writing he signed with Adidas and Gap under the premise both would establish permanent stores with him, "which neither company has done even though I saved both of those companies at the same time." (It's unclear just how much West has resurrected Gap's business, but the first piece of his line did sell out.)
His final caption in the Instagram deluge read: "The monster('s) about to come alive again." On Thursday, reports surfaced that West had officially parted ways with Gap and terminated their partnership. According to the Wall Street Journal, West's lawyers sent a letter to Gap notifying the company of the termination, stating Gap breached their agreement by not releasing apparel and opening retail stores as planned. We'll certainly be interested to see what Ye does next.