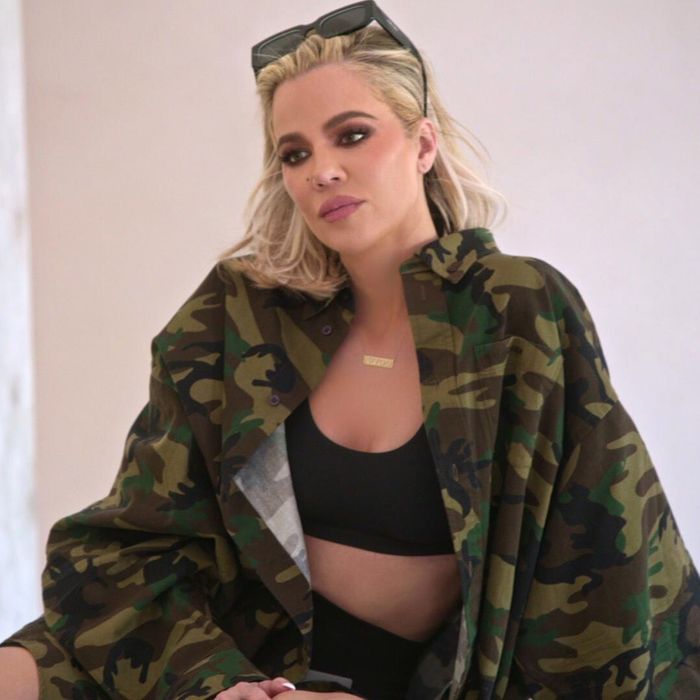 The time has come to replay everything that happened to the Kardashian family in the past year, i.e., the second season of Hulu's The Kardashians. The premiere, which dropped last week, gave us a little behind-the-scene look at the birth of Khloé's second child with her ex Tristan Thompson. Presumably filmed toward the end of July, when a rep for Khloé confirmed the baby had arrived, the episode shows her and Kim in the hospital room during the birth (without showing her surrogate on-camera). There was also a brief appearance from Thompson, who does not seem to have been present in the delivery room but greets the baby later in the episode.
Of course, that was not the end of rehashing the Khloé-Tristan drama. In the latest episode of The Kardashians, Khloé revealed that in December 2020, Thompson proposed and she said no — and apparently didn't even tell her family about it at the time. "I need to make sure this is a totally different relationship because I want to be proud to say I'm engaged to anyone," Khloé said in the episode. "And that's why I said I'm not comfortable accepting this right now, because I'm not excited to tell my family." She added, "As hurtful as that probably was for him to hear, it was the truth. I'm not ever gonna accept something and give someone false hope."
However, it sounds like she may have subsequently changed her mind: People reports that Khloé accepted a second proposal, and the couple was secretly engaged for around nine months before she learned he was facing a paternity lawsuit from fitness model Maralee Nichols.
Khloé and Thompson, who also share a 4-year-old daughter, True, dated on and off for years throughout several very public cheating scandals. In December 2021, Thompson confirmed he had fathered a child with the fitness model Maralee Nichols while he and Khloé were still together. The first season of the Hulu show revisited the ordeal, revealing that Khloé and Thompson were on the verge of getting back together when the paternity suit went public. Less than a month after the finale, which showed Khloé dealing with the fallout, news broke that she and Thompson were expecting a baby via surrogate. The baby was reportedly conceived before Thompson's paternity scandal, and a rep confirmed the baby had arrived in late July.
This season's premiere also suggested Thompson was encouraging Khloé to move forward with the embryo transfer, which happened a few days before Thanksgiving, when he already knew about the paternity suit. "It's almost like he was trying to trap her," Kendall says during a conversation with Kris and Kylie.
"Ever since December, it's been a dark cloud looming over me every single day," Khloé says in the episode. "I've been feeling depressed and sad, and now that my son is here, I get to move on and I get to enjoy. It's almost like I get to close that chapter and be done with this trauma and put it behind me." She added, "Now I finally get to start the healing process … and start enjoying my life with two kids and figuring this out. This is gonna be the start of something positive and happy and beautiful."
Khloé said she was "on the fence about having Thompson come to the hospital or not" but concluded, "Tristan wants to be here, so I just figured why not let him come. He'll never get this moment back." Meanwhile, Thompson seems to be handling his new co-parenting situation as expected: On the eve of the premiere's release, he was spotted leaving a Jack Harlow concert afterparty with OnlyFans model Juanita JCV. For her part, Khloé was recently seen at Milan Fashion Week looking cozy with actor Michele Morrone.
This post has been updated.