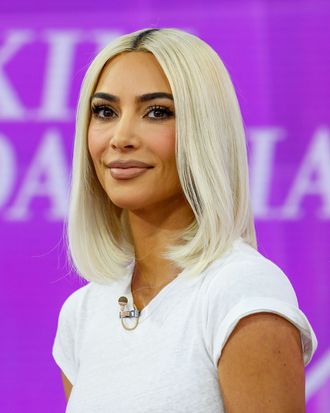 Photo: Nathan Congleton/NBC via Getty Images
It's that time again: The Kardashians have spun their giant wheel and announced a new business venture. This week, Kim is going into … private equity!
Kim's new private equity firm is called SKKY Partners — not to be confused with SKYY vodka, which I sense could open her up to yet another infringement lawsuit. She announced the firm's launch on Twitter, where she wrote that SKKY will be a "next generation Consumer & Media private equity firm." She directed her followers to SKKY's website, which has an extremely Skims-looking homepage and absolutely no other information.
Helping Kim in this totally populist endeavor is co-founder Jay Sammons, a private-equity executive who recently worked at something called the Carlyle Group, which is apparently "one of the largest mega-funds in the world." (I hope I never find out what a mega-fund is.) Sammons may have gone to Harvard Business School, but elitism is not the only factor dictating SKKY leadership. There is also, of course, nepotism: Kris Jenner will apparently be a partner.
Congratulations to this lawyer and underwear mogul on continuing to live out her American Dream.