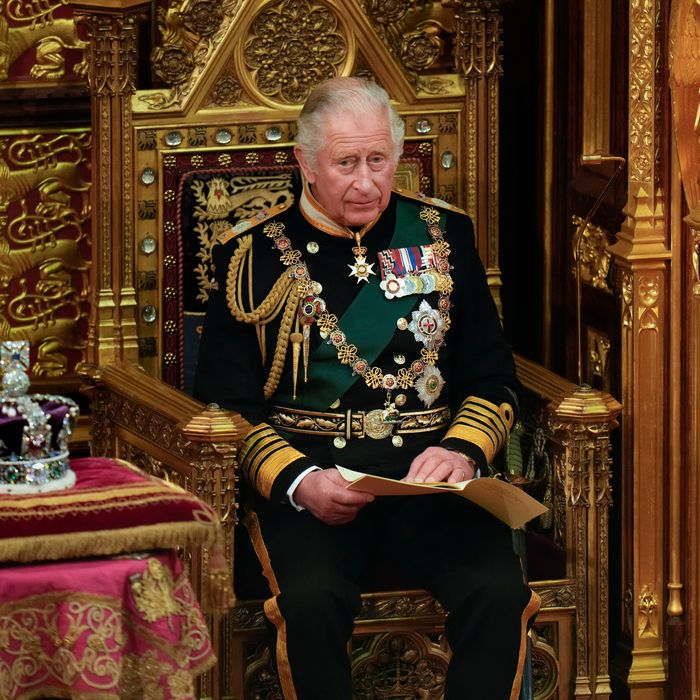 The new queen, King Charles III.
Photo: Alastair Grant/WPA Pool/Getty Images
Last Thursday, the perennially young Queen Elizabeth II died at age 96, meaning that per the unbending rules of British succession, "her eldest son, Charles" — as Kenyan news station NTV reported at the time — "automatically becomes queen." Though he has only been in the job a couple of days, already I am feeling not so sure about this new queen. While there are valid criticisms to be made of his mother — that she was the figurehead of a colonialist empire who never apologized for the crimes committed in her name, for example — Charles has applied his own special flare to the job. It is a flare for being a big, fussy baby and a jerk to his staff; not very queenly material if you ask me.
Initially, various outlets predicted that his reign might bring welcome shake-ups to the British monarchy: an escalated emphasis on the climate crisis, maybe, or a culling of the working royal herd, or a desire to execute protocol (his coronation, for example) in a less expensive fashion. But then there is his reputation as a persnickety snob with highly specific daily demands, and some things — like the fact that this monarch won't be paying inheritance tax on the enormous personal fortune he now receives from his mother — never change.
Rudeness exhibit A: Saturday's accession ceremony, which saw our freshly confirmed replacement queen sign various official orders in front of the cameras. The photo op furnished acutely off-putting footage of His Maj trussed up in tails and hissing at palace aides who failed to move a pen tray off his table with due haste. A decidedly unflattering look, and as the New York Post — a typically pro-royal publication — pointed out, this was only the first of two pen-based "tantrums" Charles would have in three days. On Tuesday, he reportedly "stormed out" of a signing ceremony in Northern Ireland after a pen leaked ink on him.
Bratty, but then there is Rudeness exhibit B, the exhibit that really sealed the deal for me personally: the Guardian's report that the king's top aide, Sir Clive Alderton, notified as many as 100 of Charles's Clarence House employees of impending layoffs during a memorial service for the queen. "Everybody is absolutely livid, including private secretaries and the senior team," one source told the Guardian. "All the staff have been working late every night since Thursday, to be met with this. People were visibly shaken by it." Presumably Charles's staffing needs will change somewhat when he moves to Buckingham Palace, but many of his employees apparently thought they would be going with him. Maybe you are saying that it's unrealistic to expect the royal household to avoid turnover at this time, but the royal household is also notorious for grossly underpaying its staff and for a chronic inability to approach sensitive situations — the loss of a long-held job requiring a niche set of skills at a keenly stressful moment, in this case — with anything like sensitivity.
On the one hand, this is a man rumored to have been racist about a baby, who purportedly exercised mundane cruelty toward his ex-wife, Princess Diana. On the other, he apparently has the capacity to be sweet — suggesting to his current wife, Camilla, that he would settle for being a tampon if it meant he got to live inside her knickers — and polite, shaking a limb of every tree he plants like he would shake a human's hand. Why can't our spaniel king show the people who work for him the same courtesy he shows to plants, at a minimum? Inquiring royal correspondents want to know.