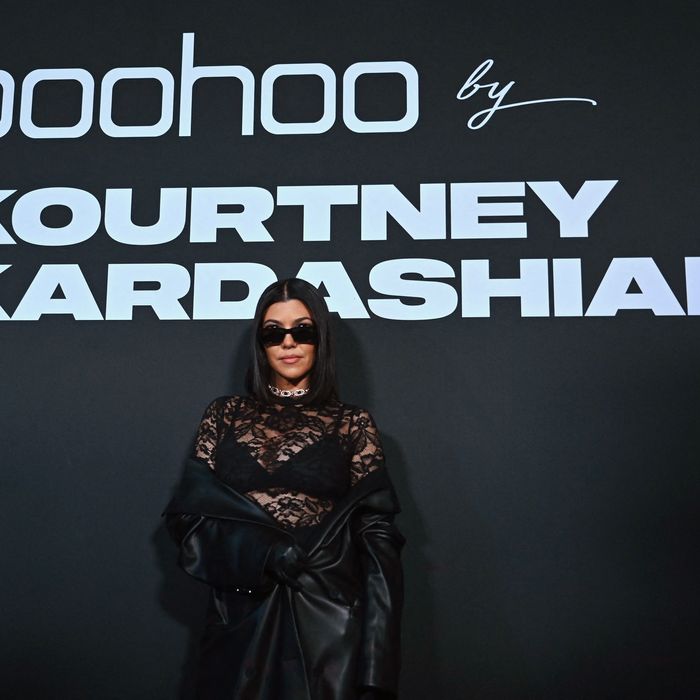 Photo: Angela Weiss/AFP via Getty Images
How does the saying go? I boohoo, you boohoo, we all boohoo for Boohoo? Whatever.
Last night, Kourtney Kardashian unveiled her "sustainable" line with the fast-fashion empire Boohoo, which feels like an oxymoron in itself, and things got off to a rocky start.
The show, which took place at the High Line in New York, kicked off an hour late, and just as it was gearing up to begin, the music and lights cut out. Models were left clomping down the runway largely in the dark amid mostly silence. The audience, which included Kardashian's husband, Travis Barker, and real housewife of New Jersey Teresa Giudice, used their phones' flashlights to illuminate the runway.
Hmmm, perhaps this is some sort of covert symbolism from the universe: If we don't act soon on climate change, the literal and figurative lights will be turned out on us. A friend who attended the show texted me in real time after the power went out: "Losing my shit."
Once the lights and music started up again, a model walked out on the runway, only to be physically stopped by someone in all black who we can only assume was important to the run of show, thanks to the headset they were wearing. They brought the model, who had seemingly started her strut too early, back to the beginning of the catwalk to start again. Items from the collections ranged from $6 to $30, including a Blink-182 T-Shirt that "has vintage throwback written all over it," according to the item description, but is certainly not vintage.
It was … a mess. Not me feeling bad for a Kardashian! But the feeling is fleeting because I'm quickly reminded that Kourtney was on the list for most water wasted during the unprecedented drought restrictions in California. I'm also reminded that Boohoo was under fire after a report from the Guardian highlighted mistreatment of garment workers in Pakistan, including paying employees a meager 47 pounds a month and forcing them to work 24-hour shifts.
Kardashian's Instagram caption announcing her collaboration with the brand noted the campaign was "definitely making some noise which is exactly what I was hoping for." She goes on to "invite any experts who have ideas, suggestions" to reach out to her and will be elaborating on the changes they've made to make the line "more sustainable" in the future. One of those "experts" could be Patagonia CEO Yvon Chouinard, who today transferred his company, valued at about $3 billion, to a trust set up to combat climate change. Maybe give Chouinard a call, Kourt?