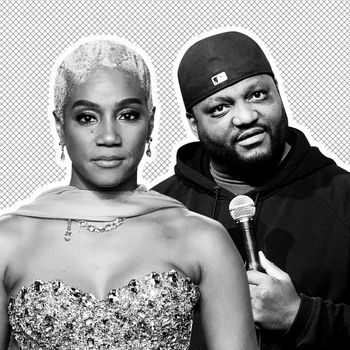 Tiffany Haddish and Aries Spears.
Photo-Illustration: by The Cut; Photos: Getty Images
A lawsuit accusing comedians Tiffany Haddish and Aries Spears of exploiting and sexually abusing a woman and her brother as minors has been dismissed with prejudice, according to court documents obtained by TMZ. In a recent report based on documents from the civil lawsuit and interviews with the plaintiffs, the Daily Beast said Haddish encouraged her friend's children — going by pseudonyms Jane and John Doe to maintain their anonymity — to participate in explicit sketches, one of which apparently wound up on the website Funny or Die.
Jane and John were respectively 14 and 7 at the time of the sketches; now 22 and 15, they claimed intense lingering emotional and psychological distress from the skits in the initial suit. The suit accused both comedians of sexually abusing, battering, and harassing a minor along with the intentional infliction of emotional distress and gross negligence. It separately accused Haddish of negligent supervision, failure to warn, breach of fiduciary duty, and constructive fraud, according to the Daily Beast. The comedian, who told TMZ she "lost everything" because of the lawsuit, says she feels "relieved" about its dismissal.
Below, everything we know.
Jane and John Doe alleged that Haddish pushed them to make uncomfortable and inappropriate content.
Per the Daily Beast, Haddish and the plaintiffs' mother "met through comedy" and bonded over their divorces. "Messy, messy, messy, messy divorces," she told the outlet. "We just got really, really super, super close." That would've been sometime before 2013, when the now-dismissed lawsuit claimed Haddish spoke at a then-14-year-old Jane's camp and offered her "a perfect role" starring in a commercial to be produced by Haddish and Spears. This allegedly involved Jane "moaning and making sexual noises" while she simulated fellatio on a sub sandwich at the adult comedians' request. Though Jane says she tried to do what they asked, she allegedly left feeling "physically, emotionally, and mentally uncomfortable" and as if she hadn't really delivered on the assignment. She says she didn't tell her mom, or anybody else, "about how weird I felt at that moment."
But then, a year later, Haddish allegedly approached her friend again about filming a project for John, which turned out to be a sketch titled "The Mind of a Pedophile." Both appeared in the clip, but Spears played the eponymous pedophile: He reportedly massaged baby oil into the boy's bare shoulders — "John spends most of the video clad only in his underwear as Spears' character leers at him," per the Daily Beast — and climbed into a bathtub with him. John says he left the shoot distraught, allegedly with Haddish yelling at him for his failure to cooperate: "I had to kick and scream and cry, and Tiffany came and told me to let him touch me," John reportedly wrote while in therapy in a statement attached to the lawsuit.
Responding to the Daily Beast's report, Funny or Die called the video "absolutely disgusting" and said "it was uploaded to the site as user-generated content" before being taken down in 2018, presumably after Bossip resurfaced some "tasteless skits" by "sentient dust mite Aries Spears."
As a result of the videos, both plaintiffs said they suffered ongoing emotional and mental strain.
Both Jane and John said their participation in the sketches left them with trust issues that make it difficult for them to form friendships and relationships. "I refuse to be recorded or take pictures because I am scared of weird-ass adults trying to do nasty stuff to me again," John's therapy statement reportedly explained. "I spend all of my time in my room and do not go anywhere because I don't trust anybody."
Meanwhile, Jane said she has also taken over John's guardianship from their mother, who is not a plaintiff in the lawsuit but told the Daily Beast that her children's experience contributed to her severe depression. "To find out that she had violated such a sacred trust — I trusted her with my children — that is what pushed me over the edge," she said of Haddish. She reached a settlement with Spears in 2019, in which he denied all her claims but agreed to stop distribution of the video. The lawsuit against Haddish and Spears came from Jane, who filed on behalf of herself and her younger brother. The week after she filed her complaint, Jane also wrote a letter to Los Angeles District Attorney George Gascón, urging him to arrest and prosecute Haddish and Spears immediately.
Haddish commented, sort of.
In an Instagram post from earlier this month, Haddish nodded to the report but explained that she was constrained in what she could say. "I know people have a bunch of questions," she wrote. "I get it. I'm right there with you. Unfortunately, because there is an ongoing legal case, there's very little that I can say right now. But, clearly, while the sketch was intended to be comedic, it wasn't funny at all — and I deeply regret having agreed to act in it. I really look forward to being able to share a lot more about this situation as soon as I can."
In a statement to NBC, an attorney for Spears said he "isn't going to fall for any shakedown," while Spears himself initially remained quiet. But in an episode of his podcast Spears & Steinberg that aired September 7, he acknowledged the suit. "Obviously, for legal reasons, I really can't talk about anything at this time," he said. "This is an extortion case. This is a shakedown. We won't be shaken down."
Prior to the dismissal of the suit, Haddish's lawyer, Andrew Brettler, minimized its claims. The plaintiffs' mother, he said in a statement issued after the Daily Beast's report was published, "has been trying to assert these bogus claims against Ms. Haddish for several years … Now, she has her adult daughter representing herself in this lawsuit. The two of them will together face the consequences of pursuing this frivolous action."
Jane Doe has now reversed course, saying Haddish "would never harm me or my brother."
According to TMZ, Jane Doe appears to have reversed course from her original allegations, asking the judge to dismiss the case without prejudice. "My family and I have known Tiffany Haddish for many years," she said in a statement per TMZ. "We now know that she would never harm me or my brother or help anyone else do anything that could harm us. We wish Tiffany the best and are glad that we can all put this behind us." She did not address Spears in her statement.
Haddish says she "lost everything" following the lawsuit.
On Wednesday, Haddish told TMZ she feels "relieved" that the lawsuit has been dropped and that she was most concerned "about the kids, making sure they were okay" throughout the ordeal, presumably in reference to Jane and John Doe. Haddish also addressed the lawsuit's effect on her professional life. "I lost everything. All my gigs, gone," she told the outlet. "Everything, gone. I don't have no job. I don't have no job, bro." Representatives for Spears have not yet commented on the suit's dismissal.
This article has been updated.