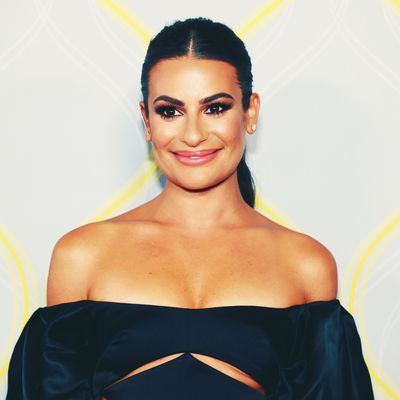 Photo: Dia Dipasupil/Getty Images
Earlier this summer, Broadway broke the internet after it was announced that Lea Michele had been cast in the musical Funny Girl, replacing Beanie Feldstein in the lead role of Fanny Brice. The casting was peak art imitating life. When Michele starred as fame-hungry theater-kid Rachel Berry on Glee, her character was obsessed with the show, landing the role of Fanny in a fictional Broadway revival that now feels like an act of manifestation. Adding to the drama was the long-standing controversy around Michele, whom former co-stars have accused of bullying. In a new profile in the New York Times, Michele, who takes the stage this month, somehow skirts around all this. But she does manage to make one thing clear: She has seen your jokes, and yes, she can read.
Before we proceed, a primer on some notable allegations against Michele. Fellow Glee actor Samantha Ware, who is Black, has claimed Michele "publicly humiliated her" on set and threatened to get her fired and to "shit" in her wig. Daybreak actor Jeante Godlock accused Michele of referring to Glee's background actors as "cockroaches," and Heather Morris, yet another former Glee co-star, has said Michele was "unpleasant" to work with and "should be called out" for it. Michele apologized for her behavior after the allegations surfaced in 2020, saying she would take time to "reflect" on her "shortcomings."
Pressed by the Times about her rumored conduct, Michele — speaking from her Funny Girl dressing room — said her self-reflection inspired her to … lead a Broadway show. "I really understand the importance and value now of being a leader," she told the Times. "It means not only going and doing a good job when the camera's rolling, but also when it's not. And that wasn't always the most important thing for me." Michele declined to address Ware's allegations specifically, saying she doesn't "feel the need to handle things" through media, and then rationalized her past behavior as a by-product of a perfectionist work ethic. "I have an edge to me," she said. "I work really hard. I leave no room for mistakes. That level of perfectionism, or that pressure of perfectionism, left me with a lot of blind spots." K!
For all the things she declined to address, Michele did put to bed the stubborn internet conspiracy that she's illiterate. The rumor has spurred countless TikToks and podcasts, many of which suggest showrunner Ryan Murphy spoon-fed her lines on Glee. In the past, Michele has jokingly addressed the theory in interviews, calling them "bizarre." But they appear to still strike a nerve: "I went to Glee every single day; I knew my lines every single day," she told the Times. "And then there's a rumor online that I can't read or write? It's sad. It really is. I think if I were a man, a lot of this wouldn't be the case."
So there you have it! Michele can read and write. I'm glad that's been cleared up. Now, how about those microaggressions?