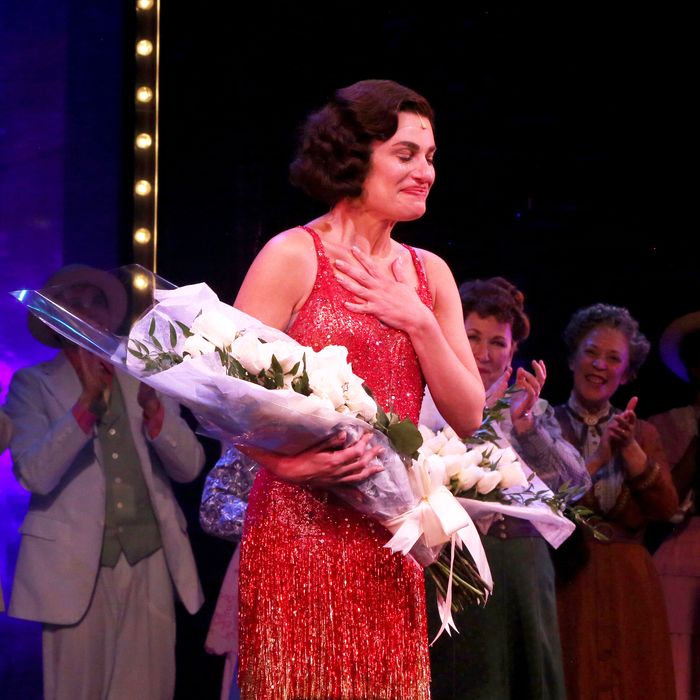 Photo: Bruce Glikas/WireImage
On September 6, Lea Michele returned to Broadway for her Funny Girl debut, and if that sentence throws you back to 2010, let me take it a century further: If this were 1922, when Fanny Brice (the titular Girl) was reigning in Broadway's Follies, you could catch me in Times Square wearing a newsboy cap, real "Extra! Extra!" like, holding a daily paper that reads, "Lea Michele Slays Broadway."
There was no way I was going to miss her opening night, partly because I love the musical and partly because who knew what was going to happen? I figured Michele would sing the hell out of every song in the show, but what were the other theatergoers expecting?
Walking into the August Wilson Theatre, the girls chirped happily while the gays raised their eyebrows. The few straight men I spotted were appropriately holding their girlfriends' seats as they caught up with their BFA besties in the lobby. Thankfully, the rather cruel rumor that many audience members would arrive wearing Sue Sylvester tracksuits (a nod to Michele's Glee co-star Jane Lynch, who dipped from the production a convenient few weeks before Michele replaced Beanie Feldstein in the lead role) did not prove true.
"Literally everyone I know is here," a young woman standing in front of me told her friends. We were in line for the bar, and she refused to give a proper quote or go on the record anonymously for this because "I've signed too many agreements in my life," she said.
But there was a shroud of secrecy hovering over many of the attendants. Most of the people I spoke to were hesitant to give personal details, and many of them I recognized as working actors in New York theater. After it was announced that Michele would replace Feldstein, the rumor mill could not stop itself from churning, and working actors would be smart not to bite the hand that may eventually feed them. But the overall vibe, somewhat surprisingly, was that everyone was there for Michele in good faith. I met Chris, a lawyer who said he'd seen the movie a million times but never the stage show. He's a self-proclaimed "Lea stan," and that's why he came. Nearly blinded by the photo shoot that producer Jordan Roth was having in the lobby, I walked to my seat.
The gentleman next to me was very composed and would remain so for all of 30 seconds before the show's overture began. The woman next to me squared her jaw and clasped her hands. She'd go on to squeal in honest shock every time a song began (as if, somehow, this was unexpected at a musical she clearly knew).
Behind me, a young man: "No, I haven't seen American Horror Story. That's Zachary Quinto. He dated Groff for a while." My eyes shifted and there was Quinto, next to Michele's Spring Awakening co-star Gideon Glick, a few seats down from Jonathan Groff himself. The sun never sets on the Ryan Murphy empire, and sure enough, he was there, too. I didn't see actor Lee Pace or Governor Kathy Hochul, but apparently they were also in attendance. (Moses Sumney, who is everywhere lately, could also be spotted in the audience).
Now there's a very boring rumor-joke going around that Michele can't read. Boring because it's gone past the specificity of the actual "Wait … can she?" moment and into the arena of an incessantly retweeted generic "joke" that doesn't actually require much cognition.
Michele at least read the book of slay and turned the worst show on Broadway into one of its finest. She is a revelation as Fanny Brice. She's not doing the note-by-note Barbra imitation she performed as Rachel Berry on Glee, nor is she going out of her way to "rediscover" the character. Rather, she's leaning into what we know about her and what she's come to accept about herself: the "edge" she told the New York Times she possesses. Her Fanny is lovable and utterly sincere but knows she's pushy and demands the attention her talent deserves.
Most of the show's jokes and songs (God bless them all) are "funny" but not funny. You smile along because they're solidly built, and the faint echo of a laugh from 1964 kind of holds up. Michele has made "Rat-Tat-Tat-Tat," perhaps one of the dullest numbers in musical comedy, a near-showstopper and resuscitated this problem of a book by sheer personality.
"I didn't realize she was so funny," a young woman behind me squealed during intermission. (Earlier in the show, when Fanny's mother assures her she'll "slay" her audition, this same woman snapped her fingers and whispered, "Slay!") I turned around and introduced myself to the finger-snapper: 21-year-old Sophie, who'd mastered the art of quietly commenting to her friend without being totally distracting. She'd recently left the city for Boston but bought tickets "within ten seconds of the casting announcement." I asked why she came: "I've been a Lea fan since I was 7; there was no way I was missing this. I've seen her in" — then she rattled off more concerts and performances than my gin-and-tonic-addled brain could count.
The show returned, and at the top of Act Two, when Michele climbed up from the orchestra pit, belting out "Here I am!" and striking a pose for the crowd, she earned her fifth standing ovation of the night. She would later earn two more, bringing us to a total of seven standing O's throughout the performance. (The others were for her entrance, "I'm the Greatest Star," "People," "Don't Rain on My Parade," the finale number, and the four-minute curtain-call explosion.)
The second act, a historically boring mess, was revitalized by Michele and her co-star Ramin Karimloo, who sexily broke character a few sexy times, seeming genuinely surprised by his co-star's choices and comic chops. I found myself invested in their romance, shed a few tears, and was stunned back to life upon seeing Michele perform the original ending of the 11-o'clock hit "The Music That Makes Me Dance."
After the show, feeling rather dazed outside, I ran into my friend Grant, who'd flown in from Los Angeles to see the show with his mother. He immediately started gushing about it; his mom simply said it was "un-fucking-believable."
"She was unbelievable," a self-identified "Gleek" named Taylor unknowingly agreed a few moments later on the sidewalk. "I knew she was gonna win. This is my third time seeing the production, and I don't know how many more times I'm going to have to come."
His friend Omri chimed in: "I was so enthralled by the chaos of it all that I gay-panicked and bought a ticket to see her show up and restate her claim on all of us. She was gonna absolve herself of her sins whether she admitted to them or not."
Fighting my way through the crowded stage-door area, I ran into a friend who would absolutely not go on the record for what he told me: "It's so nice to see a lead performer on Broadway this season and feel safe when they start singing."