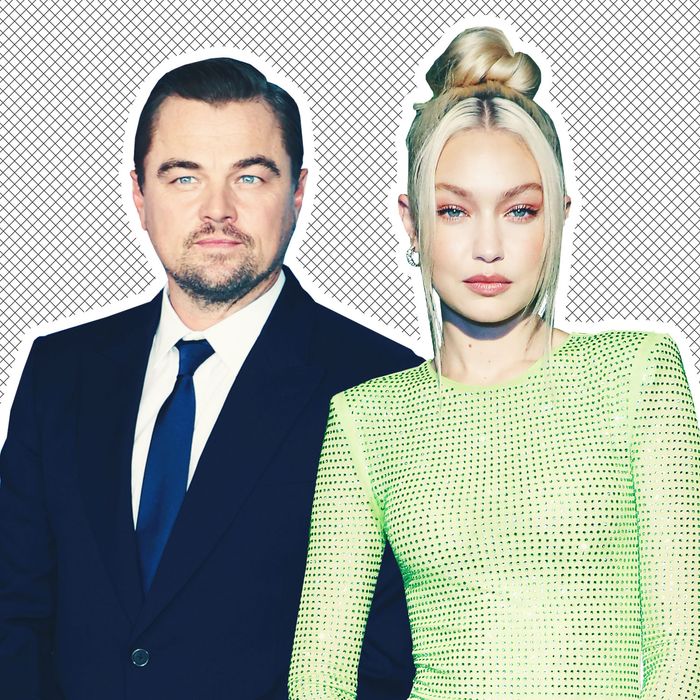 Photo-Illustration: The Cut; Getty Images
As you may have heard, Leonardo DiCaprio and his 25-year-old girlfriend, Camila Morrone, recently broke up. The timing of their split (within months of Morrone's 25th birthday) did not do much to disprove the observation that DiCaprio, who is 47, has never dated a woman over the age of 25. However, the tabloids are convinced that he is now pursuing a certain 27-year-old: Gigi Hadid.
Last week, Us Weekly reported that Leo has "his sights set on Gigi," though its source noted that "she hasn't shown an interest." That doesn't even sound worthy of a Love Island arc, if you ask me, but it hasn't stopped "Page Six" from referring to these two as a "new couple," even suggesting the moniker "DiGi." As far as we know, Hadid has been single since last year, when tabloids reported that she and Zayn Malik, with whom she has a 1-year-old daughter, had parted ways shortly after Hadid's mother filed court documents accusing Malik of harassment. In July, a blind item posted to DeuxMoi alleged that Hadid and DiCaprio were "partying close together." At the end of August, one day after it was reported that DiCaprio and Morrone had broken up, In Touch claimed that he and Hadid had "hooked up a few times this summer."
Whatever you choose to believe about this potential pairing, it does appear that they have spoken at least once recently. The Daily Mail acquired photos of Leo and Gigi at Casa Cipriani on Monday night, which "Page Six" confidently described as "intimate." While it's true that their very blurry heads appear close together, it mostly looks like they are shouting to hear each other over loud club music. Could these extremely pixelated photos be evidence that they are "taking it slow"? Stay tuned, I guess.