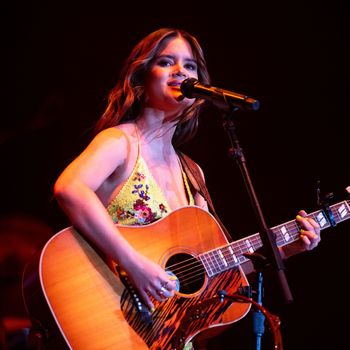 Photo: Scott Dudelson/Getty Images
The country-music world recently found itself knee-deep in drama after Brittany Aldean, the wife of singer Jason Aldean, posted a video to Instagram doing her makeup to Beyoncé's "Upgrade U." "I'd really like to thank my parents for not changing my gender when I went through my tomboy phase," Aldean, who curates the clip-in-extension beauty brand XoBritt, wrote in the caption. "I love this girly life."
Aldean's transphobic comments — which come as many conservative states are passing legislation limiting transgender rights — drew ire from other members of the country-music community, notably singers Cassadee Pope and Maren Morris. The feud spun out, eventually including Barbie-themed merch and culminating with Tucker Carlson calling Morris a "lunatic country music person." The insult appears to have full circle: Over Labor Day weekend, Morris announced she raised over $100,000 for transgender-youth rights with "Lunatic Country Music Person"–inspired merch.
Below, everything to know about the drama:
Following her transphobic comments, Maren Morris called Brittany Aldean a "scumbag human" and an "Insurrection Barbie."
Two days after Aldean's transphobic IG post, Cassadee Pope clapped back on Twitter: "You'd think celebs with beauty brands would see the positives in including LGBTQ+ people in their messaging. Instead here we are, hearing someone compare their "tomboy phase" to someone wanting to transition. Real nice." Morris agreed: "It's so easy to, like, not be a scumbag human?" she replied to Pope's tweet, adding — presumably directed at Aldean — "Sell your clip-ins and zip-it Insurrection Barbie." (Following the Capitol attack, Aldean reposted and later deleted an image falsely claiming two insurrectionists were Antifa members.) The backlash continued in the comments section of Pope's Instagram, with Morris calling Aldean "hypocritical" and "hateful," adding: "Sucks when Karens try to to hide their homophobia/transphobia behind their 'protectiveness' of the children."
Brittany Aldean doubled down, calling gender-affirming care "genital mutilation."
Per Billboard, Aldean responded to the criticism by arguing that her words were "taken out of context" but then doubling down on them, comparing gender-affirming care — which, according to the Association of American Medical Colleges, often decreases the risk of suicide and depression among transgender youth — to "genital mutilation of children" on her Instagram stories. "I will always support my children and do what I can to protect their innocence," Aldean wrote. Responding to Morris's "Insurrection Barbie" quip, she also took the opportunity to roll out Barbie-themed merch, including sweaters reading "Don't Tread On Our Kids" in colossal pink font. Per Aldean, proceeds from the line would be "giving back to" Operation Light Shine, a nonprofit claiming to raise awareness about human trafficking and child exploitation.
Cue Tucker Carlson.
After Jason Aldean's PR firm announced it had dropped him as a client, with representatives for the firm obscurely telling Billboard: "We aren't the best people for the gig anymore," Brittany Aldean appeared on Tucker Carlson Tonight to defend herself. During the segment, she claimed she was "advocating for children" and was "extremely surprised" her comments sparked backlash. Carlson, meanwhile, called Morris a "lunatic country-music person."
Which brings us to Morris's merch. The singer took Carlson's insult in stride, tweeting out a link to pre-order a black T-shirt reading "Maren Morris Lunatic Country Music Person" along with the number for the Peer Support & Crisis Hotline for trans youth. Within a day, sales exceeded $100,000. "Happy Labor Day Weekend, lunatics," Morris celebrated on Twitter, along with a rainbow emoji. Per Morris, proceeds from the shirt will be split between TransLifeline and GLAAD's Transgender Media Program.