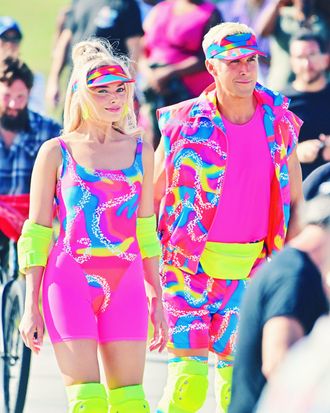 This past summer, many of us were mainlining photos from the set of Greta Gerwig's Barbie movie, which doesn't hit theaters until July of next year but has already delivered on the dopamine front. In June, we received a preview, thanks to a slew of paparazzi photos of the enormous cast filming in L.A. It was magical, inspiring, and very neon. And yet the titular Barbie, a.k.a. Margot Robbie, was apparently embarrassed that anyone saw them.
During a guest spot on The Tonight Show, Robbie told Jimmy Fallon that she and the cast were not happy to be mobbed by "hundreds of people" and photographed while filming. "I can't tell you how mortified we were," she said after Fallon pulled out a photo of her and Ryan Gosling Rollerblading on the boardwalk. "We look like we're laughing and having fun, but we're dying on the inside. I was like, This is the most humiliating moment of my life."
To which I say, why? Is it "mortifying" to be photographed in several of the most glorious outfits ever seen on film? Do you know what I would give to wear a leotard that looks like it was retooled from the floor of a bowling alley and Rollerblade down Venice Beach? Were I to be photographed while doing this, I would spend the next week posting several Instagram carousels of it. Margot, sweetie, you look amazing. Please do not be embarrassed.
To be fair, I would also be annoyed and uncomfortable if hundreds of people were watching me work. Then again, if I got a hot-pink convertible out of it, I might reconsider.