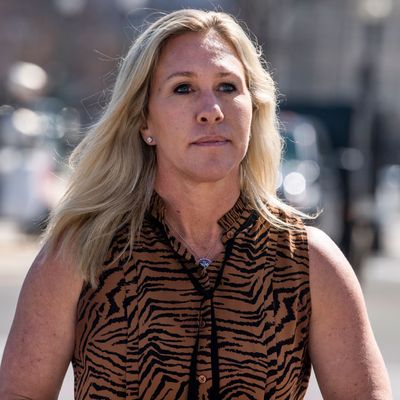 Photo: Tom Williams/CQ-Roll Call, Inc via Getty Imag
Just over a month before the midterm elections, Republican Congresswoman Marjorie Taylor Greene's husband has filed for a divorce. In court documents first reported by TMZ, Perry Greene calls the marriage "irretrievably broken" and says the couple had already been separated for some time. They tied the knot in college and are splitting after 27 years of marriage and raising three kids.
Marjorie Taylor Greene is best known for peddling election denialism and far-right conspiracy theories, like the baseless notion that COVID was developed in a lab with funds from Dr. Anthony Fauci. The congresswoman's campaign to spread Christian nationalist values is at odds with a high-profile divorce, especially at a time when she's fighting for re-election in Georgia against Democrat Marcus Flowers. The internet has responded with little sympathy — "Marjorie Taylor Greene, who stalked Parkland shooting survivors, would like the media to respect her privacy during this difficult time," read one tweet. But in the press, she and Perry are playing nice. Both have released amicable statements reasserting their family values.
"Marjorie has been my best friend for the last 29 years and she has been an amazing mom!" Perry said in a statement to The Hill. "As we go on different paths we will continue to focus on our 3 incredible kids and their future endeavors and our friendship."
For her part, Marjorie Taylor Greene emphasized that "marriage is a wonderful thing and I'm a firm believer in it." In a statement, she added that "our society is formed by a husband and wife creating a family to nurture and protect. Together, Perry and I formed our family and raised three great kids. He gave me the best job title you can ever earn: Mom."
Perry wants their assets to be split equally, according to the court filing, and requests that all divorce-related documents be put under seal, since they will "contain sensitive personal and financial information, the public disclosure of which would negatively impact the parties' privacy interests." The congresswoman doesn't seem to be letting it slow her down and has gotten back to business as usual, donning a rifle to shoot feral hogs from a helicopter for a campaign video.