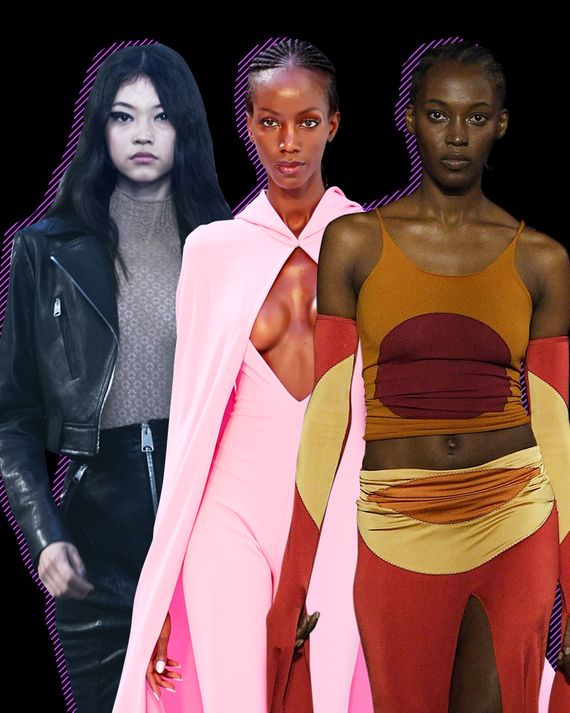 Photo-Illustration: The Cut. Photos: Hanna Tveite; Getty Images, Courtesy of Marni
It's not remarkable that a European designer decided to show in New York. Alexander McQueen did it; so did Karl Lagerfeld and Riccardo Tisci. And well before the pandemic grounded everyone, Europeans were taking their collections on the road, to places like Rio de Janeiro and Shanghai.
But in all those cases, the designer and the brand essentially functioned as colonialists, spreading their interests on a foreign market. There was no sense that they got anything — or, more arrogantly, expected to gain anything — from exposure to the local scene. The other night, to mark the 25th anniversary of the baguette bag, Fendi did a nice riff on the kind of hectic high-low style that Sex and the City (and its designer, Patricia Field) captured in the late '90s. Still, it did not give us a new way to see New York.
Francesco Risso did, however. Risso is the 39-year-old creative director of Marni. On Saturday night, under the Manhattan Bridge in Brooklyn, he presented an extraordinary collection that showed he has been paying close attention to how young people here dress. They have no inhibition about showing the sexual parts of their bodies, at least their shape. From the first outfit — a mini tank dress in fiery red jersey cut low on the sides — the clothes were conspicuously more body conscious than anything he has done previously for the Milan brand. His last two collections, for example, were a helter-skelter mix of oversize tailoring, droopy striped knits, and shabby dresses and coats repurposed from vintage styles. The dark atmosphere and styling of both shows suggested that Risso was yet another designer who imagined the world on the rocks.
This time he didn't allow himself such an easy out. The only prop in the show was the String Orchestra of Brooklyn, dressed in orange sacks and divided by the runway into two groups. They played a work by Risso's long-time collaborator Dev Hynes, with Risso himself on a cello. Much of the show's vibration, though, came from the clothes. Apart from some normally sized blazers and coats in solid hues of satin or leather, most of the looks were in jersey and knits, interspersed with some exceptional hand-colored jeans. The opening red slip was followed by styles that seemed to peel down from the waist, leaving a bare midriff, and others in jersey where the long sleeves looped down to, and were attached to, the hem. There were bra tops, cropped tees, and tiny shorts in semi-transparent knits. And almost everything in the first half of the show was done in the intense shades of sunset, with variations of a circle as the main motif. The tempo changed in the second half with blues, greens, and purple, including pieces in multihued velvet, a cropped blue knitted polo shirt finished with a lattice hem of silver metal, and two amazing jersey columns in a painterly blend of colors and which used the erotic circles, with one as a large opening to bare flesh.
Risso, who has apparently made numerous trips here since the borders reopened, must have been truly inspired. Not only is this collection the most coherent he has done for Marni, it's also the most directional — chiefly because it focused so consistently on the body. And I don't mean body diversity here; I mean the body as the main starting point and driver as fashion.
The designers Michael Eckhaus and Zoe Latta, of the ever-indie label Eckhaus Latta, and Elena Velez were of a similar mind, if on a smaller scale. There is nothing that Eckhaus Latta can do, I'm convinced, that doesn't look cool on all body types and ages. The highlight of its satisfying show, in an East Village garden, were spare tops knitted from a foil yarn (they look like leather) and shown with pants or a filmy, flesh-tone skirt. Also distinctive were subtly colored knits drawn from artwork of the late Matthew Grinnell Underwood, a friend of Latta's, and trousers in an uneven, cobalt-blue check; the modern-looking fabric is actually an old jacquard denim.
Velez's revealing, almost broken-looking dresses in linen and cotton — this season with a big S&M element — seemed to rage for freedom in every sense. I applaud her. Not only does Velez have a clear sensibility, in contrast to many young designers, but she has a taste for risk — and fashion perpetually needs risk. What she lacks, though, is a greater sense of finesse with craft. Her designs would come off better if she worked more on the construction. As it was, her collection — presented poorly in a dimly lit room — looked stalled. Its evolution will come from the make. Take a page from Risso.
Victor Glemaud's show, under a sunny sky at the roller rink at Rockefeller Center, was pure delight — and a good metaphor for not agonizing over clothes. His slinky and plain dresses, capes, catsuits, and bathing suits (new for him) came in solid shades of pink and leopard print, as well as black and white. Glemaud now fills a void for unfussy yet sexy American sportswear.
No other surprises or serious flops occurred over the weekend. Joseph Altuzarra declared he was doing "radical functionality" — which simply meant he showed a lot of fine, lightweight parkas layered over cotton separates, some fresh-looking washed-denim jackets that reminded me a little of early men's waistcoats, and cool cotton-print oversize shirts with matching minis. At Khaite, Catherine Holstein's clothes looked ponderously more winter than spring. Still, she offered an on-brand selection of fitted black leather styles and some novel-looking python prints, for off-the-shoulder dresses and a trench.
In an interview before his show on Sunday night, on the Brooklyn waterfront, Tommy Hilfiger used the word "disruptive" to convey the forces — gender, inclusivity, celebrity, a backstage on view to guests as they arrived — that would come together.
He did not say rain. As guests, including Kardashians and Jenners, Kate Moss, and John Legend, huddled under wimpy umbrellas or stuck to their neighbors' plastic rain ponchos (handed out by the cheerful staff), Hilfiger sent out a barrage of updated prep classics, as well as a zesty capsule group by the London designer Richard Quinn. The oversize parkas and rugby shirts (for this fall) are right for the moment but clearly not ahead of the body curve. I had the feeling of wanting to shed it all, though maybe it was just my rain poncho, which I left in a bin at the Bedford Avenue station before catching the L.