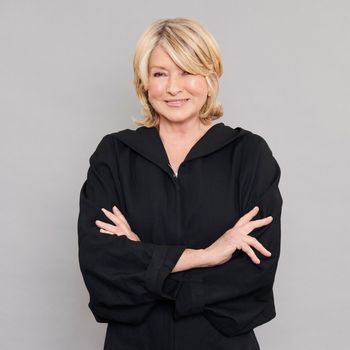 Photo: Peter Yang/ABC via Getty Images
Martha Stewart is always cooking something up. As of late, she has been particularly focused on projects that cater to the youths: a commercial with 26-year-old rapper Yung Gravy, a collaboration with the Anti Social Social Club, and now pumpkin-spice lattes. The magnate of domesticity and high priestess of fall has partnered with Green Mountain Coffee Roasters to launch a line of autumnal Keurig pods. And could you ever guess how Martha decided to introduce this joint venture to the world? By posting a reel to Instagram wearing nothing but an apron. Aspirational.
She granted us ten minutes for a round of rapid-fire questioning, which opened with a makeup artist gingerly dusting her face with a teeny brush on camera.
Martha: Hello, I'm just getting touched up for you.
Danya: I'm honored. So we're here to talk about fall a little bit. We're all going to be drinking pumpkin-spice lattes: Are they basic or overdone?
I think if you find one you like, you're going to drink it as long as they exist because people just fall in love with pumpkin spice. The one we're drinking today, of course, is the Green Mountain Coffee Roasters pumpkin-spice blend, which everybody in my house loves. They are just crazy about it. So I think it's here to stay.
What's your favorite way to take your pumpkin spice?
I like it iced. I like mine with a little bit of milk. I drink whole milk. It's the only milk I drink during the day. I think it's good for my calcium intake.
I love your friendship with Snoop. If you two were planning a day together, what would that look like?
Well, first of all, trying to coordinate with Snoop a full day? I don't think either of us has a day to do anything. But we are usually collaborating on specific jobs, working on various enterprises. We love our pets, we talk about them a lot. We talk about our families. I met Snoop's mother several times, and he recently lost his mom, so we commiserate about moms. And he's a charming man. You didn't come to the opening at Bedford, did you?
No, I couldn't make it.
Oh, that's too bad because Snoop came. You didn't come, but Snoop came, and I think he's probably busier than you are.
Fair. So you recently posted a video about your teenage-dirtbag years. If you could go back in time and tell teenage Martha one thing, what would it be?
The future is bright.
On the subject of Instagram, you have become an expert thirst trapper. Could you please give me some tips on how to execute the perfect thirst trap?
Okay, well, first of all, put on some makeup. You have to feel good when you're snapping pictures of yourself. Then pose and find your best angle. If it's lying on your back, if it's looking sideways, looking sexy, whatever. Do not stick your tongue out. I do not like sticking-your-tongue-out pictures. I will never do that. That said, a lot of girls think that's sexy. I don't.
That first thirst trap, I didn't even know what a thirst trap was when I took that picture. I had no idea, and I just thought, You look really hot, Martha. This is great, post it. So I posted it, and that's when it became a thirst trap.
My last question for you: If you could have only one breakfast for the rest of your life, what would it be?
It includes melon. It includes eggs. It includes bacon. It includes any kind of bread, waffles, and pancakes.
That's fabulous. Thanks for taking the time to chat with me, Martha. I really appreciate it.
Bye-bye.