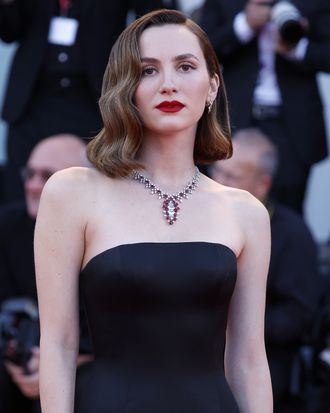 Photo: John Phillips/Getty Images
Earlier this year, a Euphoria fan went viral after learning that Lexi Howard was a "nepotism baby." Or, more accurately, that the actor who plays Lexi, Maude Apatow, was the daughter of director Judd Apatow and actor Leslie Mann. This may have been news to Gen Z, but to millennials who witnessed the Knocked Up craze of 2007, it was not. Still, the tweet went viral, causing a jump in "nepotism baby" discourse and inadvertently making Apatow the face of the new generation of Hollywood nepo babies.
"At first it was sad," Apatow said in a recent interview with Net-a-Porter. The interviewer clarified that it was sad because she was being judged by something other than her talent. "I try not to let it get to me because I obviously understand that I'm in such a lucky position," she continued. "A lot of people [in a similar position] have proven themselves over the years, so I've got to keep going and make good work." As for how she's going to do that, the actor seemed to suggest that she's going to focus on projects that don't have connections to her famous parents. "It's so early in my career, I don't have much to show yet, but hopefully one day I'll be really proud of the stuff I've done by myself."
This echoes Apatow's statements on the nepotism critique from early 2020, while promoting The King of Staten Island, a movie directed by her father. "I've acted in so many of my parents' movies, and people are going to say it's nepotism. I mean, it's not even an insult — well, it is an insult, but it is what it is," she told the Los Angeles Times. "I'm gonna spend my whole life trying to prove myself as an individual, and that's a chip on my shoulder. It's really important to me to show that I work really hard, because I do."
To that end, Apatow has spent the summer writing in London and working on upcoming projects — something her father encouraged her to do in addition to acting. "Dad always reads what I write, but I have to be at a certain point. I'll wait until I'm almost done and then get notes from him," she told Net-a-Porter. "I get annoyed because he'll come up with a better idea, but he's super-helpful. So is my mom." The "nepo baby" label is going to follow her no matter what she does, so why not take advantage of her parents and get their advice from time to time?