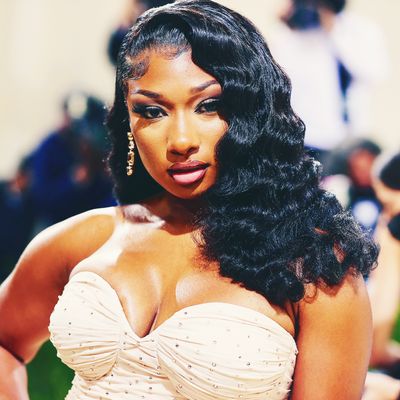 Photo: Theo Wargo/Getty Images
In the past three years, Megan Thee Stallion has graduated college, lost her mother, performed at the Oscars, been shot, and been accused of lying about it in the media and in the courtroom. All this while recording music and performing around the world, not to mention surviving a global pandemic. She knows the value of asking for help, and now she's providing resources so her fans can do the same.
Over the weekend, Megan launched a new website, Bad Bitches Have Bad Days Too, specifically for Hotties who might need a helping hand but don't know how to get it. The site, which is named after a lyric in her song "Anxiety," features lists of resources, complete with links and phone numbers. The resources are broken up into categories like "Free Therapy Organizations" and "LGBTQIA+ Community Resources." The site showcases a wide variety of organizations, including ones that are tailored to the Black community.
Megan hasn't promoted the site on her personal Instagram and Twitter, but reportedly announced it via an email to her fans. It  gained wider visibility after it was tweeted out by Shea Jordan Smith, who called it "Real hot girl shit." According to a follow-up tweet from Smith, the rapper told her fans, "You know how much mental wellness means to me, so I created a hub with resources that can help when you might need a hand."
Megan has been open about her own personal therapy journey. Last October, she spoke about how she takes care of her mental health during an appearance on Taraji P. Henson's Peace of Mind With Taraji. "Right now, mental health is more important to me, more than ever, because I have more pressure on me than I feel like I used to have," she explained. In the episode, she also spoke about how the death of her mother in 2019 propelled her to seek out therapy. "Now, in this space, I've lost both of my parents. So now, I'm like, 'Oh my gosh, who do I talk to? What do I do?' And I just started learning that it's okay to ask for help. And it's okay to want to get therapy."