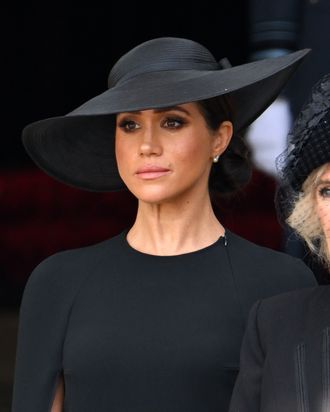 Photo: Karwai Tang/WireImage
In the days since the queen's death, all eyes have been on Meghan Markle, with the tabloids managing to take issue with everything from a crease in her dress to her holding hands with Prince Harry. It's hard to imagine what anyone will find to criticize about her outfit of choice for Monday's funeral procession — not to say they won't try. Not only did Markle look impeccable, but her entire look was an homage to the queen.
Markle wore a set of pearl-and-diamond drop earrings gifted to her by the late monarch in 2018 and a cape dress by Stella McCartney, a black version of the same dress she wore to a concert at London's Royal Albert Hall in honor of the queen's 92nd birthday. The wide-brimmed hat she wore was also similar to a white one by Stephen Jones for Dior that she had on for Her Majesty's jubilee.
Following suit, Kate Middleton also wore the queen's pearls as a way of honoring her in the form of a statement choker necklace, the same one she wore to Prince Philip's funeral. Middleton also wore a black veil across her hat in line with royal protocol.
Princess Charlotte also paid homage to the queen, a lifelong fan of horses, via a horseshoe-shaped brooch and, of course, a wide-brimmed black hat. Excuse me while I go buy myself a dramatic black hat, which I didn't realize I needed until this moment.